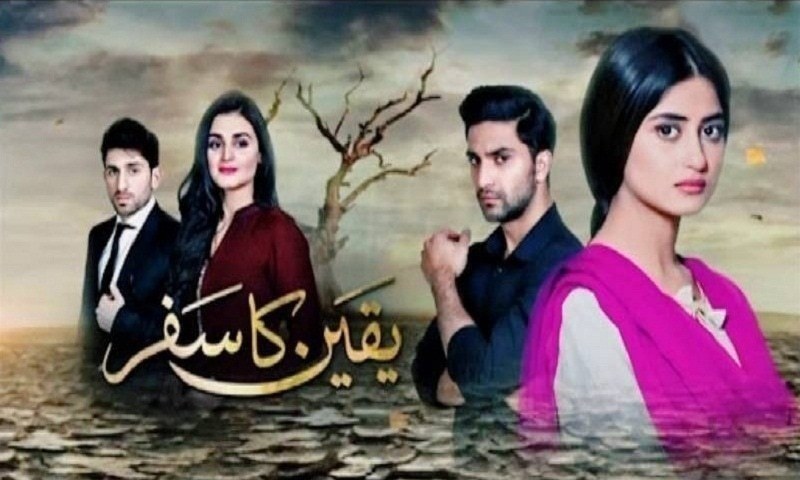 Albeit a few developments, this week's episode was a slow one but with definite promises of better things to come.

So this week in Yakeen Ka Safar, things were a bit slow. Albeit a few significant developments, the pace of the story has gradually decreased. However, the upcoming week's promo definitely promises the serial getting back to its original pace once again.
Ehteshamuddin as Khalil, is a definite highlight of the play. After Sheema spilled the beans about Zubiya's disapperance and her return home, Khalil loses the will to live and function. It has all been brought about by Sheema's vengeance and her cunning plan that Khalil has now handed over everything to her and Rehan. Sheema's satisfaction and her reactions were very fitting to her plan because this is all her doing and now she is the boss of the house.
Although we hated Khalil's character in the begining, he has now become a pitiful person, losing his courage and his self respect,thinking he has failed not only his wife but also his daughter.
Zubiya on the other hand is as listless as ever. We definitely want Sajal Aly to portray her character with more strength and zest but it seems like she's still in a trance after her mother. The most beautiful scene of the drama was how she missed her mother and recalled days spent with her. What we hated was the fact how Zubiya's cousin called her after so long, just to get all the dirty details. Well this is exactly how the society functions and Zubiya should have been prepared to be at the receiving end of the storm, after she took such a drastic step. Still we feel sad for the girl, who got manipulated by her evil bhabhi.
Asfand's fiance Faryal, got some coverage this week and she was still as annoying as ever. It is quite irritating to see how much of a brat she but still her in-laws try to make her feel welcomed. It has now become obvious that she is entirely different from Asfand and perhaps the family's realization would be the turning point in Asfand's life.
Also it was quite refreshing to see Gaiti's character developing. Her being a dietitian with a plan to run her own clinic came out as a surprise, albeit a pleasant one, because we had been waiting to see Hira Mani's character become substantial rather than just a trophy wife.
Where Daniyal is concerned, we're having issues regarding his safety. After Rab Nawaz's phone call to Usman, it should have been Usman's first priority to arrange for some security for his son Daniyal, as he is reluctant to budge from the case he has taken over Noori's sake.
The new entry this week, Urooj, is a spy planted by Rab Nawaz, just to make sure they have all the inside details on the case via Daniyal's office. But is was quite frustrating to see how Daniyal fell prey to Urooj's fake story and ended up giving the job to her, only to make his case more problematic that it already is. Also even though being such a high-tech law firm, no security measures have been in place in Daniyal's office because as soon as she was appointed, Urooj set to work and was easily able to go through all important documents without any intervention.
The ending scene was full of curiosity as Daniyal was seen leaving his office, with suspense and threats lurking behind him. And so we're eagerly waiting for the next week's episode, where they will be definite developments in every character's track.