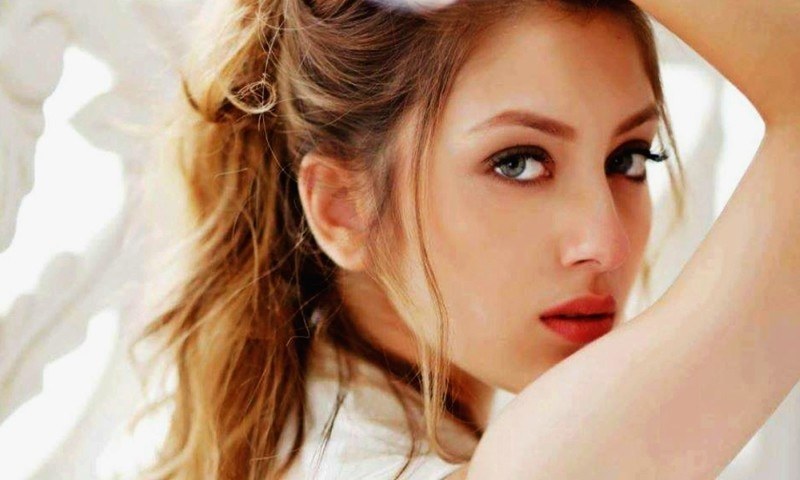 The 'Mooray Saiyaan' star prefers photo-shoots over walking the ramp and hopes to leave a lasting impact as an actor.

It's hard to believe that it has only been a year since Neha Rajpoot first stepped into the world of glitz and glamour with the assistance of ace photographer, Khanwar Riaz. She has since flaunted ensembles by Al Karam, Sapphire, Ali Xeeshan, amongst others in their campaigns; and just recently the exuberant model turned tables as she took up acting with the acclaimed serial, Moray Saiyaan alongside Uzair Jaswal, Ali Kazmi, Ayesha Toor and Agha Mustafa Hasan.
In her first ever interview, Rajpoot speaks to the HIP on what made her sign her debut serial, the world of fashion and the girl that she is off-screen; as I drop by on the sets during an intense sequence from the last leg of shoot.
Also Read: HIP Exclusive: Uzair Jaswal gears up for his TV debut and next film
"I actually feel I'm jailed," she remarks as we begin our conversation in a room away from the chaos that is expected on a drama serial's sets. "Islamabad is beautiful, but I miss Lahore terribly. It's been over two months since we've been shooting and all I want now is to go back home," she further adds, and we both conclude the debate upon agreeing that Lahore is indeed an absolute charmer, in other words: Lahore Lahore hai!
Our chat proceeds as I ask her how she ended up signing her first ever acting endeavor. "Moray Saiyaan happened by fluke. I randomly got a call from iDreams Production and they wanted me to go through the script," she recalls. "I loved the character that I was offered, it did not demand me to overact or do anything of that sort, it was of a very plain and simple girl, and I decided to go ahead with it."
What really attracted Neha towards the project was the fact that the serial mirrors a "realistic and a relatable" love saga, unlike the usual stereotypes or the exaggeration that is portrayed on screen.
Also Read: Moray Saiyaan's new promo shows a different dynamic to the drama
Never interested in modeling (well, initially); Neha dreamt of becoming an actress. "I didn't take up acting because that's the ultimate decision for a model. It's more about conviction. I like variation. Acting is something I've wanted to do ever since I was a child; starring in drama serials has been one of my dreams," revealed the light-colored-eyed emergent.
Devoted to her craft, Neha loves the ambience during campaigns and photo-shoots, however; the runway hasn't been as welcoming. "Walking the ramp has been my worst experience so far. Kudos to models who do it with such poise and elegance. I think it's very tough; fashion shows aren't my cup of tea. I don't have the height for it or the confidence," she smiled.
Unlike other actors who believe that cinema is the ultimate medium of art; Rajpoot begs to differ. She does believe that the television and film are miles apart when it comes to the "treatment and content" however; she believes that an actor must give his or her fullest to every project, regardless of how large scale it is being made upon. Nonetheless, Neha does wish to see her captivating the film fraternity after she polishes her acting skills on the small screen, and excitingly, is actually quite aware of what goes on in the industry.
Also Read: In Review: Does Moray Saiyaan impress in its first episode?
Neha's mother hails from Ukraine, Russia and that is where most of her formative years were spent. "It was fun growing up. My father is from Lahore, but I spent most of time in Ukraine. It's my homeland and I love being there. I love their cuisine; it's so clean, and simply perfect in as many ways," she says with joy and pride.
"It was difficult for me initially when I moved to Pakistan. However, Lahore has a fresh and energetic vibe of its own that I am very fond of now. And ever since I've started working, I've been very happy and content with where life's taking me," she added when asked to comment on how it has been after settling down in Pakistan. "I love travelling, it's something I've been doing all my life. I am always up for experiencing new cultures, however; my eyeballs still pop out when the plane's about to take-off," Rajpoot chuckles while speaking of what she loves doing off-duty.
And as Neha is called for her next scene, we conclude our tete-a-tete with a message for all aspirants. "No force is stronger than that of undeniable talent and true passion," she advices as we both walk out of the room, and back to the real world. Here's hoping that we see more and more of this dynamic and zestful actor in the years to come.