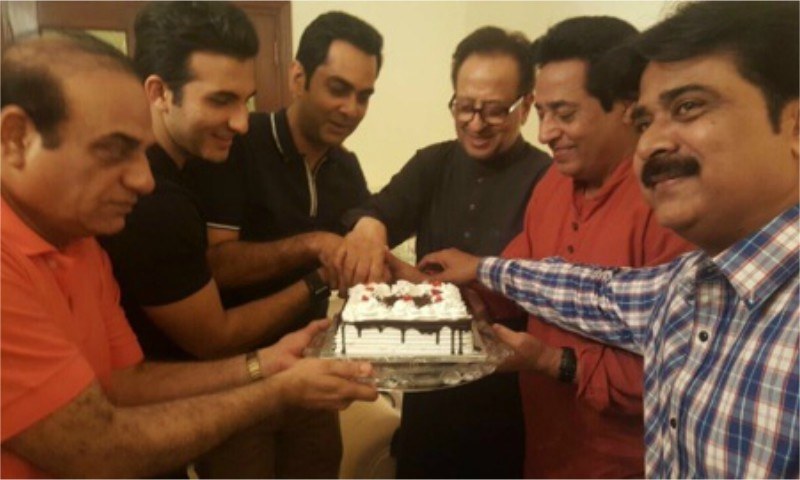 Shahroz Sabzwari and Adil Murad speak to HIP on working with the seasoned actor on the forthcoming film.

With a close release and ongoing promotions of their film Chein Aye Na, it is no doubt that the cast must be getting to spend more time together as well as getting to know more about each other. 2017 marks veteran actor, Nadeem Baig's Golden Jubilee of his acting caree, thus making 1967 the year Baig first stepped foot in the industry! Showcasing love, support and respect among artists, Baig's CAN co-stars joined hands to honor him and presented a token of their appreciation for all his immense contributions to local cinema.
Just a recap (not that it's needed of course): Mirza Nazeer Baig Mughal, better known by his stage name Nadeem Baig is a Pakistani actor, singer and producer. Since the beginning of his career, he has appeared in over two hundred films and has won various awards, including the 1997 Pride of Performance. Alongside this, he has also won the Nigar Award for a total of 16 times between 1967 and 2002 as an actor! But this year marks a special landmark for him and it truly causes for celebration.
Also Read: HIP finds out why the widely talked about 'Chain Aye Na' had to be delayed
CAN's team hosted a small, yet celebratory gathering. Shahroz Sabzwari spoke to HIP about the event that took place last evening, "Nadeem Sir is like a father to me." Another one of his co-stars, Adil Murad said that a lot can be learned from Nadeem Baig (agreed).
"Nadeem Sir has so many minor details in his acting, as an audience you might not notice it but being an actor you can see these specifics. He is an institution from which we can learn from," noted Adil and we couldn't agree more.
We wish Nadeem Baig our heartiest congratulations on completing fifty glorious years in the business and hope that we get to see more of him on celluloid.