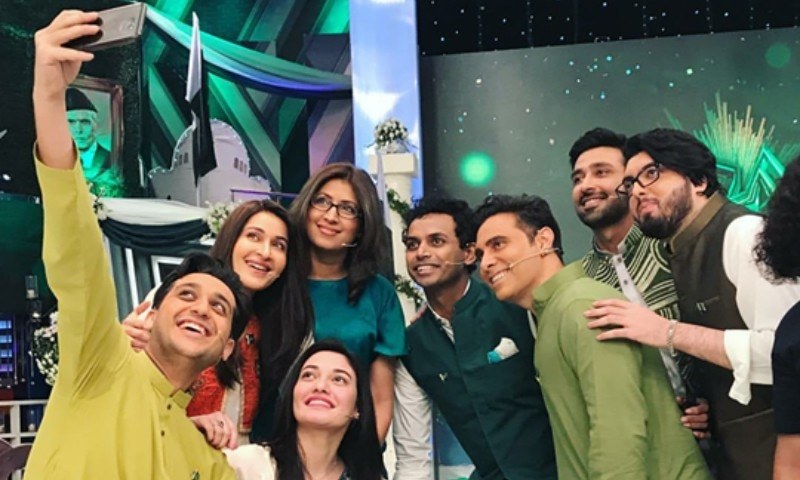 From appearing in live shows to sending out messages and singing, our stars know how to enjoy the occasion!

The entire nation is super excited today as it is Pakistan's 70th birthday. From decorating the houses with flags to lighting up the streets and buildings, it is good to see everyone sharing that festive feeling all around. But where we all have our own unique way to celebrate the day HIP decided to take a look at our celebrities and share with you what they are up to in honour of Pakistan's Independence Day!
Read : What makes Pakistan Sooper?
First up is the appearances which our stars have been super busy in doing.
Haroon and Muniba Mazari
Now we loved the video of Dil Say Pakistan but this live version posted by Vaneeza Ahmed was a treat in itself as the duo along with Shafaat Syed, Zhalay Sarhadi and Samina Baig to name a few, appeared on a Geo TV show to mark the occasion.
Faysal Qureshi
One of the most innovative way to celebrate the day was done by Qureshi who these days has grown very fond of cycling and hence decided to do 70 km to mark Pakistan's 70 years by cycling from 3 swords to Bahria Town, Karachi.
Momina Mustehsan
The passengers of this PIA flight were in for a pleasant surprise when the stunner Momina Mustehsan decided to awake the patriotism in everyone by singing Dil Dil Pakistan in the air!
Fakhr-e-Alam and Abrar ul Haq
The duo along with Younis Khan, Nabeel, Faakhir, Salman Ahmed to name a few were all part of a live show especially for Independence Day which was hosted by Fakhr-e-Alam himself which we are sure was a lot of fun.
Asim Azhar
What better way to celebrate then sing live for a audience at the Dolmen Mall in Karachi and then take a picture with all of them so they too become part of the occasion as done so nicely by Asim Azhar.
Ahmed Ali Butt and Ali Azmat
The original rock star Ali Azmat along with Ahmed Ali Butt sang the National anthem in front of a live audience which touched everyone's patriotic chord.
Shoaib Malik
Away from home, we quite liked Shoaib having gotten a cake especially with Pakistan Zindabad written on it and urging his fans to remember Pakistan in special duas today.
Now where up till now we saw live shows and even a special cake, we were quite impressed to see Hira Hussain go the extra mile by donning a ensemble in the colours of the flag!
And a very stylish Urwa Hocane with that killer waist coat which she wore while travelling to mark the nations birthday.
But then there were some stars who celebrated the importance of the day by sending out messages on their social media pages to share their thoughts on Independence Day.
But the one message which touched our heart was from Adnan Siddiqui's.
And on that note Happy Independence Day everyone!