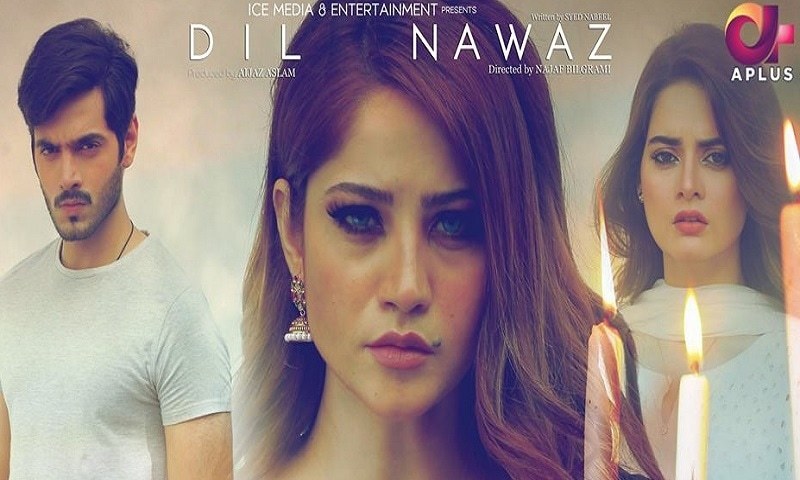 Fawad, Kiran and Dil Nawaz, make for a highly exciting love triangle

As much hopes that were attached with Dil Nawaz, the drama has proven to exceed expectations both in terms of content and execution. There's a very thin line between a serious supernatural thriller and one that turns into a comedy on its own, and Najaf Bilgrami with his splendid direction has managed to keep Dil Nawaz afloat with its execution and of course the highly intriguing story line.
The OST of Dil Nawaz will give you goosebumps
If you haven't been following Dil Nawaz yet on A Plus, tune in now and get hooked to this amazing story of love, passion and the supernatural. The story majorly revolves around Fawad played by the much talented Wahaj Ali, Kiran (Minal Khan) and Dil Nawaz (Neelum Munir), the beautiful supernatural spirit overpowered by Hazrat Bibi (Zainab Qayyum).
Amongst the various subplots, Fawad's and Kiran's love story dominates. In the seven episodes that have aired, we have seen Fawad's mother Rashida to share a very troubled relation with Kiran's mother and therefore the two lovers have been facing problems while trying to make their families accept their love.
There is also this house in the society, rumored to be possessed where Fawad moves after having a row with his mother over Kiran and her proposal. In the past, a lot of other families have also shifted to the same house, only to have left it after a while or succumb to the powerful shaman in the society played by ZQ, who possess Dil Nawaz, the spirit and loots money by those troubled in the neighborhood.
Over seven episodes, we see Dil Nawaz taking a liking to Fawad, after he shifts to the same house. Although she is several times instructed to overpower Fawad, she just cannot because she is gradually falling in love for him, at the same time marveling for his commitment to Kiran. Because Fawad has left home after fighting with his mother, she is desparate to have her son back and therefore seeks helps from Hazrat Bibi.
Hazrat Bibi instructs Dil Nawaz to take over Fawad's heart and make him forget Kiran at all costs. This command is like a dream come true for Dil Nawaz, who will now try to materialize and make Fawad fall in love with herself.
Although Kiran has asked Fawad to leave her alone, owing to the fact that his mother will never agree for the match, she is repeatedly getting signs of Fawad being in danger. However she is unable to do anything about it because she's bound by her own limits and shaky situations around both the families.
The upcoming episodes will see Dil Nawaz weaving her spell over Fawad and finally impressing him with her antics. Amazing direction, a very intriguing story line and commedable music that makes audience feel each and everything the play is offering, Dil Nawaz is an exciting piece of work that ought not be missed on Mondays at 8pm, only on A Plus!