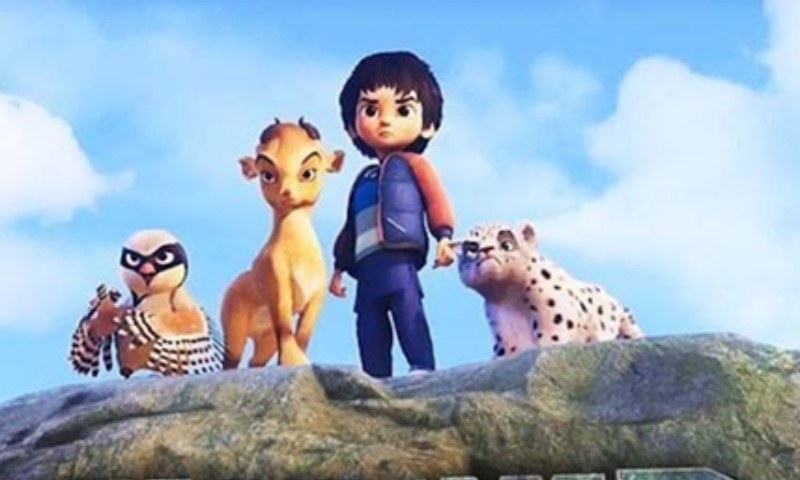 "The most interesting aspect of the partnership is that it promotes a local story with local characters " WWF Pakistan

With the revival of cinema in full swing and movies being produced left, right and centre one feels that there should be something for the kids as well. Afterall our children too should know that Pakistani film industry is enroute revival for sure.
Now 3 Bahadur was a delight to watch and children all over the country fell in love with the gutsy trio. But we needed more. A few months back we came across an animated film called Allahyar and the Legend of Markhor which left us rather impressed.
It was hard to believe but amazing nonetheless to discover that this quality of work which can be found in Disney movies could be produced locally as well. We're already in love with its teasers and now the team brings another exciting news. WWF ( World Wildlife Fund) Pakistan has decided to partner up with Allahyar and the Legend of Markhor making us immensely happy for the people at the 3rd World Studio.
With the focus of the animated film on the country's natural resources; since its main character is a boy named Allahyar who lives in a rural setting on the outskirts of a small mountainous town in the North of Pakistan. Allahyar is accompanied by an adorable chikor ( our national bird ) Hero and a baby markhor ( a national animal ) Mehru, creating a setting which WWF Pakistan can relate to well.
Read: HIP chats with the team behind Allahyar and The Legend Of Markhor
So we got in touch with a WWF - Pakistan representative and asked what made them be part of this particular project and this is what was shared with HIP,
"3rd World Productions provided WWF-Pakistan a unique opportunity to educate children about environmental and conservation issues in a fun and interesting way through the animated film. These children are the leaders of tomorrow and we must ensure that they are more responsible citizens then the generation before them. The most interesting aspect of the partnership is that it promotes a local story with local characters and species."
WWF-Pakistan was formed in 1970 and for its first fifteen years it was a small organization which relied on individuals for financial support and honorary scientific input. However, it was in the late 80s that the first formal project for environmental education was started and since that time the programmes of WWF-Pakistan have expanded rapidly to increase its conservation efforts.
In an earlier conversation with Eyad Ibrahim, the Associate Producer of Allahyar and the Legend of Markhor, mentioned how the film was inspired. "It is a story about our relationship with other species that share this planet with us, it is about nature and the importance of conservation. It is also about being selfless and understanding the value of life and living things."
With Allahyar and the Legend of Markhor coming out this winter we look forward to watching this animated masterpiece with voice overs by Ali Noor, Natasha Humaira Ejaz, and Anam Zaidi amongst others.