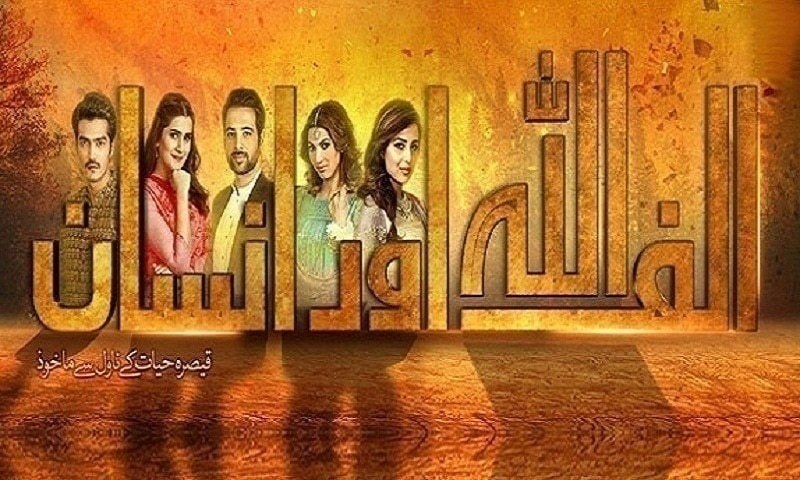 As expected, the drama has become a drag since the past few episodes

Alif Allah aur Insaan continued to be our Tuesday favorites ever since it started. But the past few weeks have been somewhat of a torture for all those who have enjoyed the fast paced and straight forward plot for this drama since the story is only revolving around circles with fillers everywhere.
The basic theme of the play has been lost somewhere. Maybe the writer and director is trying to show the full circle of life with these stretched episodes, but its certainly becoming a drag. However, here's the rundown for this week's episode and what we made of it.
Basit knows his mother and father were killed by Hashmat and now, he has this guilt added over the top of his already heavy heart that thinks he betrayed Shahzeb. As a cherry on top, Nazneen is complacent. She has won from Shahzeb but still cannot make Basit hers, a victory with a huge loss. And now upon finding how Nazneen's father was responsible for killing his own parents, we think Basit might not have it in him to carry on living with Nazneen. The story might move forward in such a way that Shammo's curse to Nazneen (in the first episode) might eventually become her reality. The girl destroyed three houses with her fantasy of a love that her friends instilled in her mind and is now pining for her own peace.
Speaking of Shammo, his promise of doing something for his people is still lost somewhere. The character which was once very powerful, appears in the drama only to fill in a few scenes only. We wanted more from Shammo as Imran Ashraf brought across great portrayal of the trans character.
Zimmel, Shaheer and Arslan are proving to be nothing but fillers for the drama. Their over-acted mohabbat scenes are quite annoying honestly. We still don't understand the purpose of Zimmel's track and her involvement with Basit and Nazneen. We're hoping for a climax to the drama soon, before these annoying antics actually make us tired of our once favorite play.
The only meaningful track in this week's episode proved to be Reena's. The woman is still stuck with her uptight notions, thinking she can do what she pleases, even when she had to make her way back to the brothel, she once kicked. Although she has chosen to keep the child, she will need to become more level headed before she can raise the baby up properly. But at this point, Reena being Reena is not thinking anything other than her own convenience. Even though Chaman Begum gave her a true reality check and she knows she has to join back the brothel responsibilities once the baby is delivered, Reena is still choosing to ignore everything else, just because she can.
Where other characters annoy us with their stilted behavior, its Reena's annoying nature that keeps us hooked to her character. Ushna Shah has nailed Reena amazingly, owned the courtesan's character with her heart and soul. Without a doubt, Reena has to be Ushna Shah's best character to date.
Alif Allah aur Insaan: Ushna and Imran own the show
Alif Allah aur Insaan has had an amazing story with so many life lessons but the drama is beginning to drag and it will be better if it winds up in an episode or two. The makers are risking losing the followers for the play. We need to see the end soon and find out what happens to everyone; there are just so many lose ends to tie up and we wonder if everything will get a proper closure or not.
Alif Allah aur Insaan episode 27 review: Slow paced but interesting