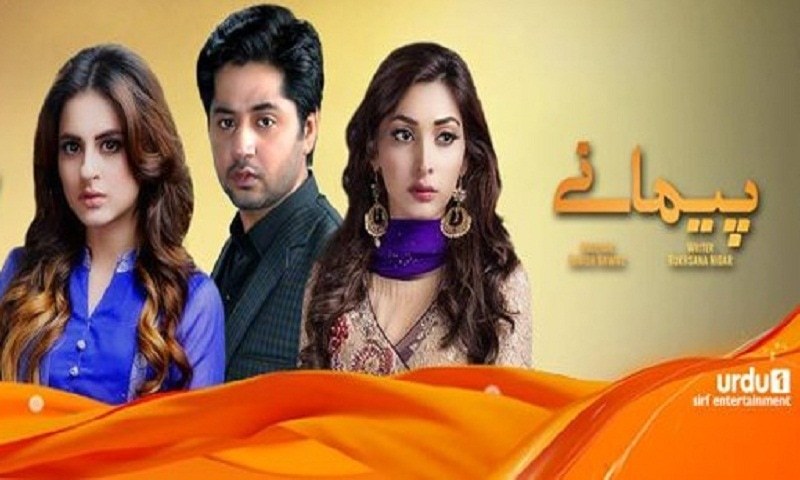 Effendi essays the role of Ayeza brilliantly by hiding her selfish nature behind a smile with ease.

This year has seen some amazing plays from Urdu 1 in the form of Mujhay Jeene Do, Beinteha, Gustakh Ishq and Baaghi to name a few. Recently we began to see teasers of their next called Paimanay and made a mental note to watch its first episode for sure since it is directed by Danish Nawaz which makes it his next after Sun Yara.
The first episode aired on 8th November, and to our satisfaction, this one hints at being another amazing play to come from Urdu1.
Produced by Humayun Saeed and Shahzad Nasib,Paimanay takes an exciting new approach to love, friendships and betrayals. Asim Mehmood joins the camp with Danish Nawaz after Sun Yara but this time around, the guy plays the role of Ahsan, a sober looking but interesting guy nonetheless.
So what went on in the first episode? Well let us fill you in if you missed it.
Read: Reasons we're looking forward to Paimanay on Urdu1 tonight!
The first episodes usually introduce us to characters and this is exactly what happened with Paimanay. We met two best friends called Ayeza (Fatima Effendi) and Seerat (Eshal Fayyaz). Now these two are inseparable and share a very strong bond but where Seerat is very innocent, Ayeza is pretty clever, a hint we got from her demeanor in the play.
Seerat belongs to a wealthy family and is looked after by her brother and bhabi (Farhan Ali Agha and Laila Wasti). Seerat, at times, does not like the fact that she is treated like a baby by her bhabi even though she loves her just like a daughter.
Now where her's is a close bonded family, right there we see Seerat falling in love with a guy called Amir (Asad Siddiqui) who owns a small shop and looks quite clever. To top it all of, Amir is not at all up to Seerat's family's standards. Seerat, being the innocent girl she is, does not realize at all that her family will never accept Amir as their son in law.
Ayeza keeps on telling Seerat that Amir likes her. It seems she too is interested in him but she prefers to keep him at a distance. Imran Ashraf is also the part of the play as Jahanzaib, bhabhi's brother. He too is interested in Seerat but Seerat in return is pretty rude to Jahanzaib.
With Ayeza all set to get engaged it is her eyeing a very expensive bracelet of Seerat which tells us that she is quite materialistic and has befriended Seerat with a purpose. Where Seerat adores Ayeza with all her heart, Ayeza has something else up her sleeve.
In the first episode we have to give it to Fatima Effendi who nailed her character to the T. From her body language to her facial expressions everything about her was perfect in fact as soon as she came on the screen. Imran Ashraf knows his craft just too well. Even though his screen time was brief in the first episode, the guy made the character of Jahanzaib right from the very first.
Written by Rukhsana Nigar, Paimanay is a tale of family, love, friendship and betrayal which has begun on a good note. So if you still haven't seen it then you must every Wednesday at 8 pm only on Urdu 1.
---
Sponsored by Urdu 1