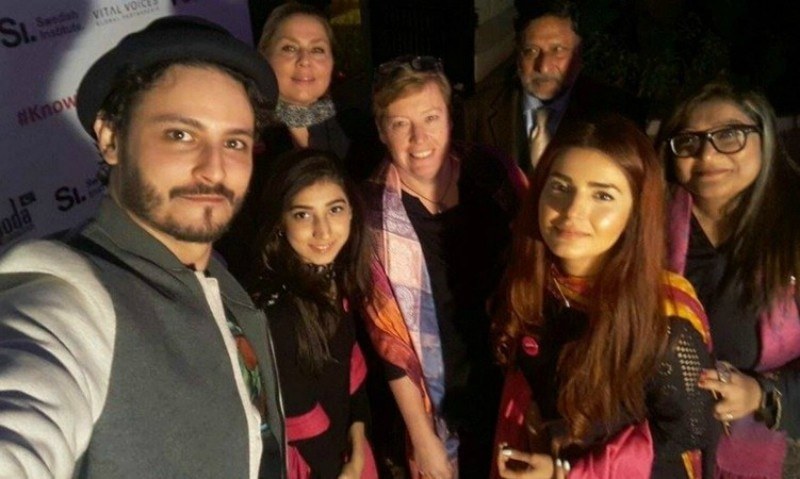 The duo along with others read a play based on the personal experiences of women activists from around the world.

Social media has redefined reach for celebs. And with this ease there has come a greater responsibility, for celebs to utilize their fame for a good cause. And its an achievement for Pakistan in the sense that celebrities belonging to the soil know what part they ought to play when it comes to creating awareness and other things.
The Embassy of Sweden, the European Union Delegation to Pakistan, the UN Women and the Potohar Organisation for Development Advocacy recently held a reading of the documentary play Seven based on the personal experiences of seven women's rights activists including Mukhtar Mai and prominent celebs from the country including Osman Khalid Butt, Momina Mustehsan and Maryam Nafees to name a few became part of the reading on stage in Islamabad.
The concept behind Seven was to tell the true story of seven well known women activist who fought for the well being of women around the world for example, rescuing girls from human trafficking in Cambodia, giving voice to the poor in Guatemala and fighting for women's rights and education in Pakistan.
Read : Mukhtar Mai's strength will get you emotional and inspire you to donate!
Conceived by Carol Mack, seven women namely Anna Deavere Smith, Ruth Margraff, Gail Kriegel to name a few, worked with one of the women whose stories made up the play over a series of interviews in 2006-2007 and wrote a dramatic monologue based on her story.
Having performed their first play in 2008, Seven is now in Pakistan to raise awareness on violence against women and they have now gotten senior government officials, celebrities, human rights activists on board to promote women's access to justice and the cause in general.
With a great crowd present at the venue, the stage saw the return of Osman Khalid Butt after three years as he shared, "Returned to the stage after 3 years with SEVEN. Couldn't have asked for a better comeback. So proud to be part of such an important play, and to tell Mukhtar Mai's story."
Mukhtar Mai was gang raped by four men for an alleged honor crime. Her village had no school and she was taught silence and fear. But she chose to bring the rapists to justice, built schools to improve the condition of women, and became an advocate for education in Pakistan.
Besides Osman Khalid Butt , Momina Mustehsan and Maryam Nafees also read powerful extracts .
With the play having already been performed in 38 countries in which some productions also involved the likes of Meryl Streep, we couldn't be prouder of our stars who took the initiative to be part of something so meaningful and much needed. .