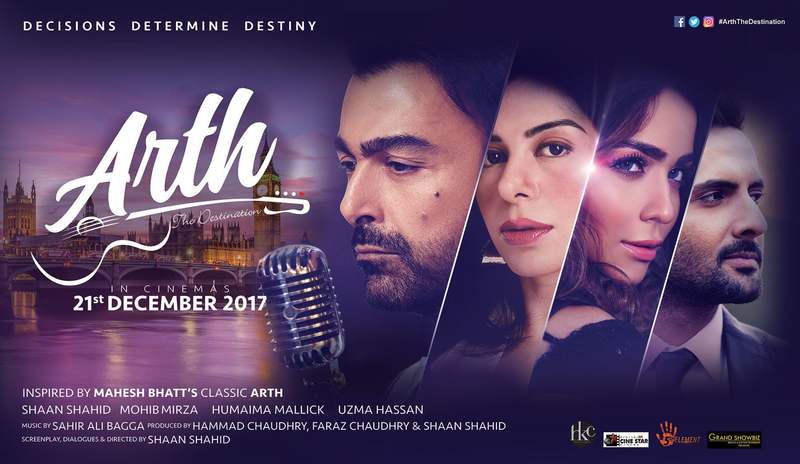 When I had an opportunity to interview Shaan weeks before the release of Arth, It looked to me, he was trying to tread a new path for Pakistani cinema with Arth. Well, now having seen the film, I can say that the methods he employed to walk that path created stunning visuals, but story telling wasn't too articulate. The look of the film is great, but the emotional connect is lacking apart from except probably Uzma Hassan's character. Despite being a bit over two hours long, on many instances the film feels a bit rushed. However, this film has stretched boundaries for the industry that is for sure.
Self-aware and meticulous, Shaan treads a new path with Arth
It's a story of 4 individuals, Ali (Shaan) is a 90s ka baba pop star, whose glory days are well behind him & he has recently been divorced by his British wife. This obviously means all his assets are gone. The man realizes it's time to go back home (Pakistan) and 'reconnect with his long lost fans.' While Umer (Mohib) who is an upcoming director, falls for the gorgeous but schizophrenic Umaima (Humaima), despite being married to Uzma Hassan for 10 years. A brilliant writer, Uzma has scarified her talents to support her husband. All the while, she is an obsessive fan of Ali's music and just as her married life is being torn apart, she runs into the singer. Meanwhile Ali's comeback is not going as planned, he faces ridicule at concerts, morning shows and by younger fans alike.
Umaima and Umer, can't keep their hands off each other in love and in anger (literally), while, a sweet friendship cum love develops between Ali and Uzma. One is based on unabashed passion, while the other on companionship. This continues for a while and you probably would guess what happens next. Does this feel a bit expected but still rushed and incoherent? If yes, than I have done a good job describing what the film actually is. It takes interesting and complex directions but returning quite abruptly to how things ought to be.
Umaima spends most of her time in a bathing tub or throwing a hissy fit at Umer. He is deflecting constant pressure from Umaima, while also trying to control Uzma during the divorce period. While, I enjoyed the lack of veil by Umaima's character, it would have helped had their been more to her character. I am afraid there wasn't a great deal there apart from her tantalizing looks and well just crazy. So when the duo, deliver weighty dialogues and take decisions, they look misplaced and hit you out of the blue. Umaima impresses by her look and plays her role aptly, while Mohib has been restricted and restrained. His motivations for love for Umaima, (apart of her being 'hot') are unknown, and his rage towards Uzma, unwarranted but somewhat understandable. Also, Umaima's gora doctor advises her to 'just be happy'. Not the best, professional advice for a person suffering from Schizophrenia.
Unapologetically herself;Humaima Malik talks about Arth & more
The real story though is of Ali and Uzma. Two broken individuals, who are trying to 'restore' their lives together in their own way. Uzma, is at times awkward, at times funny and gives the film a good reality check. Her posted notes said STOP EATING!!!, nicely done. There are clear motivations of her behaviour. Her fascination with Ali, links to nostalgia. There is a very interesting scene there, look out for it. Shaan, gets the most screen time. This character is essentially about rediscovering himself. It was different to the usual macho Shaan we see in actions films. The struggle and vulnerability is there to see but unlike Uzma's plight you dont feel as much for Ali. Things just keep happening for him.
Arth has fantastic music. Kudos to Sahir Ali Bagga for creating amazing compositions. Along with poetry, songs have been used cleverly to portray emotions. It helps create connections with the characters. The film has been edited in an innovative manner, new tools on display, I suppose. A significant part of film is in English (there is the F word and alcohol as well), popular Western celebrity references. I guess, they are looking at the multiplex audiences.
HIP Exclusive: "Arth is a depiction of reality," Mohib Mirza
There are some idiosyncrasies linked to Rahat Fateh Ali Khan's appearance, Immu's character and the TV presenter. Watch the film to figure it out. Cameos by Yasir Hussain and Ali Azmat bring familiar faces and comic relief in a film aimed to be tense.
All in all, Arth isn't what it promised to be. It misses the mark but finishes close enough for me. Credit due to the film maker for taking up a complex story and trying to make a different film. This is how Pakistan cinema will evolve. But you have to point out the obvious. Arth would have been much better with a little more rawness and a tighter script. It's a mixed bag but with a 3 day weekend, you could make time for a slightly flawed but trend breaking film.