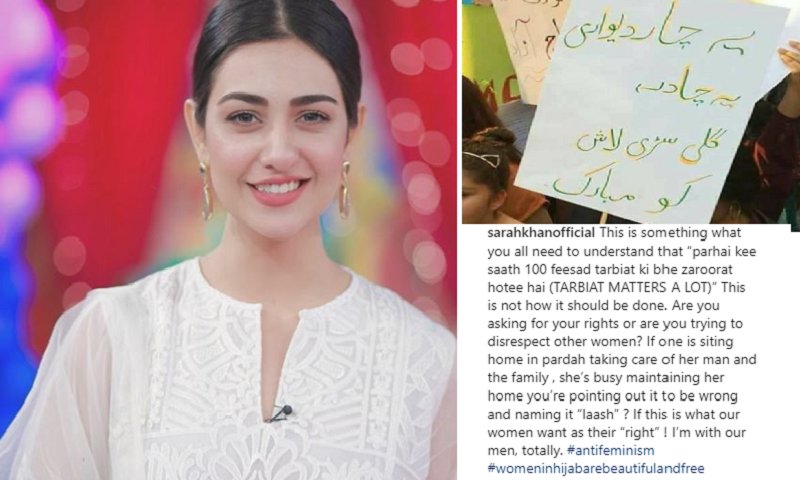 The gorgeous beauty shared her views on modern-day feminism over social media

It seems like feminism happens to be the most misinterpreted and misunderstood term in our country. There's a woman who says that she's better off steering clear off the word feminism, but comes out on an international platform with a distorted version of her own previous take on the same mindset.
Read: Momina Mustehsan Receives Criticism From Netizens After Her Post On 'Feminism'
And then there are others who value choices and consider that as the driving force behind everything. Sarah Khan, the gorgeous beauty who is currently shining bright in a number of drama serials, namely "Belapur Ki Dayan" and "Mere Bewafa," recently shared something on her social media which has prompted a lot of people to think and has ignited a debate too.
Sharing a picture from the Women's Day March, Sarah wrote about how a woman staying inside her house was incorrectly being referred to as a charred corpse.
"This is not how it should be done. Are you asking for your rights or are you trying to disrespect other women? If one is sitting home in pardah taking care of her man and the family, she's busy maintaining her home and you're pointing it out to be wrong and naming it "laash?" If this is what our women want as their "right" I'm with our men, totally," wrote Sarah.
Sarah's fans came out in throngs supporting her and applauding her upright views.


While the placard holding the slogan didn't make the context clear as it could be referring to women who are brutally forced to stay indoors or abused while taking care of the families, we also appreciate Sarah Khan's stance and the way she responsibly came forward with her views. So what do you think about Sarah's take on it? Let us know in the comments below.