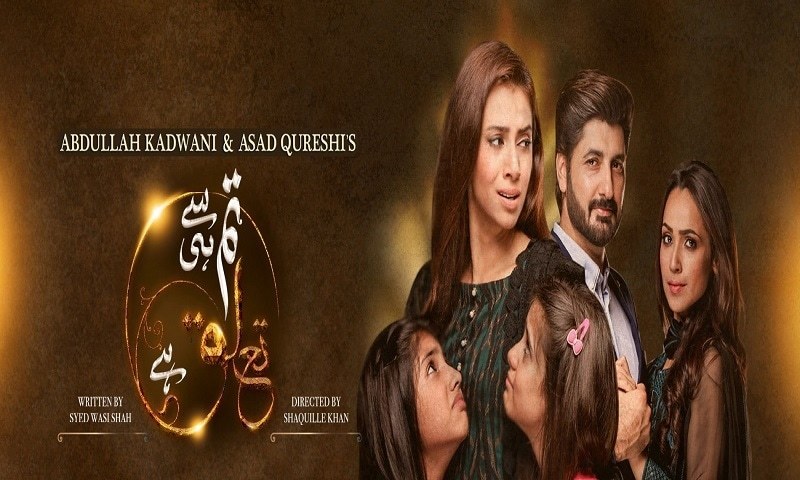 Alina and Sadaan are bound by a forced marriage - and to make things worse, Rama has just entered in their lives!
Geo Entertainment in collaboration with 7th Sky Production has recently presented yet another magnificent play that highlights repercussions of forced relationships - Tumse Hi Taluq Hai.
Directed by Shakeel Khan and Written by Wasi Shah, the story has strong characterization with characters that are very well knitted with one another. It's life story of Sadaan (Syed Jibraan) and Alina (Tooba Siddiqui) – cousins – married to each other and have two daughters. The relationship is problematic due to the very fact that it's a forced one and now regardless of Alina's selfless love towards Sadaan and her children, things do not seem to fall in place rightly.
On the other end we have Rama (Faryaal Mehmood) – Sadaan's colleague – who is apparently in love with him. Rama has a stepfather and a life she has lived in poverty; she feels Sadaan is her way out of the troubles.
Tooba Siddiqui and Syed Jibran pair up for 7th Sky Entertainment's next "Tum Se Taluq Hai"
From what it seems, Rama is more interested in Sadaan's money hence she has created a rift between the couple. Alina is back at her mother's place where her only wish is to reunite with her daughters who are innocent in this all situation. Whereas Sadaan, blind by Rama's deceit, blames Alina's cousin for the breakup and wants an apology.
The story has now gotten complicated since Sadaan's mother has named each and everything from her property to Alina – much to Sadaan's shock. Only time will tell now how Rama will react to the changed situation where Sadaan is nothing without his bank balance! We can take a sigh of relief now as Alina and her kids are saved from the evil conspiracy.
The drama can be called a true mix of emotions and suspense that are keeping the story intact. All the characters are doing complete justice to their character and we can't help but sympathize with helpless Alina, feel frustrated at Sadaan and absolutely hate Rama. Faryal Mehmood has really gotten into the skin of her character.
Additionally, the supporting cast which includes Shabbir Jan, Ali Abbas, Anum fayyaz and Shamim Hilali are supporting the story in true sense and doing some nice jobs.
So far the story has been quite intriguing – now we only to got wait and watch more episodes to find out the story of Sadaan and Alina who are eyed by Rama's evil intentions. Tune in every Monday at 8 p.m. to find out!