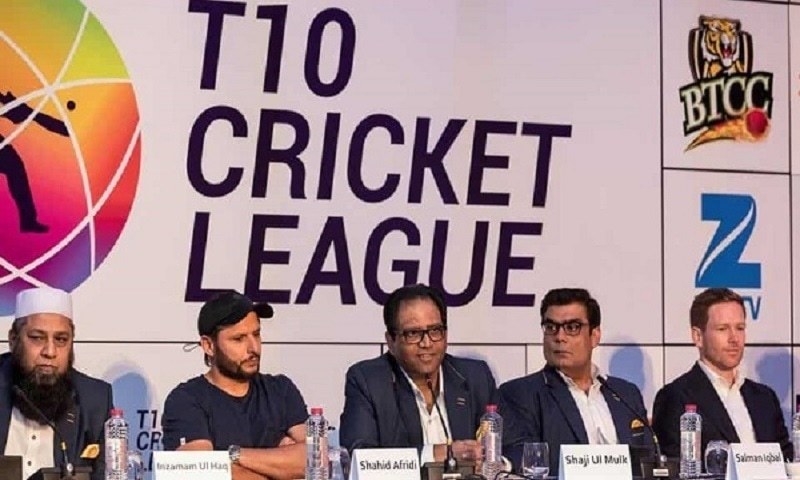 After recent withdrawal of Salman Iqbal, PCB has also suspended issuance of NOCs to the players

Last year, after initial indecisiveness PCB embraced the T10 idea whole heartedly. Despite, strong reservations - some valid, some not - from the largest media group in the country, PCB gave NOCs to all their top talent and more. Najam Sethi, was triumphant with the amount PCB was to get from it. Salman Iqbal, owner of a rival media group and Karachi Kings was a major investor.
It all came and went. It didn't make a big splash on the already densely populated cricket calendar but the money men like the idea. So we were told that year 2 would be bigger and better. Team numbers increased from six to eight and star names such as Rashid Khan, Chris Lynn, Brendon McCullum and Andre Russell were signed on.
Those aspirations seem a distant reality considering the events of the past couple of weeks. Initially, league President and investor Salman Iqbal resigned from his position. He claimed there was a lack of transparency and no systems or monitoring of the league. This was the crux of a rather patriotically painted statement. This was swiftly followed by the announcement of Imad Wasim, who incidentally happens to be captain of the Karachi Kings franchise.
Salman Iqbal Resigns As President T10 League!
Now the new PCB chairman Ehsan Mani has declined to issue NOCs to players until they get satisfactory responses about the league ownership and financial structure. ICC has been asked to provide reassurance that this league is clean. Here is what he had to say.
"I am holding back my position [on providing an NOC to the Pakistani players to participate in the T10] until I am fully satisfied with specifics on whose money is fuelling this league. In fact, I have asked the ICC for reassurance because they have sanctioned it and I need it in writing that they are totally satisfied that this league has no such element that can bring Pakistan players into dispute. Unfortunately, [our players] get trapped [into sinister machinations often] so my top priority is to protect my players as, for us, reputation of Pakistan is far more important."
The T10 tournament, essentially the 4th format for Cricket, started last year. It remains to be seen if through cricketing channels or even political ones, Ehsan Mani could be influenced or not. For now, without Pakistani players this new format of cricket is danger of losing its appeal in its biggest market.