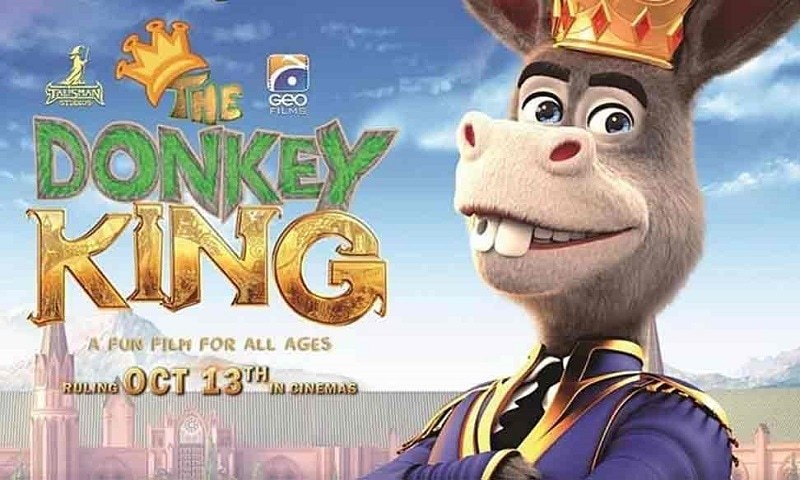 Satire and quality of animation makes it an enjoyable flick

Donkey King starts with a scene from a very familiar show 'Kon Baneyga Crorepati'. We know what is coming, but the director is still able to make the audience smile or laugh by adding something of his own. We are well aware of what route the story is going to take. Nonetheless, it is the satire and fluidity of the story that keeps us engaged.
Donkey King is a story of a place called 'Azad Nagar'. Among it, Lions rule and prey on masoom riaya (goats and donkeys), some are fighting against this oppressive rule led by the wise old bear, Sardar Chacha and donkeys who works as Dhobi and are considered to be at the bottom of the society hierarchy.
However, our Hero Mangu, is a dreamer. He likes to sleep and dream about a better life. His deceased father often shows up when Mangu is facing a difficult situation and offers suggestions.
When the King due to diabetes and joint's pain decides to take retirement in favour of his 'aiyash' son, the conniving fox 'Miss Fitna' tricks him into following the democracy model. She tells the king that it provides an illusion of public rule but actually they will be in control. However, she has an evil plan up her sleeve. Along with media house owner monkey Jhamora and venomous chameleon Rangeela, she conspires to make Mangu the King of the jungle. Inevitably, Mangu fails as the king, due to his own inaptness and Miss Fitna's scheme. Soon there is a massive law and order situation in the jungle. Can Mangu wake up from his slumber and save the day for Azad Nagar's awam?
The film is perhaps targeted towards an adult audience than children. The jokes about controlled democracy, role of media, political sloganeering, conspiring against the collective good for personal gain, all these ideas are relevant in our society but perhaps children might not be able to comprehend it.
Jan Rambo as Mangu is super excitable, loud and entertaining. While Hina Dilpazeer has snarky element required for any evil character. Senior artist like Javed Sheikh, Irfan Khoosat, Ghulam Mohiuddin, Ismail Tara, lend their voices and do justice to these characters. Animation team lead by Zeeshan Kirmani deserves a lot of credit for creating these beautiful pictures for us. However, lip sync was a minor weak point.
All in all director, Aziz Jindani has delivered by creating fun characters saying things we can easily relate to. As writer and director, he has intelligently carved out a film about things we complain about daily and not make it boring. Although the film plays around with some stereotypes but eventually it breaks the biggest one. I am happy to live with that. Satire and animation are also on point. It's a film about aspiration, and doing the right thing. A fun watch for the weekend!