While celebs have finally come out to support #MeToo, OKB is still setting strong examples for his industry fellows

Recently, Osman Khalid Butt - who is known to be a feminist and strong supporter of #MeToo victims - posted a picture of himself with his Baaji co-star Amna Ilyas to wish her a happy birthday. Among the commenters, one made a comment that did not go down well with Osman and he made sure to 'educate' his fan.
The comment said, "Please be careful because after some time she would be accusing you of harassment because #metoo."
Now Osman is not somebody who would let anyone make fun of such an important issue. He's known to be a feminist with very open and clear views, and his support for #MeToo was evident here too.
He replied, "Harassment allegations are not this frivolous nor is #MeToo a movement to be taken lightly. If you don't respect women speaking out about the trauma they've endured, the least you can do is not reduce it to a reductive, inane comment. Peace."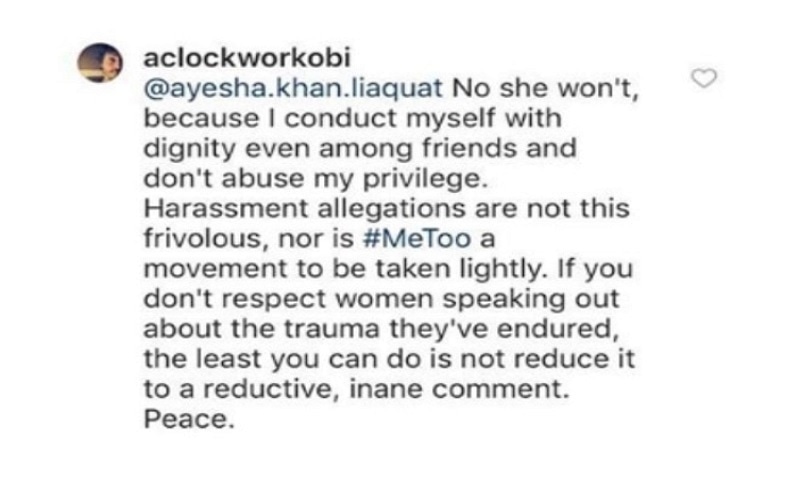 Osman then also took to his Twitter and said, "Reading utter tone-deaf comments/statements regarding the #MeToo movement & feminism in general. Gender sensitivity training should be mandatory across all fields."
We so agree with the Aun-Zara star over this!
Earlier this year when Meesha Shafi accused Ali Zafar of sexual harassment and (if not all) most celebrities went numb on the matter, OKB openly came out in Meesha's support.
Osman at the time took to his social media in Meesha's support and affirmatively made his statement on the matter.
OKB was also there to support students of Bahria College when the scandal regarding sexual harassment by a teacher Sadat Bashir surfaced.
Few months down the lane, when everyone has come out of the bunk and now holds a strong opinion on the #MeToo issue, Osman is still here setting strong examples for his industry fellows. Kudos to you, OKB!
Also Read: "Time for #MeToo in Lollywood," asks Moor director Jami