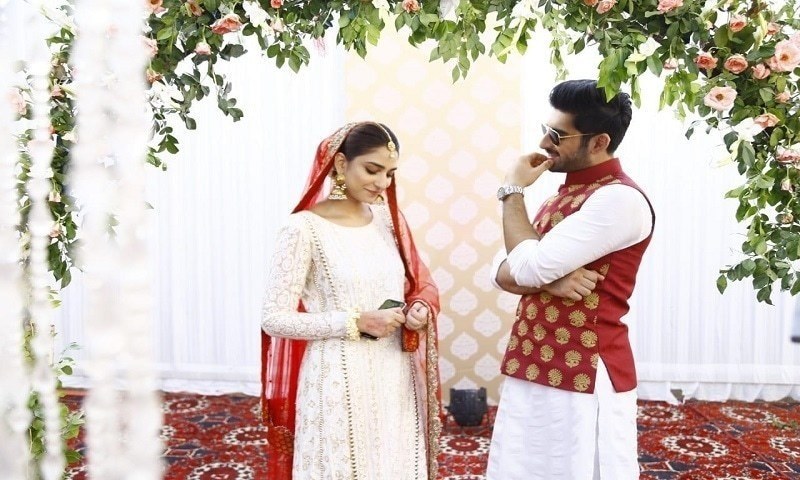 Ramsha Khan makes you fall in love with Mariam as her journey begins with the aggressive Ahmad played by Muneeb Butt
Initially titled Mangharat, the Ramsha Khan and Muneeb Butt starrer Kaisa Hai Naseeban began last night and we made sure that we left everything and sat down in front of our TV screen to watch the double episode without any interference. We like the main thought behind the drama which shows that how quick we are as a society to judge that whoever is living abroad is wonderful and well settled without even trying to find out whether what the family is saying about themselves or their son is true or not.
Written by Samina Ijaz and directed by Ahmad Bhatti, we feel that topics like these need to be addressed so people become aware that all that glitters is not gold whether it is your own immediate family or complete strangers. It is very important to do a thorough check before any proposal is accepted especially if your daughter is to go abroad.
So with the drama having begun, here is what happened in the story so far which quickly went from Pakistan to Malaysia within that two hours.
Read : Kaisa Hai Naseeban is an eye-opener for parents' wishing to get their daughters married abroad
Ahmed (Muneeb Butt) is Mariam's (Ramsha Khan) first cousin and his mother played by Uzma Gllani is her Phoopu. Now where she has been given the impression that they are very rich in Malaysia right there the truth is finally revealed to poor Mariam once she lands in the city after rukhsati.
With the marriage having occurred in a hurry because Ahmad is family and no one ever thought to see what he was currently doing, the wedding happens with great love and Mariam is over the moon as any new bride would be because lets face it her husband is good looking and well off so she is excited to be leading a nice life abroad.
But sadly her own Phoopu is a liar and is using Mariam to get her father's money so they can invest in a business as Ahmed basically does nothing except order her around and keep her happy only when his mother tells him to do so as she does not want her brother to know the truth about herself and Ahmed.
With a depressed Mariam who is reduced to do all the house work, it is when Ahmad decides to be nice for his gain that we see her smile but the reality has left her in shock as she was not expecting to land in a crammed flat. Ahmad tells her that they had faced a loss and innocent Mariam buys his words but near the end of the episode she gets a slap from him as her mother in law fakes a burn by having tea dropped by Mariam.
So stuck in a troubled family, we sincerely hope that Mariam is able to get out of this soon and make something of herself as that would make the play a must watch.
Talking about the acting front, we are so glad to see Muneeb Butt play a different character as he sheds his romantic image to play a difficult Ahmad. Ramsha Khan is a delight to view as she is a natural actress and has already made us fall in love with Mariam as we sincerely hope that she finds her path in Malaysia and exposes what a fraud Ahmad and his mother are.