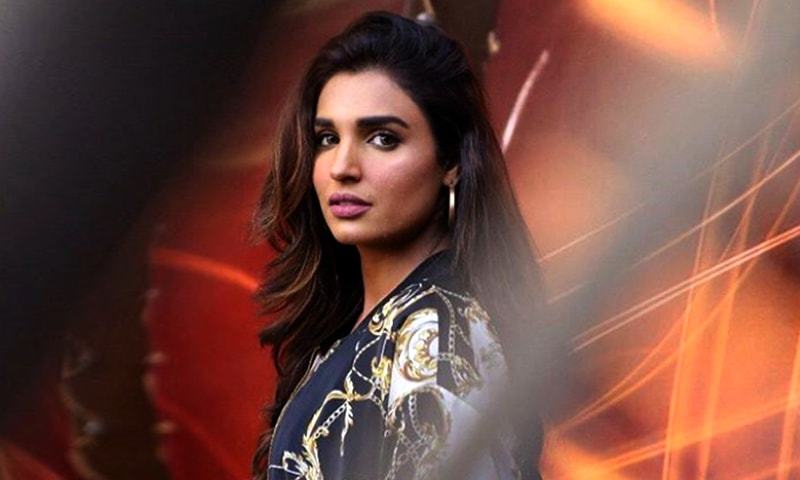 There are plenty of models out there, but only a select handful surpass the rest in terms of fame and recognition in order to become something more, a celebrity, a supermodel. The phenomenally talented Amna Ilyas needs no elaboration. We first saw glimpses of her acting abilities in 'Zinda Bhaag' where she matched up with performers like Nasseruddin Shah and Khurram Patras. She then surprised us completely with her comic turn in '7 Din Mohabbat In' as Ghazala. Her talent is taking her places as she is all set to play an important role in her upcoming film 'Baaji' the directorial debut of Saqib Malik which also stars Meera, Ali Kazmi, Osman Khalid Butt, Mohsin Abbas Haider, Nisho and Nayyer Ejaz.
Amna opens up with HIP on her experience of working in 'Baaji', her career choices and her journey in Lollywood so far.
HIP: What made you say yes to Baaji? How did Saqib Malik approached you?
Amna Ilyas: One can't say no to prolific names like Saqib Malik. I didn't want to miss the opportunity of working with him. Initially I was offered to do a song in the film, but later on things changed (thankfully). I got a random call from Saqib offering me a meaty role; there was no question that I would refuse him. Honestly I didn't go through the script but did get a narration; I blindly trust him and more importantly his vision; he is truly a class apart. I have been a huge fan of Saqib since 'Khamaj'. I hadn't worked with him in the past and what better way to collaborate with him for his debut film. I knew it would turn out to be a great learning experience for me as well.
HIP: Tell us about your character in detail.
AI: I play an innocent young girl who lives life to the fullest and is willing to take risk in order to achieve her dreams. She ends up meeting this gigantic star that you will eventually come to know once you watch the film. My character has depth and many shades to it. 'Baaji' made me experience it all, be it romance, emotions or dance.
HIP: How was the experience of working with MEERA JI and veterans like Nisho and Nayyer Ejaz?
AI:I have gone on record to say that there never has been a dull moment with Meera. She is an absolutely lovely person full of life and energy. With more than five hundred films to her credit she is more like an elder sister to me. Meera is technically very strong, doesn't need to rehearse her lines and at the same time she is very spontaneous. Acting is all about actions and reactions therefore I enjoyed the entire film giving reactions to Meera (laughs).
I have a couple of scenes with Nisho ji; she was indeed the motherly figure on sets. It was brilliant sharing the screen with her. Nayyar Ejaz is simply phenomenal, one tremble's while shooting with him, you have to be spot on as he is so particular and confident in whatever he does, which at times made be uncomfortable but still I enjoyed. He brought a lot of contagious energy to the sets off camera as well.
One thing which many people aren't aware of the fact that 'Sania Saeed' is also in the film. My first scene was with Sania, all I can say is she is gifted and blessed. She understands the sensitivity of the scenes so well. I am glad that we have some intense scenes together.
HIP: How important it is for you to play the lead role? As an actor do you play safe?
AI: Not really! Times have changed; it's not just being the leading heroine every time. I have done both lead and supporting roles in my career. I got great reviews for my act as 'Ghazala' in 7 Din Mohabbat In. I truly believe in the character as long as it takes the narrative forward. Every role I choose should necessarily satisfy the actor inside me.
HIP: How would you describe your journey from Zinda Bhaag to Baaji?
AI:My journey has been quite interesting. My first film 'Zinda Bhaag' suffered as it got limited release due to lack of screen counts available in the country. Further the film wasn't entirely in Urdu, it was more in Punjabi therefore it relatively performed better in Lahore then Karachi. ZB is my favorite film and very close to my heart. I got great reviews for it; the audiences were surprised to see a model who can act as well. Being a full time model, it was difficult for me to choose the right films, resultantly I said no to a lot of offers that came my way. As a person I am very content, I learn from my mistakes and who knew 'Baaji' was destined for me.
HIP: What kind of roles are you looking forward to in the future?
AI:I am ready to do whatever comes my way unless it has something substantial to offer allowing me to prove my versatility. I want to explore the different aspect of acting by doing challenging roles. It's not about looking glamour's every time.
HIP: Does the digital platform seem like a looming threat to the silver screen? Are you open to doing web series?
AI:I feel the magic of 70 mm is irreplaceable. Cinematic experience takes you to another world and is way larger than any web series that one can watch even at a home theater. Yes! I watch a lot of web series and would surely consider if something comes up my way. The good part about it is the creative leverage and lesser censor policies which allow the makers to create content which is organic and relatable to the audiences.
HIP: How do you maintain relationships? You appear to be friends with everyone…no catfights, no controversies?
AI: The days are gone, when catfights between actresses made headlines. In today's time and age, actresses are pretty mature, the industry has relatively expanded and there is work for everyone. I maintain a certain level of dignity at my workplace; we have to follow certain decorum. The best policy is to mind you own business, do your thing and go home. I tend to have healthy relations with my co stars. Catfights and controversies bother me a lot in fact I feel bad for myself, therefore it's better to maintain cordial relations with everyone.
What are your plans for 2019?
AI: I don't have anything concrete as of now, but I am in the process of focusing, learning and working hard to become a better actor. I want to value little things in life, follow the path which god has planned for me. I am looking forward to spend more time with my family especially my nephews.