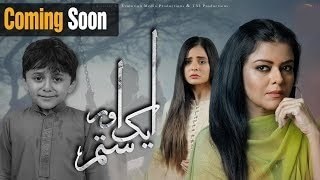 Maria Wasti talks about her strong character in the new drama serial

"I'm playing an intense role"; Maria says about her new play.
After hauling up profound issues like women empowerment and its stereotypes through her characters, Maria Wasti is all set with another thoughtful and a subtle issue of resentment.
Under the production of Zeeshan Khan (TNI and Evolution Media), her serial Ek aur Sitam is going to be on screen from 20th Feb on A-Plus. An international actor Alyy Khan and a refined actress Maria Wasti along with Fawad Jalal and Beenish Chohan will surely speak volumes.
While talking to HIP, Maria says that it's a story of two different mothers and a delineation of the society where every mother has the same soft spot and sentiments for her kids, but gets totally different when it comes to other children. Being a mother, one should ingrain a kinship not just for her child but for every other child because she knows the efforts a mother makes to give birth to her child and how dear is every child to her mother.
As an effusive women, Maria felt her character heavy on heart and says; "my character is an intense one and I had a little bit of difficulty doing it. Rukhsana (her character in the play) is a negative character and I've done such characters before that as well, but it is still challenging to put on and portray such characters because negativity always hurts and when you don't possess those overly cynical traits, it feels like you are going against your own self and morals which is heart wrenching".
Recalling one of the scenes from Ek aur Sitam, she added;" The overall character is not in accord with my personality and specially the scenes where I had to be cruel to a kid. That was woeful because as a person I can't bear such things and that too with a kid."
While concluding all the elements of the serial that verily depict the society, she says that this is a family story, full of emotions and reality. The audience would be able to dredge up affection, resentment, power of karma, mother-child relationship, and tartness of allegations, polytheism and a lot more. She was so sure that people would definitely be able to relate to it and like it.
Travel Diaries: Maria Wasti goes on a Hungarian adventure
Maria is anticipating a great response from the audience. Let's see if the audience would find it intriguing and connect to it.
HIP wishes a very good luck to the whole team!