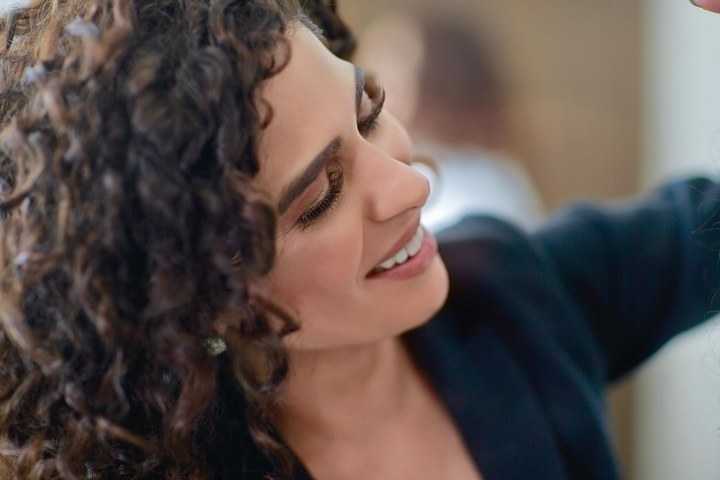 "Wear, your hair. Don't let your hair wear you," advises Komal.

We are all talking about bringing change these days; changing norms, changing stereotypes, and then, I met someone who was actually doing that. Komal Malik – the woman behind "The Curl Studio" (especially catering to just girls with curls).
From when I first saw her, I was in awe of her, and I know as a fact I am not the only one. To all the girls following the CG (Curly Girl Method) with the help of the group Curl Talk Pakistan, the curl squad, including Komal Malik, Nazish Chagla, Amna Soomra, Alveena Zaheer, Sahar Arshad and Javeria Abbasi are more than mentors. They are the people who have not only helped us accept us for who we are, but also helped us nurture and make the world love us…and all through, simply loving our hair.
HIP had the honour of talking to the curly girl, Komal Malik, who despite her stringent schedule, made it, just for us. HIP profusely thanks the diva for this. We wanted to know so much about her, and how she actually made it till here. Read on...
HIP: What subject was your formal education in? How then, did you move towards i.Being the curly girl i.e starting from Curl Talk Pakistan and then, moving towards being the first Deva Curl Certified hairstylist? ii.Working for a Magazine iii.Being at a Pharmaceutical company
Komal Malik: I did my A' levels from Le'cole. I took Law, Business Management and Fine Arts too (for a brief period). I loved Urdu Literature as well, but my passion was Law – Criminal Law. Unfortunately, that was not something my father encouraged, and I wasn't interested in civil law. So, I went to York University in Toronto, and I did a double major in Psychology and Sociology, and a minor, in Law in Society. When I returned to Pakistan, I taught at Szabist under the University in London Programme for a year (2nd year BSc students Social Policy). I really enjoyed my year there. I got married afterwards, but that, unfortunately, did not work out. I joined acting for a bit. I just wanted to take some time to heal.
Around, 2011, I started curating my own multi-brand store, since I'm so particular about displays. I curated a collection by different designers. I had about 100-120 pieces in my store. I was in fashion for about 5 years, and even launched my own line, until I discovered this method – the curly girl method. I was so frustrated with my hair, and I was just browsing, when I came across this international group, where I met these fabulous girls from Pakistan. There was Nazish Chagla, Javeria Abbasi, Sahar Arshad, Alveena Zaheer and Amna Soomro. So, we created a Whatsapp group, and we started our curl journey together.
I saw the changes in my hair, and I thought, how great this would have been, had I found this method as a child. I knew the trauma and bullying you go as a child with curly hair. I wanted to share that change, and came up with this idea of a Facebook group. I discussed it with the others, and so, we started Curl Talk Pakistan, in September 2017.
Around this time, I decided to take some time off work as well, and that year off became the amazing year of studying at Deva Curl Academy (Level 1). Afterwards, I trained with Mubashir Khan at MKS Maestro in Pakistan, and found him to be an encouraging teacher. He never once discouraged my ideals. I cut hair for about 2 months, and then, went back to Deva Curl Academy, and got further certifications. I went to London later, and trained with Lorraine Massey, the original curly girl. Such an amazing experience!
Fuchsia Magazine, is like family. Rabia and Farah especially, being in Pakistan, are like my sisters. Fuchsia is actually a South Asian Magazine based in Singapore, and I've been here in since 2016. I'm a team member, and deal with content and fashion.
UDL pharmaceuticals, is a family business, started by my brother. And having read so much about chemicals through the CG method, I've been designated to be one of directors of the company.
HIP: Which part of being Komal Malik do you enjoy the most?
Komal: I enjoy being myself the most. You can't be that around a lot of people. I believe in being a very genuine person. That's why I enjoy being around my family, and friends who are like family, who make me feel loved and there's happiness, and good energy. Learning every single day is also another thing that Komal enjoys.
HIP: How tough is it managing time?
Komal: Time management (she laughs). What is that? I don't know how to answer that question. For the past five or six months, since I have returned, I've just been working. I haven't slept before 2am. Allah mian kara detay hain, I don't stress over it anymore. When you put your heart and soul into it, God helps you forward. Yes, I like to plan my day. I will put my events in an organizer and a calendar, but sometimes, it won't work despite you trying. But that's just life. You live and you learn.
HIP: Who were/are your mentors?
Komal: First and foremost my father – my no. 1 mentor!
Mentors CG - Vida, from the Curl Academy. Just the way she answered my questions, oozed knowledge. Also my curl friends, because I've learnt so much from them. Nazish, is a superwoman – knows so much about everything. Alveena is just 22, and so wise. Amna is young, but a sage. Javeria, is a sweetheart. So supportive! Mubashir and Lorraine, and all the stylists I've met in my journey too, since I've learnt so much from them.
Mentors in fashion – Mohsin Saeed, since he has been so constant and always motivated me. Deepak Parwani, always encouraged me and helped me.
HIP: How do you keep yourself focused, so well-grounded? (I further added: you're humble and beyond helpful)
Komal: Thank you so much for saying this. If you're passionate about something, the focus just comes. Like Art and writing (don't get much time though for this), since I enjoy it, I can stay focused. Well-grounded… I hope I am, and still stay so. I pray I never become arrogant. Everything that happens is because of God, although yes, it's true God helps those who help themselves. A lot of support is needed too, and I'm very fortunate to get that from family, friends, and the followers on the group, too. When I get duas, and when I see people satisfied, it helps you stay grounded and thank God more.
Also, I try to make sure I concentrate on self-care. You need to take out time for yourself and unwind.
HIP: In all this, what was/is your greatest challenge? How did you/do you overcome it?
Komal: Laughs Requesting my members of the group to please read the rules, files, and watch the videos before asking the same questions over and over again. It's been a year and half, and I don't think I'm anywhere near that.
I've experienced cyber bullying too. Nasty comments, that have just made me break down, cry and have inconsolable anxiety attacks. I've developed somewhat of a thick skin now, though. What they say is not true of me, but just a reflection of what they are. I remind my self I'm a strong woman, and people like that ,can't bring me down. I pray for strength to get through all my challenges. It's life, and the challenges are not over yet, right.
HIP: What goal/dream is still left unaccomplished?
Komal: This is not CG related. Believe it or not, I want to learn how to swim. Sky-diving – that too! I also want to learn to speak French and Spanish. My year goals!
HIP: What is your take on changing mindsets? The fact that you yourself are working on changing mindsets/changing the norm and moving towards acceptance (of girls with curls, especially).
Komal: I feel the society has set these beauty standards. In my eyes, everyone is beautiful. God has made them that way, and there's a reason behind that, right? I want to change that, but I can't do that until, they are open to change. I can only motivate them. I can't impose it on them. Let's change the mindset, where in movies and dramas and even in reality, girls with curls are supposed to be free-spirited, wild and rebels! Why are they supposed to be so? I've had discussion with directors and writers over this while acting, because my curls didn't really fit the character. But with the natural hair movement, the change may just take place. There have been designers who have tried the method, seen the benefits, and now, they just don't want to go back.
HIP: You're a super curl girl for all anyway, but given the chance, if you had a super power, what would that be? Why?
Komal: I'm just an ordinary curly girl, who wants to magically make the members read the files, follow the rules and watch the videos. laughs Apart from the CG method, I would want the power of inducing empathy in people. I feel we as a society are really lacking that now. They aren't any selfless people anymore. I would really like to bring that back, to move people more towards positivity.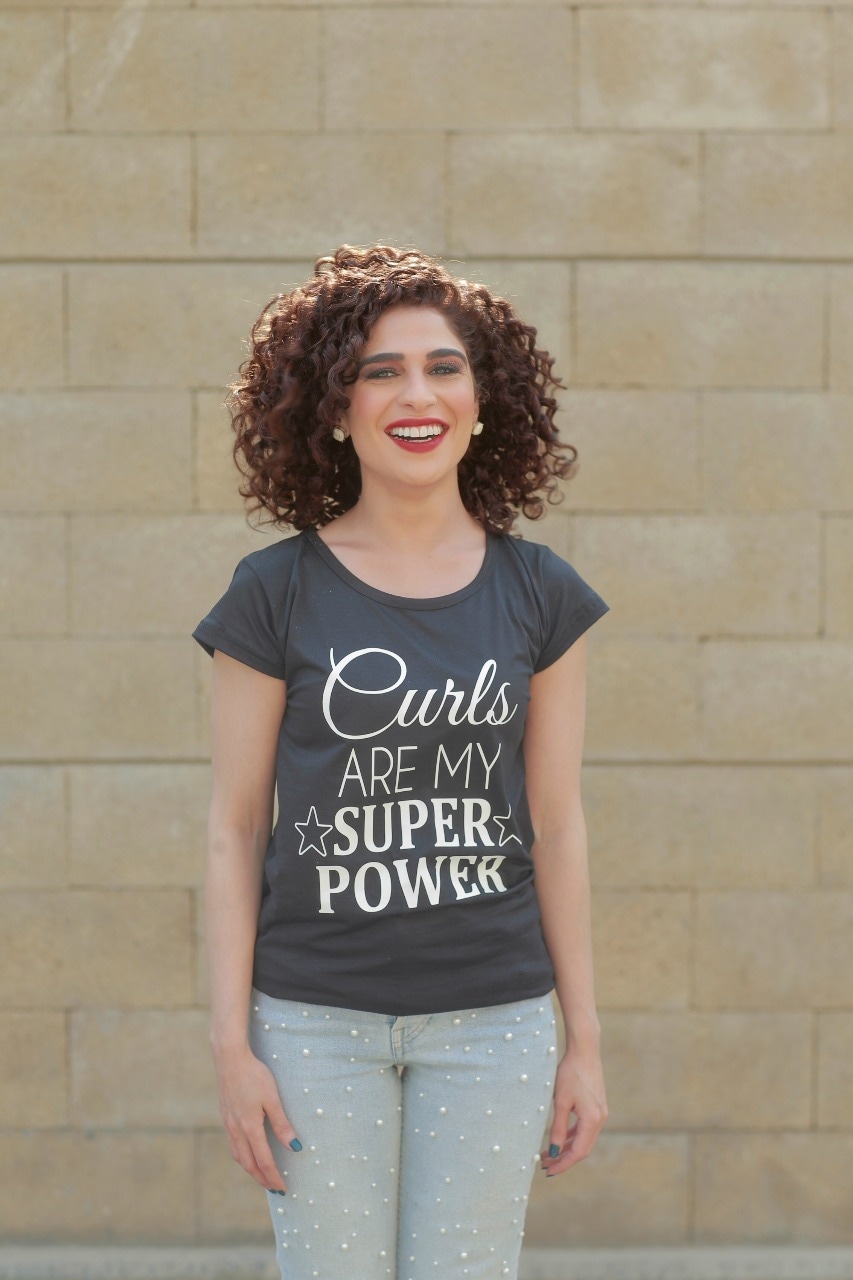 HIP: Advice to your followers/fans.
Komal: A couple of things I'd like to say. Don't start the CG method if your heart is not in it, because it's a lifestyle change. It requires patience, learning and understanding. Take your time, read up on it, and then, when you're satisfied, go ahead.
If people tell you look better with straight hair, do remember that people will always comment. If you're happy, stick to what makes you happy.
Something that Lorraine said, and has been stuck in my mind, don't let your hair wear you, wear your hair. I know what she's saying. All my life, I've blow-dried my hair and gone out, and worried about the frizz. It shows on your face. Now I'm happy, and I enjoy more. If it rains, I won't be running away covering my hair. I'm happier and more confident now.
With these wise words of advice, I thanked her and said good bye to Komal Malik. We wish her all the best for her future ventures.
Cover Credits: Photographer: Kohi Marri Make up: Nabila's Coordination: Tabesh Khoja