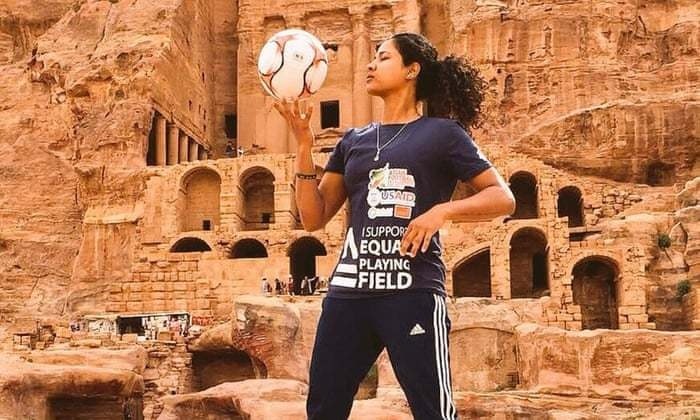 "And the chaos within me, found balance," says one of the tattoos she adorns...

She walks in, and everything about her resonates strength, power, determination, and resilience. And when she talked, the way she bared herself with raw honesty, displayed all of that, even more. Hajra Khan, Captain Pakistan National Football Team, and a lot more is only just 25 and has achieved many a milestone for herself, upcoming female players and her country. It was to get to know how she did it all, that HIP had the pleasure of her company, one Friday afternoon, and here is how it went…
HIP: You always wanted to play, and you even ran. Football wasn't your choice, but something your mother chose for you. How was the journey of self-discovery from then onwards?
H.K: I feel like she didn't introduce me to the sport, she enabled me to explore and play it. I was already running internationally, and playing basketball at a national level. One summer afternoon, she just came and told me that there were provincial team try-outs, and suggested I should take a shot at it. I had never really played football, but being a basketball player, I was always my neighborhood team's goal-keeper. When I tried out, I was luckily chosen for a club team. The first season, I came out as the highest scorer. I thought it was a fluke, until the next year, when I emerged as the highest scorer again! That's when I started thinking, maybe I had something more to give to football. So, I left running behind. I'm still the part of the National Basketball team, but football is my first sport.
Also, since it is a contact sport, people take it to be a male-oriented game. I take it up as a challenge to prove them wrong.
HIP: What were the challenges you faced? How did you overcome them?
H.K: When I first joined football, I had immense support from my immediate family, but not my extended family. My father, though, stood solid at my side, seeing the potential in me.
Other than that, there were social issues as well. For example, girls playing publicly in shorts, would result in them being looked down upon. When we would rent grounds to play, we would end up not getting them, even if the men's team had booked afterward. But we trained on cricket pitches, and I feel hard work really takes you places.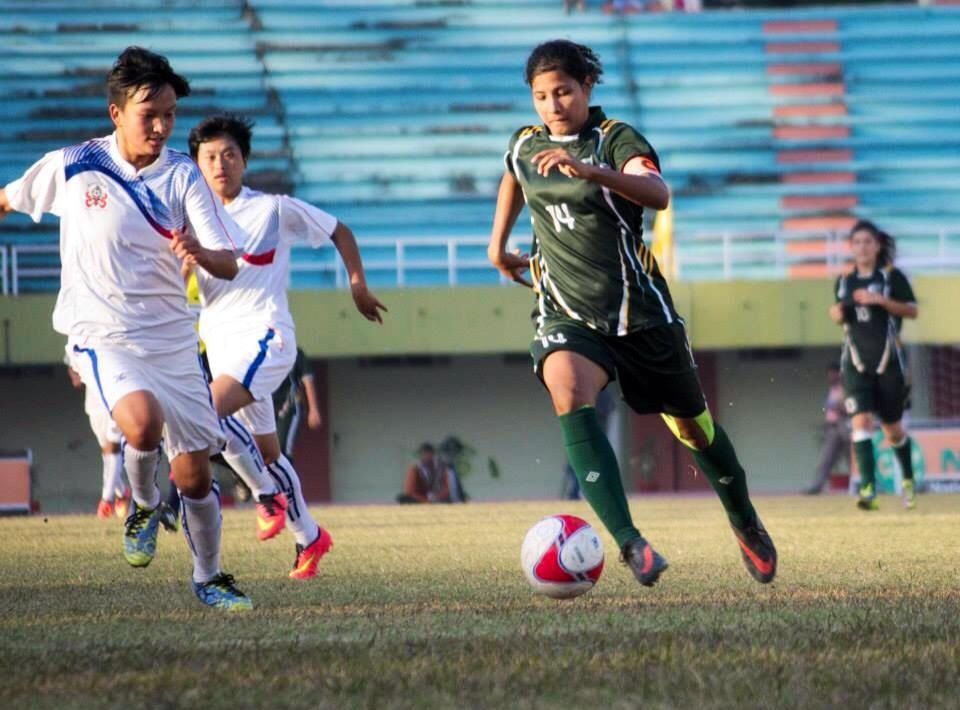 HIP: What are the challenges you face today, and how do you battle them now?
H.K: There are of course challenges now too, but not as much as when I had started. I felt the need for a female sport mentor when I came in, and this has probably pushed me forward to become one, for the athletes coming up.
(I was highly intrigued by the tattoos she wore and couldn't stop myself from asking, what the one on her arm said. We, thus, came to discuss one of the biggest challenges she battles with, but isn't at all shy discussing)
H.K: And the chaos within me found balance, this is what this tattoo says. It's my own words, which is like wishful thinking since I battle clinical depression. It's more about being grounded. I discovered this when I was at my peak in 2014, and then, football suddenly stopped in Pakistan. It became very politicized. As a result, FIFA banned football internationally for Pakistan. Even when the ban was lifted, it was only the men's team that was enabled to play.
Football was my sanctuary, my expression since I've always been shy and an introvert. I started seeing physical symptoms since I wasn't getting an outlet. Then in October 2016, one of my best friends, Shahlayla Ahmedzai, another football player, died suddenly in a car accident. I still don't believe it.
While I was attending the funeral, I got a call from my father telling me his business, had gone bankrupt. It was too much happening altogether, and I didn't take it well.
Very sick, I went back to Islamabad (where I was living then). It wasn't until after a multitude of tests that I got a second opinion in Karachi, and discovered it wasn't physical. It took a lot of convincing from my friends for me to go for therapy.
Now, it's been a year and three months that I've been going, and I take medication as well. That's how I cope up with it. It's tough, since this is like the complete antithesis of the image people have of an athlete. We are supposed to be the epitome of strength, but mental health is important too. People tell me to work-out more because that helps, but mental exercise is vital. I feel it was my calling since I use football as a platform to talk about mental health now.
HIP: You focus on lots of causes: working on gender equality, transgender rights, and mental health. Can you tell us of your struggles and work in each individual cause, and how far you have succeeded in achieving what you aimed for?
H.K: Once you're at this platform, where you're heard and respected, I feel it becomes your responsibility to make it better for the rest. That's why I talk about mental health so openly. I've even done TED talk on that.
I'm also the UNICEF Menstrual Hygiene Champion from Pakistan. We talk to adolescent girls on a deeper level, like hygiene, and how that's affecting your mental health, as well.
Why the transgender community? I have a few friends there, and when you interact with them, only then can you truly empathize with them.
I'm big on gender equality and equity. There's an organization called Equal Playing Field, which plays world record matches, and through these matches, we bring attention to gender equality. It was in that program, that I played a world record match at the lowest altitude, in Jordan. We trekked through Jordan first. During that period, we had football clinics for girls who hadn't ever played football – empowering them. I'm playing another world record game again in France this year. We're trying to get 3500 girls to play a football match, overnight for 24 hours!
HIP: You dream of setting up your own N.G.O. Tell us about that.
H.K: An N.G.O comes in much later when I feel I have the experience to run one. Right now, I have successfully registered my own football academy, which will more or less play the same role. It's been a life-long dream, but it's finally coming to life. I would like to bring in my transgender friends, as well,l into this venture, because the young ones don't really come out for security reasons. I want to train them and use their energy.
This a joint venture with a very good friend and mentor, Hani Taha. She is an extraordinary filmmaker who has made critically acclaimed films for the BBC, Al Jazeera, VICE and Pakistan's Oscar winner, Sharmeen Obaid-Chinoy. She helps me become more of who I already am, every day.
HIP: Any other goals you still wish to bring to life?
H.K: When I was asked this question in 2014, I said, I wanted to be the best player in Pakistan, make it to the National team, become the Captain and play in Europe. All that has happened too soon! This is why I was probably more inclined towards my social causes, especially because football has come to such a stand-still here.
My goals, thus, would be to want to play again, and to play the Captain of our team, at least one more time.
(It breaks one's heart when you hear an athlete, so young and promising speak like so and makes you wonder how deplorable the conditions are)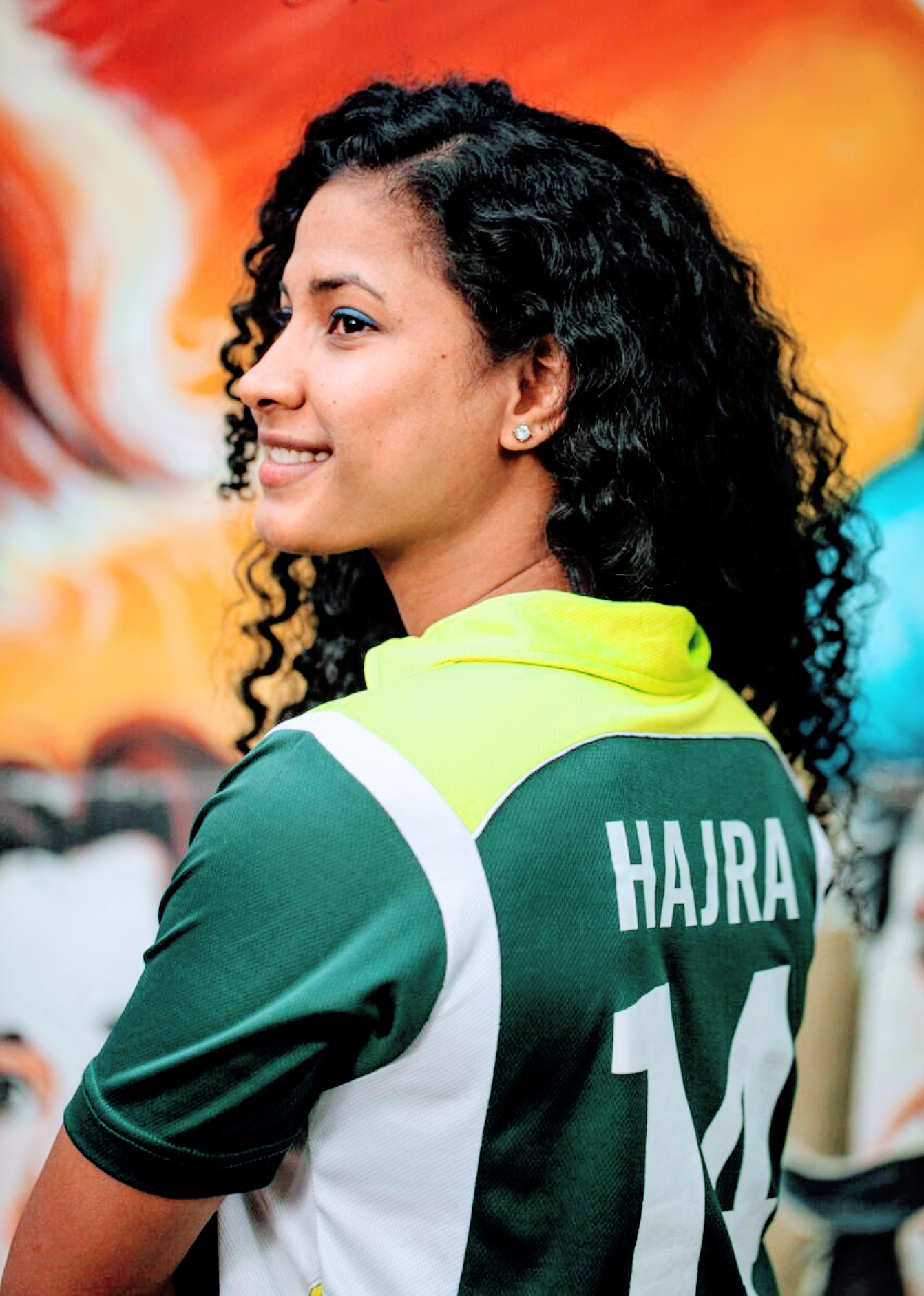 I want to play abroad again. I want to inaugurate IWAC in Pakistan: An International Women's All-Stars Cup -a historic game and event- that will bring female footballers from national teams around the world to train and play together in Pakistan, provide coaching and insight to younger aspiring female players, and to de-stigmatize issues around mental health as well as gender equality.
IWAC 2019 will be held in the second week of October around the World Mental Health Day. We will see players (that have confirmed so far) from France, England, Germany, UAE, United States, Bahrain, Jordan, Tanzania, Tunisia, Saudi Arabia, Porto Rico, Mexico, Ecuador as well as Pakistan come together - a historic feat in itself. We are partnering with some charities too, to make a real difference, and not just play one football match. We're actively working for it and have a lot of international organizations involved, as well. But it's women's football, so we fall back where the funding is concerned. It really a big dream for me that I wish to bring to life.
HIP: Advice to women wanting to make a mark.
H.K: Take the bull by the horns. When you do that, you shy away from the world. Just have tunnel vision and stay focused on what you want to achieve.
To the parents, if you have a child who wants to play, enable them. Don't be the barrier. There are already too many. My mother enabled me to play and look where I have come.
We started the interview, talking about her mother, and we ended it talking about her. It was only conclusive for me to salute the parents, especially the mother, of the very young, yet inspiring, Hajra Khan.