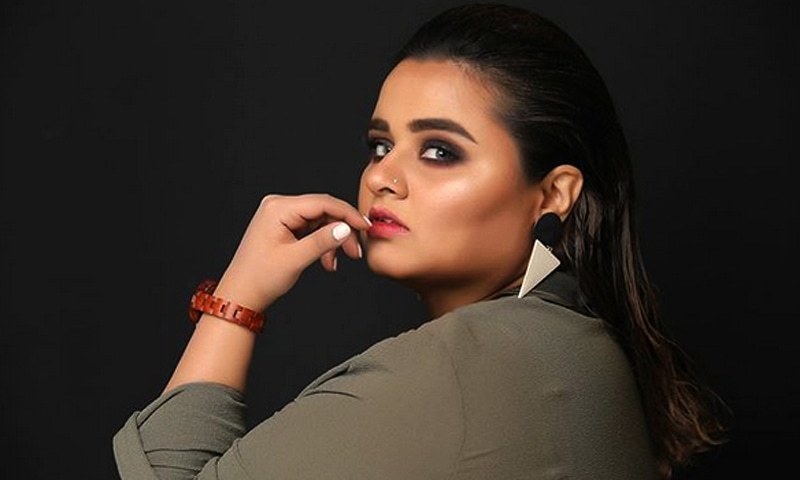 The undisputed queen of comedy has redefined the notion and taught us that girls can make you laugh.

Faiza Saleem is a one-woman army; a stand-up comedian, improv artist, theatre actor, Pakistan's first female social media entertainer and founder - trainer of Pakistan first all-female comedy troupe 'The Khawatoons'. The undisputed queen of comedy has redefined the notion and taught us that girls can make you laugh. The audience first got to taste her inimitable comic timing with her video 'Baji…eww' and since then she has managed to steal the limelight from right under the nose of her male counterparts. In a candid interview with HIP, Faiza talks in detail about her success story.
HIP: What did it take to become Faiza Saleem? Or it just happened
Faiza Saleem (FS): I feel nothing just happens; to be honest for me, it wasn't about becoming Faiza Saleem. It was about being who I am without judging myself every time. I had to dismiss the negative comments that were often hurtful. Good things just follow through if you are genuinely following your passion and aren't jumping on the bandwagon.
HIP: You have a bachelor's degree in LLB from SZABIST along with work experience as the head of the legal department at a public policy think tank. How did you get into comedy?
(FS): I've always loved performing comedy and the impact it has on people; but I couldn't pursue a degree to take me ahead. I don't regret studying and practicing law as it helped me to a huge extent in my career as a comedian. I learned to be a decent orator, manage teams and think outside the box. I am glad, I didn't sideline my education otherwise I wouldn't be where I am without my law degree.
HIP: What was the reaction from your family?
(FS): The reactions were mixed, but no one expected me to be so successful. Many thought it was just a temporary phase, others believed it to be a mistake and many were surprised I left law for comedy. As of now, everyone is onboard (smiles).
HIP: You are the youngest of four siblings; as a child and growing up, what did you want most of life?
(FS): I never came across the reason, why I used to love making everyone laugh during my childhood days but I enjoyed doing it. I feel maybe it's that connection you make in that very moment when regardless of your relationship with someone, you make them happy, even for a few seconds.
HIP: What is the most significant thing that people don't know about you?
(FS): I am a very anxious person and not as bossy as I seem to be. I notice little things about everyone and want people around me to be happy and that sometimes exhausts the life out of me.
HIP: What according to you was your first big break Doodhpatti with Dadi, Pseudo Burger Diaries, Baji...eww or The Khawatoons?
(FS): Baji...eww was my first break; the rest were all milestones. It's easy to get viral these days but striving to remain consistent with fans takes a lot of hard work and sincerity.
HIP: The Khawatoons recently turned three. The squad has diversified members, can you give us an inkling about them.
(FS): They're such a unique bunch of women; each member is so special in their own way. The team overcomes many of their personal hurdles to show up at the practice sessions and shows. They all believe that the troupe is a safe space for them and gives them joy even after a bad day.
HIP: Your content is mostly rooted in gender stereotyping and body shaming. Do you feel your efforts have changed the perception of our patriarchal society?
(FS): I wouldn't say I've changed society yet; there's a long way to go for that to happen. I do believe that due to my contributions, women look up to me and get encouraged to pursue their dreams and take up comedy as a career.
HIP: Can you tell us about the challenges you faced as a stand-up comedienne?
(FS): Initially there were no women comedians; therefore I felt a bit isolated and couldn't resonate with the male standup comics. It was surprising to see that male counterparts were never criticized for their looks or their over the top aspects. On the contrary female comics are often bestowed with weird comments like 'Bohat overacting karti hai' (she is overacting). It's frustrating at times, but I guess good for them.
HIP: Why don't female stand-up comedians get much encouragement and acceptance in Pakistan?
(FS): Well there are many reasons; usually, women aren't seen as funny. In movies and dramas, they are either portrayed as eye candy or bechari's (victims). I believe female comedians are heroines in their own right and that doesn't sit well with the majority. We don't have a culture that enjoys women being out there; we just don't like it! In general, comedy is quite underrated in Pakistan; there's a hero, a heroine and a funny sidekick in almost every film and drama. Funny people are an afterthought or people to be on the sidelines.
HIP: You seem to be more inclined towards the web medium. Why don't we see you much on TV drama's and films?
(FS): The Internet allows me to be my own boss and I get to decide everything. TV and film are mediums where others give command, so things don't go my way. I occasionally take up projects on TV and film if I like the team and their content. I am picky and choosy therefore I don't say yes to every offer that comes my way.
HIP: Do you look up to anyone for inspiration?
(FS): Honestly, not anyone in particular. I do go through inspiring journeys of people; it motivates me to keep going.
HIP: How has life been after marriage?
(FS): I would say very interesting; there's so much a marriage requires. My husband (thank god) is one in a trillion and celebrates with me for everything I do, be it big or small. I have been figuring out how to strike a balance between spending time with my husband, making sure my house looks good, managing my various teams, shoots, rehearsals and taking care of my emotional well-being.
HIP: Tell us about your future endeavors?
(FS): I am hoping to put together season 2 of (Two Minutes with Faiza Saleem) restart (Doodhpatti with Dadi) and come up with regular shows of The Khawatoons - The Auratnaak Show. There's also a fun project in the works that I can't talk about even though I really want to (smiles). I am also in talks for some new projects; let's see where it goes. You'll find out very soon!
HIP: Any advice for young girls who want to pursue stand-up comedy as a profession?
(FS): If you are willing to take up comedy as a profession then do with all your heart and not just for the heck of it. Don't just focus on success; hone your art, that will guarantee success sooner or later.
Quickies
What is the one thing that annoys you the most? Fake people being fake with me.
What's the strangest thing you have ever eaten? Clams in Thailand.
What is one of your weird quirks? I am weird person overall.
Describe yourself in three words Approachable, emotional and talkative.
If you could get yourself anything, what would you get? A world tour.
Where would you go, if you become invisible? Everywhere.
What was the first thing you bought from your first paycheque? Snacks.
What's the most unusual thing you have in your handbag? My portable fan
How long does it take you to get ready in the morning? 1 hour usually as I have to shower and before that I need my coffee.
What compliment do people give you the most? That I am one of a kind.
What is the one thing you have done from your bucket list and one thing you haven't? Travelling various countries.
Have you ever lied to a journalist regarding any rumor? No! I say it as it is.
What's the best excuse you've made if you get late for a shoot or appointment? I say things like I slipped in the bathroom.
What's the one thing you can talk for hours on end? My husband for sure; but my friends have called me out on it so I keep my love to myself now.
What's the late night food that you crave for? Chocolate.
A person you would love to have coffee with? My husband, Abuzer.
One person you always wanted to meet but never got a chance yet? Moin Akhtar
What's your workout song? Whatever is in my head that day.
Are you obsessed with Selfies? Not at all.
How often do you google? Everyday.