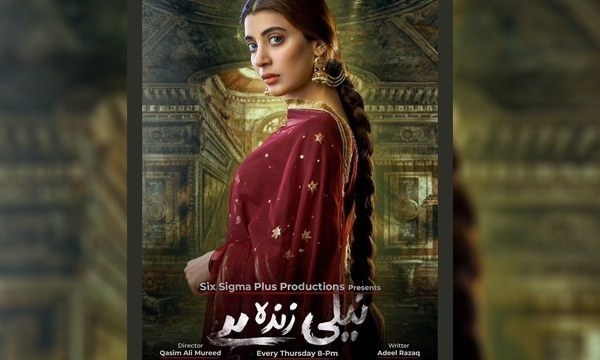 The story took a sudden jump of unpredictability and fast-paced events turned out to be quite a shocker.

Neeli Zinda Hai on ARY Digital drove so crazy with its rollercoaster ride of a plot this week.
The story took a sudden jump of unpredictability and fast-paced events turned out to be quite a shocker. Starring Urwa Hocane, Mohib Mirza, and Sonia Mishal; Neeli Zinda Hai is on our must-watch-list.
Let's do a quick review of what happens in the double episode of the drama this week.
Aaliya faces Neeli's wrath
Now that Sumbul knows that Neeli has immense strength and that she can don anyone's face permanently, she is aware that the witch has taken over Nagina's appearance and is deceiving everyone in the household.
Consequently, she is making sure that she fires the maid somehow so she leaves the home and Neeli can no more don her look. However, Neeli has raised her game higher to create more trouble, haunting everyone's reality and dreams.
She spares no one and takes over everyone's identity, creating mayhem inside the house. From Aaliya to Meherbano, she pretends to be anyone she wants to advantage of, constructing immense disruption in everybody's life.
So much so, Neeli - pretending to be Meherbano- misguides Aaliya to flee her home and do court marriage with Danish. But so much more unbelievable damage is about to happen!
The police reach Aaliya's home for investigation and announce Danish's death. However, he also reveals that she was the last person spotted with him at his home and hence, is part of the case.
Upon inquiry, she reveals that how her mother told her to do court marriage and she was geared up to do so. But she got locked inside and couldn't leave the room. A call from the hospital informs the inspector that the deceased died cause of strangling done by a woman, and not from the gunshot.
Some more confusion ensues as Aaliya goes to the police station to record her statement. However, she is later granted bail upon the investigation that the marks on Danish's throat don't match with Aaliya's fingerprints.
Danish's mother is adamant that she is going to bring the murderer to be the book, whether it is Aaliya or her husband. Meanwhile, Meherbano leaves no stone unturned to blame Sumbul for being a witch and doing black magic to ruin her children's life.
We feel bad for Aaliya. She became a victim of Neeli's shenanigans and now gets haunted by Danish's ghost in her nightmares.
The truth is that it is Danish's father- the Nawab who is the ultimate villain, possibly the one who killed Neeli and set her on fire. The rest are mere victims who are suffering just so that Neeli could take her revenge. The promo of the next week gives a hint that Amaan (Mohib Mirza) will finally see Neeli. Now that she will finally reveal herself to him, will he still try to shun the idea of paranormal activity inside his home? Let's wait and watch.
A plot unstoppable in its unpredictability
This week, we loved the rapid turn of events and felt the adrenaline rush in the promptness of the plot. We didn't see Danish's death coming and this proves how Neeli Zinda hai has aptly weaved unpredictability in the story.
The way the episode kept us on the edge with Neeli constantly donning multiple faces and changing characters added to the spice and mystery of the story. This signifies that Neeli will soon be bringing her culprit to book and will avenge her death.
But the mystery of Pervaiz, Neeli's husband is still a secret. And what happened to her daughter is also something we are very curious about.
This week Aliya Ali as Aaliya stole the limelight. A budding star, she has shown extreme potential throughout and we believe that she could climb the ladder to success in no time.