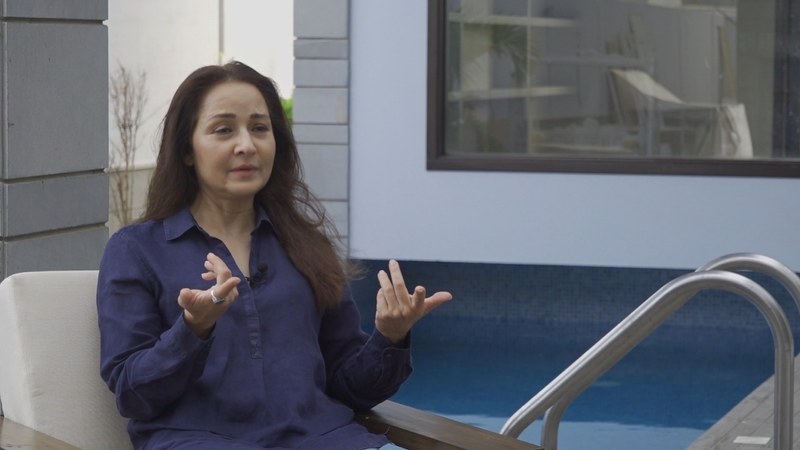 Zeba Bakhtiar talks to Voice of America Urdu regarding working in Henna, and starring opposite Rishi Kapoor
Exactly 30 years ago, a young Pakistani girl played the lead role in a Raj Kapoor film, and became an overnight star. Her name was Zeba Bakhtiar and on the premiere of the film 'Henna', she hardly spoke a word because she knew she was on tricky land. One wrong word and the two countries would have been at war, something that the film was trying to avert.
That Zeba Bakhtiar went onto become one of the most popular actresses of her era, on both sides of the border. However, she broke her silence on working with Rishi Kapoor, in a Bollywood film and filming Lata Mangeshkar songs three decades after the film's release in an exclusive interview with the Voice of America Urdu.
Talking to entertainment journalist Omair Alavi, Zeba Bakhtiar disclosed that it was veteran Bollywood actor the late Saeed Jaffrey and Pakistani playwright Haseena Moin who were behind her selection as Henna.
She also went onto add that had it not been for former Prime Minister Benazir Bhutto, Henna wouldn't have been shot in Pakistan. It was only after the film's star and director Rishi and Randhir Kapoor met the PM that she gave permission to make Henna the only film to be shot on both sides of the border.
According to Zeba Bakhtiar, she became a fan of Bollywood legend Lata Mangeshkar's humility when the two met on the sidelines of an album launch in Bombay (now Mumbai). 'Lata ji wanted to observe me and my expressions so that when she did playback for the film, she would keep that in mind. That's an epic artist who observes even an actress who hasn't done a film, and has hardly any expression at that time!'
Zeba Bakhtiar also praised her co-star Rishi Kapoor for being 'perfect' with whatever he did, and although the two worked in a couple of films, Henna would remain close to Zeba for it was on that film's set, she met the actor of the very first film she ever saw on VCR!
Working with actors like Farida Jalal, Kiran Kumar, Raza Murad, besides Saeed Jaffrey and Rishi Kapoor, transported Zeba to 'Alice in Wonderland' kind of place, where every day would be a day in disbelief. 'I learned a lot from every actor on the set and that experience was nothing short of a dream for me. To share the screen with iconic actors whom I had watched on TV, was something I would always cherish.'
In the end, the Henna girl was thankful that there was no Social Media when she was working in the Raj Kapoor flick, otherwise she would have had a nervous breakdown every weak. 'Had there been Social Media in those days, it would have been impossible for me to stay sane because the kind of comments, people post on it are sometimes unbearable.'
Being the daughter of the prominent bureaucrat and former Attorney General of Pakistan Yahya Bakhtiar, Zeba said that during the shooting of the film, she was always observing the script for any issue that might get picked up back home.
'My late father was a colleague of Quaid-e-Azam Mohammad Ali Jinnah and that added an extra burden on my shoulders. That's why I tried to be less controversial in anything I did during my stay in India, and am thankful that I didn't disappoint him.'