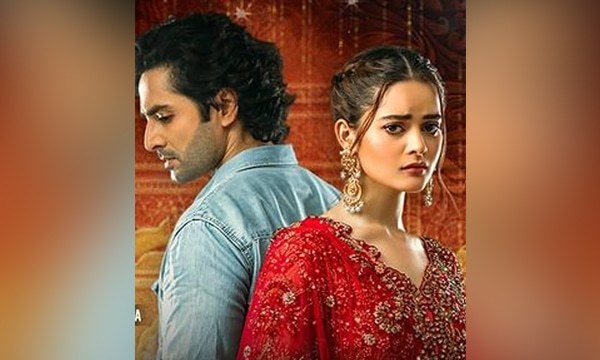 All characters have been fierce in their portrayal of the rollercoaster ride of sentiments in the drama
Ishq Hai on ARY Digital has completed ten episodes and has become that one Pakistani drama of the season, driving a major buzz on social media.
The raison d'etre for this hype and hoopla are various. Of course, the unconventional pair of Danish Taimoor and Minal Khan is grabbing all the eyeballs. Their chemistry is electrifying, both passionately essaying the character.
The intense storyline is yet again a strong driver of conversation-some loving it and the rest, otherwise, critical about it. Let's review what has paced so far in the plot, directed by the Jalan fame director 'Aabis Raza'.
Of death, tears, and forceful marriage
Who knew that the over-possessive, fanatical Shahzaib' (Danish Taimoor) will be crossing all boundaries, lost in the madness of his love for Isra (Minal Khan). The forceful marriage, has, however, drawn Isra away from him. She despises him for keeping her against her will and not caring an inch about her dignity or that of her fathers.
Meanwhile, a tragedy erupts at Isra's home as her father (Babar Ali) passes away from the heavy blow of the recent circumstances. The entire household is drenched in melancholy, but the hatred for Isra is even stronger than their sadness. She is banished from her home and is not allowed to participate in the funeral of her father.
Her brother Hammad (Hammad Farooqui) is not even willing to listen to her side of the story, firmly believing that she ran with Shahzaib on her wedding day. So much so, he is determined to kill them both and is about to kill them with a gun in the graveyard, only stopping due to the fear of being caught by the funeral procession in the cemetery
Our grief-stricken Isra has now turned rebellious towards her lover. All the affection has now turned into loathing, now that she blames him for her father's death. An obsessed Shahzaib remains persistent that he cannot imagine his life without her and only did everything out of love.
On the other hand, Shahzaib is also disowned from his mother and is ordered to leave the family now that he has chosen Isra. Nimra ( Mahenur Haider) is heartbroken. She still had hopes high that Shahzaib will return to her. Her sister Sameera's (Mahi Baloch) marriage with Shahzaib's brother Raza (Sajjad Paul) is now also called off for sure.
Naina (Azekah Daniel) is up to no good. She is cooking up a vicious plan to make Isra all the more miserable. She blames her sister-in-law for destroying all the happiness in her marriage and her bitterness towards Isra is getting the better of her.
Danish Taimoor & Minal Khan steal the show
Ishq Hai has a plot that runs high on aggressive emotions! There is intense love and equally strong feelings of hate in the story. All characters have been fierce in their portrayal of this rollercoaster ride of sentiments, ensuring that the viewers go through the pain, trauma, and helplessness that they are trying so hard to essay.
We are cheering for Danish Taimoor who has wowed us with his representation of a crazy, infatuated hero. From his expressions to his dialogue delivery, the actor has delivered all flavors of Shahzaib's personality on our screens- making us hate him and love him at the same time.
An equally powerful performance has been delivered by Minal Khan, especially in the last episodes. She has exhibited her character's hysteria, sorrow, and vulnerability with ease. The starlet is beautiful and has a charismatic on-screen presence. Like Jalan, she has seized all the spotlight as Isra in Ishq Hai. The only difference is that she Is a victim rather than the vicious vamp-like in her past drama.
The upcoming episode unveils Shahzaib determined to prove his 'Ishq' for Isra and proving her innocent in the eyes of her family. But Isra has revenge on her mind and seems like she will now make her husband suffer for all that he is done.
Fingers crossed for what is next to come in Ishq Hai. Stay tuned to Hip in Pakistan for more news and updates!