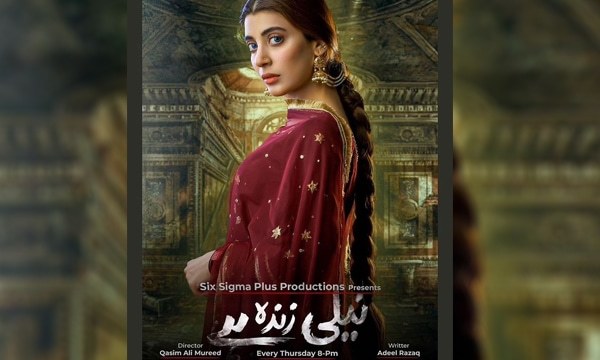 Addicted to Neeli Zinda Hai? We are too!
We are glad ARY Digital has started running back-to-back episodes of the drama and now we get a massive dose of this spooky thriller on Thursdays.
Starring Urwa Hocane, Mohib Mirza, Sonia Mishaal, and Jenaan Hussain in leading roles, the drama is directed by Qasim Ali Mureed, written by Adeel Razzaq, and produced by Six Sigma.
The blue-eyed witch, Neeli and her shenanigans took a massive toll last night, elevating the horror quotient and making us anxious about the fate of poor Sumbul.
Let's do a quick review of what went down in Neeli Zinda Hai last night and what are we expecting next from the plot.
The early death of Dilawer
With the whole household eager for Amaan's (Mohib Mirza) release, a tussle has risen between Sumbul (Sonia Mishal) and Amaan's toxic mother (Kinza Malik). The latter is trying to cash on the fact that she has sold her home to gather ransom for her son's kidnapping and is tormenting her daughter-in-law with taunts and lies.
Brave Sumbul gears up to meet the kidnappers and gets Amaan back, safe and sound. But as soon as he returns home, a new wave of woes begins inside the house.
Apparently, Dilawer (Tahir Jatoi), who is eager to capture Neeli to exorcise her spirit, faces her wrath and dies while performing the ritual. Neeli makes sure he dies a painful death for his misconduct and trying to harm Minaal in this process.
However, the child was already in her protection and gets saved from the agony. Nagina (Jenaan Hussain) too gets hurt and later, is nowhere to be found in the household.
Later, Neeli uses Dilawer's body to haunt Sumbul and warn her that she better kicks the new residents out of the house. Poor Sumbul is in deep mental anguish. She gets hysterical whenever Minaal (Baby Tehreem) disappears in the house as she sure knows that Neeli has her under her wing.
Meanwhile, Neeli dons Sumbul's appearance to stir more trouble. Looking like Sumbul, she walks around the house, sometimes misbehaving with Aliya or Amaan's mother. All in all, Amaan is getting furious with his wife and has threatened her to sort her ways or he will divorce her.
In another turn of events, Aaliya also feels paranormal activity in the house. However, she isn't sure but is scared of it indeed. What was more surprising is that we witness Minaal, who is mute by birth, starting to speak while she is around Neeli.
The promo of the next episode shows more chaos by Neeli and a disturbed Sumbul warning everyone about a dead body in the house which only she can see. What's more, she spots Minaal speaking while she is enjoying with Neeli in the garden and is shocked beyond the core to hear her daughter talk in all these years.
The story gets better and better
The drama has crossed fifteen episodes and not once we felt bored while watching Neeli Zinda Hai.
Every episode brings a new update for us to get hooked to, this time being the unpredictable and sudden death of Dilawer. We thought he will have more to add to the story and create hurdles for Neeli. But that one obstacle in Neeli's way is also out. Now, who will control Neeli? Will her spirit ever fade away? Will she take complete control of Minaal? All these questions continue to buzz in our minds.
We are getting extremely frustrated with Amaan and his behavior with his wife. Now we really want Neeli to make herself visible in front of him and teach him a lesson. Thumbs up to the entire cast for giving their best performance and keeping us on the edge of our seats throughout. Fingers crossed for what is about to come next!