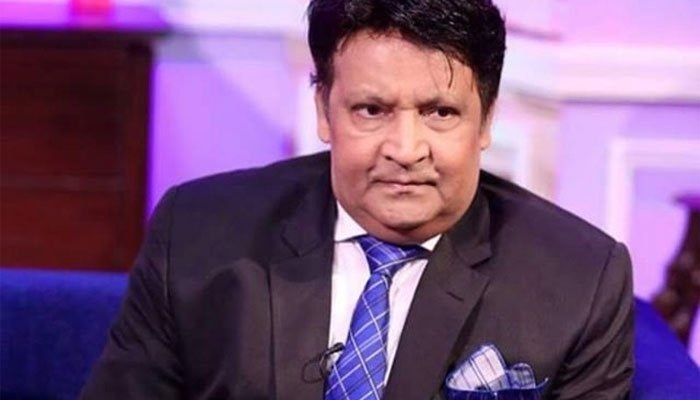 Celebrities from across the border are voicing support for the legendary comedian

The news of Umar Sharif's ailing health has taken over the internet across Pakistan and it seems the buzz is now hitting the Subcontinent too, as major names from across the border are voicing support for the legendary comedian. The latest to do so are iconic singer and King of Bhangra Daler Mehndi and celebrated comedian Johnny Lever.
Taking to their social media accounts, Daler Mehndi issued a video statement where the singer can be seen appealing to Prime Minister of Pakistan, Imran Khan to help the king of comedy, Umar Sharif in his trying times. The singer spoke his heart out in a two-and-a-half-minute video where he spoke about the greatness of Umar Sharif and how he as an artist should be supported. Daler Mehndi had previously met Umar Sharif when the singer had assisted in the fund-raising for Shaukat Khanum Cancer Hospital in Pakistan.
Sharing the singer's point of view, one of Bollywood's most popular comedian and actor, Johnny Lever also took to social media to post a video sending prayers for Umar Sharif. The comedian in his video talks about hearing that the legendary comedian is unwell and sends prayers his way as he ends the video sending his blessings of good health.
In Pakistan too, along with the countless fans of the comedian, celebrities and known people from all walks of life have appealed for support for Umar Sharif when the news of his deteriorating hit the TV channels after Waseem Badami reported on the issue on his famous news/talk show.
Badami had ran a video appeal from the comedian himself where he could be seen requesting to the Prime Minister of Pakistan, Imran Khan to come to his support. Umar Sharif was seen visibly unwell in the video, and his message resonated with millions of his fans across the globe. Waseem Badami himself was seen visibly moved from the video and has since then continued his support for the comedian as he keeps updating everyone about the ongoing situation.
Apart from the news anchor, names such as Moammar Rana and Bushra Iqbal have also come forward appealing for support and sending their prayers for Umar Sharif. While the popular Lollywood actor posted a photo of them both on social media and wished a speedy recovery, TV host Bushra Iqbal shared memorable images along with an appeal for prayers for the comedian.
The world is praying for Umar Sharif right now, and we sincerely hope he recovers soon and makes us all laugh like he has for decades.