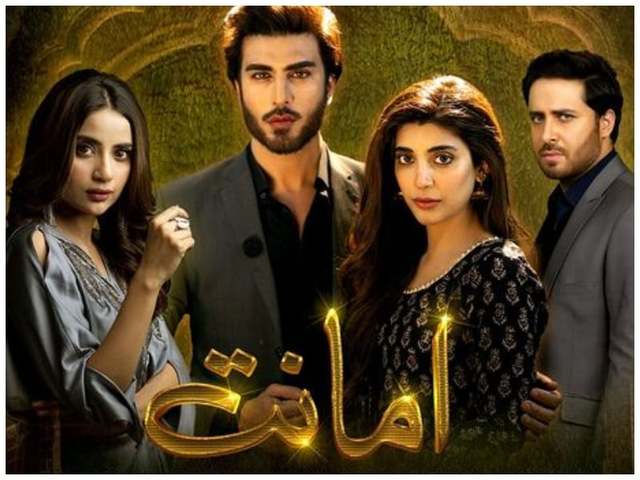 Amanat's second episode included some swift developments, strengthening the plot and providing us more insight into the lives of its characters.
Penned by Rukhsana Nigar and directed by Shahid Shafaat; the drama took an aggressive turn with the death of Fawad (Asad Siddiqui).
Let's take a quick throwback to what happened last night in Amanat and where the plot is heading next!
Meher meets Zarrar
The episode gave us an update about how Fawad and Zarrar (Imran Abbas) have been long-lost friends. They were pretty close in the past and reconnected, now that Fawad needed someone's support with the recent twist in his life.
Married to his cousin Meher (Urwa Hocane), he is seeking a safe shelter so that he can save himself from the merciless Malik Furqan (Babar Ali). He knows that he will die a painful death once Malik realizes that he and Meher have gotten married so that his cousin can save herself from a forceful marriage with Qaiser (Gohar Rasheed).
Zarrar welcomed his old friend with open arms in his Islamabad settlement, allotted by his company. But who knew that Fawad's life span is short. While he went out to take money out of the ATM, he gets shot by two muggers on a bike. A worried Meher pleads with Zarrar to begin a search for him. However, the hunt for Fawad goes heedless and Zarrar is unable to track him down.
Now our hero is in a massive mess. He is clueless about how to leave Meher alone as he has his marriage in two days. Meher refuses to travel with him to Karachi. She is determined to find Fawad on her own and tells Zarrar that she will find solace in a shelter home for women, to which he agrees. Meanwhile, Zarrar remembers how Fawad helped him once in a challenging situation. Seemingly, Zarrar had committed an accident in the past and Fawad turned savior for him at the last moment by taking the entire blame for the mishap. Zarrar's heart softens and he decides to take Meher back with him to Karachi.
On the other hand, chaos has erupted in Karachi. Zuni (Saboor Aly) creates a huge fuss over Zarrar not responding to her calls or messages. She threatens to boycott the upcoming wedding events if her fiancée doesn't apologize for his misbehavior. This also affects Samra (Srha Asghar) who is getting married to Zuni's brother, Raheel (Salman Saeed). The pair quarrel over shaky fights between Zuni and Zarrar.
Things get worse when Zuni and Meher cross paths. Apparently, Zarrar urges Meher to shop for clothes that she can wear at his wedding. At the shopping mall, Zuni spots her with Zarrar's servant who explains to her how Meher has accompanied Zarrar sans her husband.
Junaid (Haroon Shahid) already smells that something is fishy between Zarrar and Meher. Our hero has told no one the real story about why Meher has come with him to Karachi.
Malik Furqan (Babar Ali) has fallen sick, chasing Meher. The good news is that he has spared his wife and has accepted the fact that his niece has left his house.
A plethora of stars delivering top-notch performances
Amanat is brimming with celebrities, each bringing his or her own flavor to the show. What's more, they all are delivering top-notch performances.
Saboor Aly's acting as the loud, petty, and over-emotional Zuni has made us detest her character to the core. Every time she comes to the screen, Zuni makes us cringe. She is unreasonable, attention-seeking, and way too obnoxious.
Contrary to her character is that of Meher. She is meek, vulnerable, and relatively quiet. So much so, we are hoping Meher too comes out of her shell and shows the bold side of her personality.
Alongside the two pretty ladies, Imran Abbas is exhibiting an equally strong performance. He exudes charm and magnetism every time he comes on screen. His chemistry with both the actresses is well-balanced and we want to see more of his romantic side with Urwa.
Let's see what fares next in the story. So far the plot has not been so predictable and we are grateful that the uncertainty will keep bringing us back to Amanat.