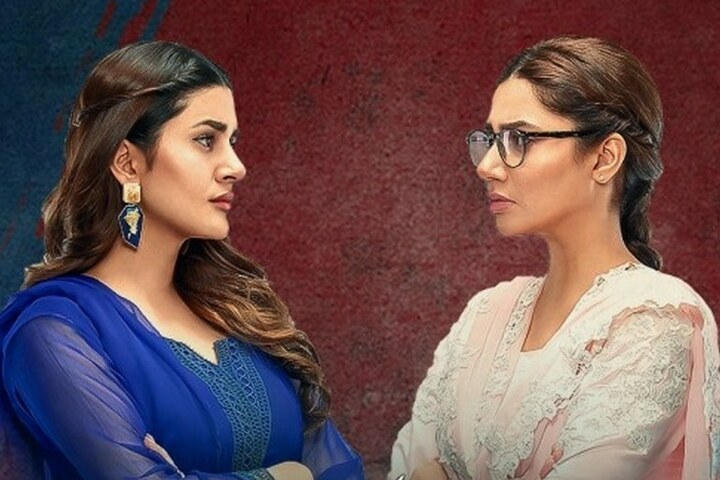 The plot also has certain loopholes we want to question.

For the past couple of weeks, Hum Kahan Kay Sachay Thay has been advancing at a snail's pace and it seemed that the makers were trying to drag the drama. There have been very few developments in the past episodes, but last night's episode turned the whole game of love, hatred, and vengeance in the story.
With an already tragic storyline, the tale has taken an even more melancholic twist. The plot also has certain loopholes we want to question. However, one thing is certain- we all hate Aswad from the core of our souls.
Let's take a quick throwback to what happened last night in Hum Kahan Kay Sachay Thay and why it ended up moving us so much.
Mehreen's life is officially destroyed
After Mashal's (Kubra Khan) death, Aswad (Usman Mukhtar) has always been taking out his frustration on Mehreen (Mahira Khan). Our heroine took all his fury without uttering a word. Her character bore it all like the typical damsel-in-distress depicted in Pakistani dramas.
Lost in his negativity, Aswad had turned blind to all the truth that was right in front of him. He became so dim-witted that he questioned his own mother and claimed Mehreen as the criminal without proof.
In this episode, we saw the consequence of all the mental torture Aswad inflicted upon Mehreen. Earlier, he made Mehreen sign an affidavit claiming that she is responsible for Mashal's death. The pressure he inflicted upon his wife resulted in her suffering from a nervous breakdown.
During that painful mental anguish, Mehreen sees Mashal telling her ways to kill herself. Then later, in another one of her hallucinations, she meets her father (Omair Rana). He apologizes for leaving his family and requests his daughter not to be a coward like he was.
Eventually, Mehreen gets admitted to the hospital. Her breakdown incident lays the foundation for Aswad finally realizing what a fool he has been. With his wife lying in the hospital, he visits his Nani's home to collect leftover stuff of Mehreen's. The meeting with his grandma and the maid, Shabbo (Kaif Ghaznavi) opened various shocking revelations.
It finally dawned upon him how Mehreen was treated like an outsider in the home. His Nani (Shamim Hillaly) confesses that she misses Mehreen and realizes her granddaughter's worth now that she is not around to care for her. Shabbo tells him everything; how Mashal used to enter Mehreen's room to steal her inhaler, how Mashal was a chain smoker, used to take sleeping pills at night, and used to torture Mehreen with her shenanigans.
So much so, Shabbo finally spills the beans over what happened that night of Mashal's death. Mashal had asked Shabbo to mix sleeping pills in Mehreen's food and later her tea. It seems like Mashal wanted to kill Mehreen with an overdose of her sleeping pills.
But how did Mashal end up taking the cup of tea and dying that night? The episode ended on a cliffhanger and we are curious over how Mashal became the one drinking the infiltrated tea.
However, we are relieved that Aswad has finally realized that Mehreen was right all along. Mashal had lied about everything; about Mehreen being mean to her Nani, being a failure at studies, smoking, and hanging affairs with a variety of men.
While it all dawned upon him too late, the damage is now done. Mehreen's character is walking the path of destruction. The best moment of the episode was Aswad's meeting with the psychiatrist (Nadia Hussain). After a very strict interrogation, she deduces how Aswad has been mentally abusing his wife and is the one who actually needed therapy all long. She also teaches him the various forms of abuse and makes him realize that he has been the real culprit in this marriage. After all, there was no difference between him and Mashal, and they both ended up destroying the life of an innocent.
Best Episode so Far
We must admit that the weakness of Mehreen's character carved in the plot is quite bothersome. An empowered woman suddenly becomes a damsel-in-distress and falls in love with her abuser. He continues to torture her but Mehreen is shown as being silent and patiently listening to all the disturbing taunts. So much so, she starts losing her sanity. This is not the first Pakistani drama to show Stockholm Syndrome in all its glory and we believe that this narrative needs to be strongly nipped in the bud.
We disliked the fact that Shabbo divulged the truth too late in the plot. She has never sympathized with Mehreen when it was needed and always aided Mashal in making her life miserable. She too is responsible for the wreck created in the lives of all families involved.
However, we must give praise where praise is due! We loved how the writer Umera Ahmed taught the audience the various shapes of abuse in a marital relationship. It is also admirable that with one powerful scene in the episode, she imparted the message that it's always the abuser who is in true need of therapy as it's his or her sick-mindedness that eventually leads to the destruction of an innocent soul.
Mahira Khan has truly won us with her performance, making this episode the best so far of Hum Kahan Kay Sachay Thay. She cries like a helpless child when she sees her dead father and we wept along with her. The scene was a major tear-jerker, serving us a strong message about the anguish of a mentally-ill soul. Their pain is unimaginable and the best we can do is to provide them with the relevant medical help.
Most women in Pakistani dramas are shown to be weak while they continue to live in the shadow of their harassers. If truth be told, Mehreen should surely leave Aswad as she gets treated. Why live with someone who never understood your life-long mental trauma? He might have realized his mistakes, but as we said, it's too late. It is time for Aswad to repent and probably the best way for him to do so, is to free Mehreen, once and for all!