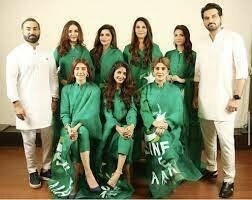 The cast of leading ladies has been well-selected, with each actress competent in her own way.

Sinf e Ahan stepped into its second week, still providing us with a warm-up into the lives and backgrounds of its characters.
The ISPR backed drama received a welcoming reception, boasting immense potential for a plot centered on women empowerment and the participation of females in the country's army. The cast of leading ladies has been well-selected, with each actress competent in her own way.
Starring Kubra Khan, Sajal Aly, Yumna Zaidi, Syra Yousuf, and Ramsha Khan; the drama revolving around the lives of five young women across Pakistan is humorous, moving, and indeed eye-opening.
Let's do a quick review of what developed this week in Sinf e Ahan, penned by Umera Ahmed and directed by Nadeem Baig.
Ladies gear up for ISSB
The first episode gave us a peep into the kind of lives Arzoo (Syra Yousuf), Mahjabeen (Kubra Khan), Rabia (Sajal Aly), Shaista (Yumna Zaidi), and Pariwesh (Ramsha Khan) are leading. Some of them have strong, motivating voices around them who encourage them to pursue the army. The rest battle through societal norms, patriarchy, and stereotypes to eventually reach the ISSB.
In the latest episode, we realized how tired Arzoo is of chasing Noraiz (Asad Siddiqui) who is not only playing games with her but also is a chauvinist of the highest degree. He manifests from his thinking that Arzoo can nowhere come near his status of being a government officer nor she will ever get into the army.
The same is with Mahjabeen whose close friend (Ali Rehman) tries to talk her out of this new path. He makes her realize that she has an extravagant salary of a corporate lawyer and a luxurious lifestyle that she will have to sacrifice for the army. While it's true that Mahjabeen is a pampered daughter of a wealthy elite couple in Islamabad, she is still willing to give it to all earn a status like General Nigar.
We were also properly introduced to Danyal (Usman Mukhtar) the young, dandy brother of Rabia. He visits his home from duty only to find Rabia running for her life, being scared by a mouse. Disappointed though he is, he still persuades his parents to let her take the ISSB test for they have been trying hard to get her married and failed regardless.
Yet another case of a man supporting a woman is seen in Pariwesh's case. Her father is ready to spend all his savings to get her admitted to Pakistan's Military Academy. The Balochi girl fears no one and her daring father, who comes from a not so influential background, is her strength all the more.
But it is Shaista who has both parents ignorant of her passion for being an army woman. She has her younger sister (Meerub Ali) who is helping her out of love and she alone becomes her elder sister's sheer supporter in her secret.
While they all pass the initial test, they are gearing up for a psychological test ahead for which they have to stay at the ISSB. Seems like a one-of-a-kind adventure is in store for them and our girls are ready to face all the challenges.
Different Backgrounds but similar trials
Sinf e Ahan will surely be a profound story that will end teaching us important life lessons. However, we are already realizing that sometimes the disparity of status, education, and religion has nothing to do with the challenges women face in Pakistan.
The affluent, too, are battling issues of a dysfunctional family. They have money and are well-educated. Yet they still own a retrogressive mindset where they believe that women might not have all the strength to earn an army uniform. They too perceive that girls should marry and settle down with a guy which will bring happiness to their lives.
Meanwhile, the women who live in villages are daughters of parents that have almost no educational background. They too are afraid of girls in their family getting too empowered, too scholarly, and too bold to stand neck to neck with men. Very few, lucky daughters have fathers like Pariwesh who think progressive regardless of living in a conservative society.