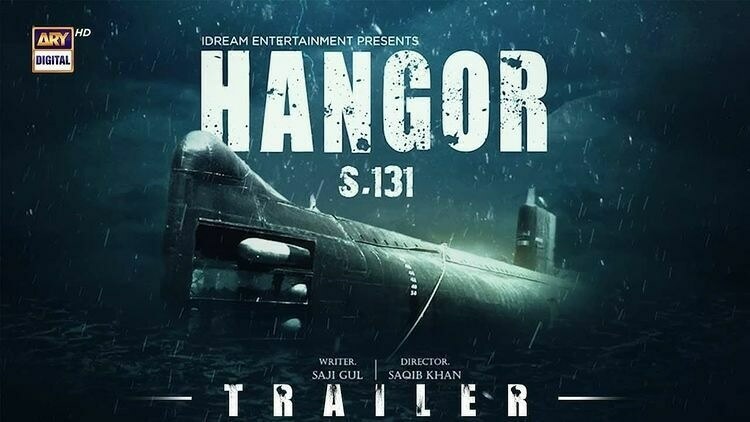 We are mesmerized by witnessing an impressive television adaption of a proud event of the 1971 Indo-Pak war.

We, as a nation, can never sing enough praises for the bravery always displayed by our armed forces. However, the drama industry is witnessing a rising trend of honoring our uniformed services of the Army, Navy, and the Air.
The recent ISPR project Sinf e Ahan, celebrating women's empowerment in the army, is a powerful example of this. Previously, a telefilm based on General Nigar's hard work was also released on ARY Digital. Now, next in line to hit our television screens is 'Hangor', yet again a telefilm that puts the Pakistan Navy and the bravery of its soldiers in the limelight.
The trailer of the story has hit our screens and we are mesmerized by witnessing an impressive television adaption of a proud event of the 1971 Indo-Pak war that earlier, was just recorded in history books.
A lone Pak submarine against the enemy ships
Written by Saji Gul and directed by Saqib Khan, the telefilm needed to have a cast truly grand to do justice to its story, based on a true glory by the Navy. Consequently, we spotted high-performers like Javed Sheikh, Zahid Ahmed, Saba Qamar, Affan Ahmed, Dur-e-Fishan, and Shahzad Sheikh in the trailer.
The promo kickstarts with a majestic view of the French-built Daphne-class submarine 'Hangor', submerged in the Arabian sea. The scene shifts towards how the young soldiers of Pakistan's Navy geared up to face the Indian ships when the news of the War of 1971 broke out. The narrative then builds towards the gallant Navy men leaving no stone unturned to disrupt the Indian operation that planned to attack Karachi.
The men in Hangor then launched torpedo attacks, sinking the Indian Navy's frigate INS Khukri and damaging the second warship INS Kirpan.
From the looks of the trailer, Hangor will be a moving homage to not only the uniformed heroes of the navy but even their families that remained steadfast, praying for the safe return of their loved ones.
We must admit that the male cast, depicting the navy men, appear graceful, dignified, and handsome in their avatars. The dialogues depict their fervor to serve the nation and their passion to protect the land. It can only make our hearts swell with pride to see it all in the trailer and we can't wait to watch it all on the telefilm.
Soon to be released, the air date is still a mystery. However, this is the third such recent project being broadcast on ARY Digital and we sincerely hope that this trend continues to thrive, spreading awareness amongst the nation about the chivalrous soldiers that serve our homeland.