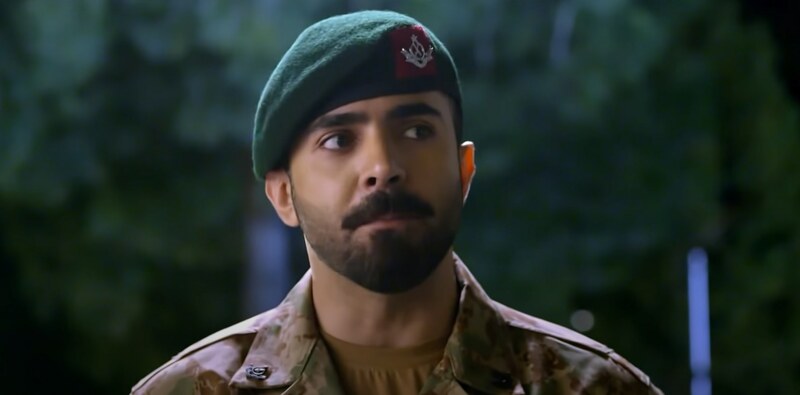 The best moment of the episode was Major Usama's speech, explaining the essence of our country's national anthem.

This week, yet another episode of Sinf e Aahan left us hooked!
We loved the patriotism-packed storyline that gave us goosebumps and made us proud to be Pakistani. The spotlight was less on the women this week and more on Shehryar Munawar's avatar along with his subplot in the tale. However, the actor ruled in all his scenes and dialogues, pumping us all the with the love of our country like never before.
Let's do a quick review of what fared in Sinf e Aahan last week and what's next to come in the story.
Explaining the essence of Pakistan's national anthem
Last week, we realized that Kiran (Sonia Mishal) had a beau in the past who was also in the army. This weekend, we got a full-fledged throwback into the love story of Taimoor and Kiran. The pair has aspirations and huge dreams for their future. But even then Taimoor knew he will be a martyr and seems like he did sacrifice his life for Pakistan, leaving a mourning Kiran to reminisce the beautiful time they spent together.
She meets a friend and tries her best to avoid her. She is running away from her as her friend believes she is with Taimoor. We are confused if whether she was married to him before he passed away. Seems like this mystery will be solved in the upcoming episodes.
Meanwhile, the lady cadets (LCs) have a tough time performing during the drill session. But back home, their parents are proud of them and cannot stop singing praises of their daughters joining Pakistan Military Academy.
The best moment of the episode was Major Usama's (Shehryar Munawar) speech, explaining the essence of our country's national anthem. The scene left us with goosebumps and made us comprehend our 'qaumi tarana' in a whole new light. It was indeed emotional for viewers and the LCs too could be seen teary-eyed, their hearts filled with pride and love for Pakistan.
When the national anthem was played in the episode, we stood in respect and were in awe of the glorious scenes where all cadets stood tall, their souls pumped up with all the patriotism and fervor to serve their motherland.
The friendship between Rabia (Sajal Aly) and Shahista (Yumna Zaidi) is gaining strength, and so does the bond between Mahjabeen (Kubra Khan) and Pariwash (Ramsha Khan). By the end of the episode, we see a clueless squad of LCs being instructed to write letters back home to their favorite family member. Next week, we will see every girl's preferred addressee and what they will have to say to them. More comedy and some action-packed scenes await us next week. What's more, Rabia will discover a deep secret of LC Nathmy.
Thumbs up for Shehryar Munawar and Dananeer
Undoubtedly, women are steering Sinf e Aahan and we are loving a glimpse into the life of lady cadets in the PMA. But it was Shehryar Munawar that stole all the spotlight this week.
The scene in which he describes how the national anthem helps the army men and women fight for the homeland was indeed challenging. The actor is addressing the whole nation in this scene. He had to touch hearts, pump us with love for Pakistan and make us realize why we should be ready to serve the country when needed.
The hero indeed pulled it off, portraying an impeccable performance and doing justice to the scene. We could see how Shehryar himself meant every word he was delivering as Major Usama.
Dananeer has limited scenes, as she is essaying a supporting role but is gaining immense appreciation as Sidra. She is hilarious, bubbly, and energetic. Who knew the 'Pawri girl' was a natural actor all along.
We also loved how the parents of all the cadets had positive things to say about the army and the daughters and the path their daughters have selected for themselves.
Sinf e Aahan has successfully become an addictive watch, perhaps even more than Ehd e Wafa. Let's see where the story heads next in the upcoming weeks.