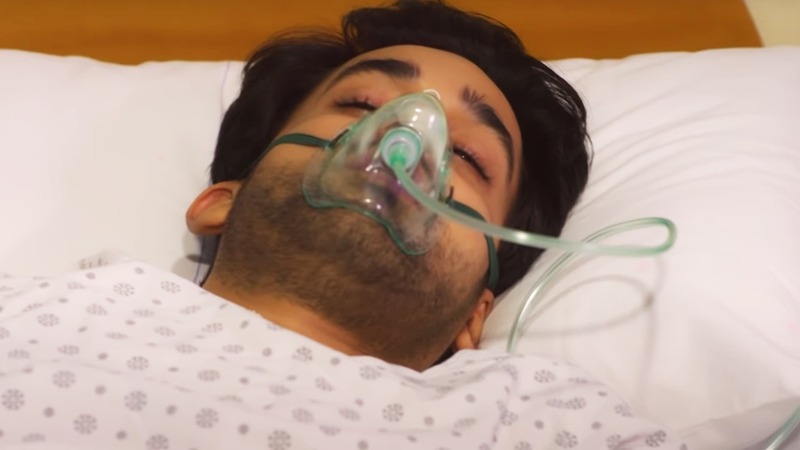 The promo of the next episode shows Mahir gaining consciousness and confessing to the police that he was shot by Affan

Dobara on Hum TV is on fire this month, unveiling back-to-back power-packed episodes.
We finally found out who got shot from the duel between Affan and Mahir. However, the episode last night was quite filmy and packed with drama.
One thing is for sure: Hadiqa Kiani and Bilal Abbas have raised the bar in Dobara. We are loving their pair and their apt performances. The team of writer Sarwat Nawaz and director Danish Nawaz have made this story worth watching for all generations, leaving profound lessons for everyone to learn from.
Let's do a quick review of what fared in Dobara last night and what is next to happen in the plot!
Mahir battles between life and death
Although, there wasn't much development in the story this week; the makers took a lot of time to reveal what happened in the duel between Mahir (Bilal Abbas) and Affan (Usama Khan).
It all started when Phuppo (Sakina Samo) breaks it to Affan that her mother has tied the knot with Mahir. Upon realizing that Mehru has married again- that too with a young man his age- the hot-headed Affan gets furious to the point of getting violent.
He threatens to kill him and warns him to leave his mother. Mahir, in his aim to establish that he isn't going anywhere, ends up infuriating him even more. So much so, Affan takes the gun from the guard and points it at Mahir in a filmy scene outside the house.
Our hero tries to warn him that he will go to jail if he kills him. A maniacal Affan, eventually, decides to kill his own self to save himself from the humiliation of society. Rain begins to fall right at that moment. Mahir tries to take away the gun from him and of course, gets shot in the chest!
Next, we see that the victim is being rushed to the hospital on a gurney and doctors are rushing to save him. Unfortunately, Mehru is all alone with no family member at her side to be her strength. She is helpless, in tears, and in fear of losing Mahir.
The doctors have made it clear that they managed to save Mahir, but he is still in critical condition to the point he can die. Meanwhile, Zamir is having a field day realizing that it's a great opportunity to get rid of both Affan and Mahir. If Mahir dies and Affan goes to jail, he will own Mehru's entire business. Consequently, he makes no plans to save Affan from the cops and tells them the whole tale.
Affan is scared but is also acting foolishly. To find a safe spot for himself, he finds shelter with his in-laws who are now desperate to save him.
On the other hand, Jehangir (Shabbir Jan) visits the hospital upon knowing the news of Mahir in the hospital. He has a sweet heart-to-heart with a tear-stricken Mehru and divulges that he only lives, knowing Mahir is breathing and is healthy. In an emotional scene, he makes it clear that he has accepted Mehru as his daughter-in-law.
The promo of the next episode shows Mahir gaining consciousness and confessing to the police that he was shot by Affan. But will he let go of all charges and save him from going to jail? We think that's highly possible. This way, he will strengthen Mehru's trust in him all the more.
Queen Hadiqa Rules the Episode
One look at the YouTube comments beneath Dobara's episode reveals that she has won the hearts of all her fans. The viewers are all praised for her acting, claiming that she is a natural performer and made them cry along with her.
Bilal Abbas had little screen presence this week. Hence, all limelight was on Kiani. She shined in every scene. Her anxious expressions were on point and her portrayal as the apprehensive wife was flawless. The singer has proven that her acting talent is as good as her singing skills. We would love to see her performing all the more. She is graceful and knows how to own the frame.
Surely, Mehru will know trust Mahir with her life, given that he almost sacrificed himself to save her son. Will Mahir be exploiting this firm faith or will he too fall in love with her eventually? Dobara has us all buzzing with questions and has truly left us wanting more.