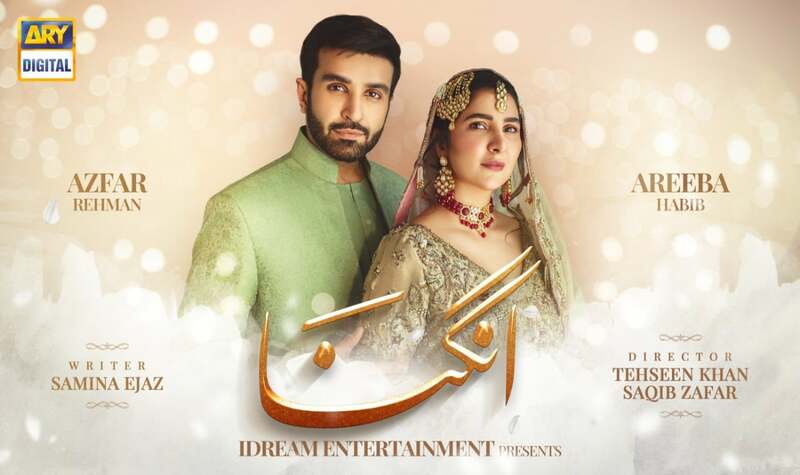 Their summer love felt undeniably natural on-screen

The recently launched Angna on ARY Digital released its first episode on air and its story seems to be so much more than it was shown in its initial promos.
Written by Samina Ijaz and directed by Tehseen Khan and Saqib Zafar, "Angna" is an iDream Entertainment Production with Mr. Abdullah Seja. The project boasts a stellar cast packed with veterans like Javed Sheikh, Adiqa Odho, Rubina Ashraf, Gul-e-Rana, Ismail Tara, Moshin Gillani, and Rabia Noreen.
The lead cast features Areeba Habib, Azfar Rehman, Ali Abbas, and Rabab Hashim. The supporting cast includes Sajjad Pal, Laiba Khan, Asim Mehmood Kanwal Khan, and Danial Afzal.
Beyond your conventional family drama
The drama, in its own way, is breaking the much prevalent stereotype in our society that marriage should be the sole purpose of a woman's life. So much so, it showcases a story of four daughters with parents who don't consider them as a burden but prioritize their careers and studies before anything.
They also aim to tread wisely while selecting the right families for their marriage, taking their daughter's consent to ensure their happiness. However, fate appears to have other plans.
However, the strong women have been prepared to be fierce firecrackers all their life and surely, we will be witnessing their power-packed avatars in their respective sub-plots.
Azfar Rehman & Areeba Habib Possess the Cutest Romantic Equation
The much dominant pair of Taimoor as Azfar Rehman and Abeeha as Areeba Habib had the cutest scenes in the first episode. In fact, at the start of the story, we witness sweet moments that established their crackling romantic equation for the rest of the drama.
The couple is Nikkahfied in the story and awaits their Rukhsati till our hero completely establishes his dream business. Enjoying a wedlock relationship, the duo seems to make the most of their intimate phone conversations and sneaky meetups. Not only do they look stunning together, but their on-screen chemistry is also believable and was off the charts from their very first, adorable scene together.
Their summer love felt undeniably natural on-screen, with Abeeha making plans for their married life and Taimoor being respectful towards her loving demands. What's more, their relationship seems unlike the rest of the women in the story. The early teasers revealed that a dysfunctional marriage is in store for the rest of the daughters. Will Abeeha and Taimoor prove to be an ideal couple in a dutiful marriage for the rest, let's wait and watch.
Kudos to the seasoned stars Azfar Rehman and Areeba Habib, who ensured that they flawlessly deliver on-screen what their avatars demanded. Their sub-plot has left us craving for more and the promo of the next episode reveals a 'dhamkaydaar' shaadi in store for them. Can't wait to witness more heart-fluttering moments from their sub-plot!