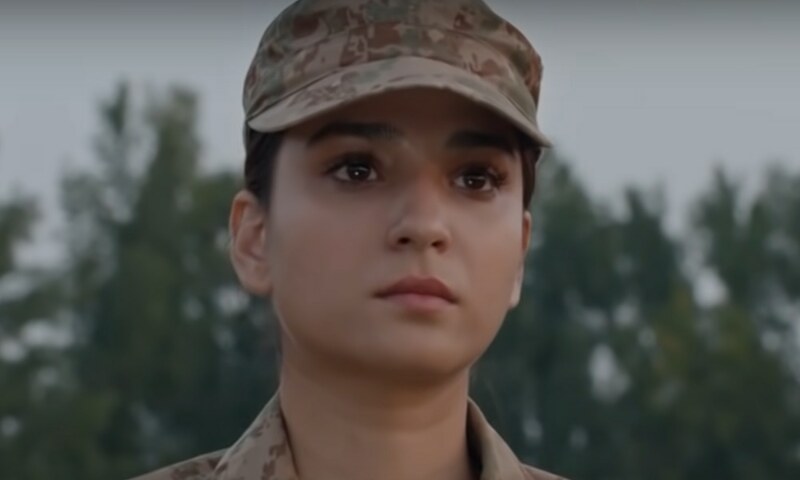 It was inspirational to watch the shooting competition between LCs and the male cadets

It has been long since we reviewed Sinfe Aahan and much has evolved in the story over the past few weeks.
We finally realize what went wrong between Mahjabeen (Kubra Khan) and Rabia (Sajal Aly). Apparently, Noraiz (Asad Siddiqui) had been blackmailing Arzoo (Syra Sharoz), and its time for the girl to clap back. The latest episode was an exciting one, oozing with girl power and the Lady Cadets (LCs) making us proud by boldly competing with male cadets.
Let's review what went down in Sinf e Ahan this weekend and what is next to happen next in the plot.
Shooting Competition Equally Owned by Women
The episode began with a perplexed Arzoo on her way to quit the Pakistan Military Academy (PMA). Noraiz and his heinous act of leaking her pictures to his friends compelled her to make the move. However, Major Samia and Major Samia came to her aid, stopping her from ending her career in the army. Together, they confronted Noraiz and gave him the reprimanding he deserved. It was empowering to see the vile Noraiz apologizing and finally leaving Arzoo to peacefully continue her life in PMA.
Even more inspirational to watch was witnessing the shooting competition between LCs and the male cadets. Apparently, LCs always lose in the shooting match against boys. However, this time Major Osama seems confident that at least one LC will go to the final round and make them all proud.
The whole squad of women is counting on Pariwash (Ramsha Khan) as she is the best amongst all at shooting at the target. She along with LC Shahista (Yumna Zaidi) and LC Arzoo (Syra Sharoz) participate in the contest. However, it is her alone amongst all the women who go through the semi-finals to reach the final.
It is tough for Pariwash to compete against men but it is even challenging for her to come face to face with the son of the Sardar of her tribe. The Sardar's son surely recognized her and vehemently wanted to defeat her. What will happen in the third round? We will see it all in the upcoming episode.
We also came to know that Taimoor embraced martyrdom in an encounter with the terrorists. It was a moving scene to see how he became a Shaheed in front of his friend, Osama while requesting him to take care of his wife and daughter.
The promo of the next episode shows Pariwash getting defeated in the final round of the shooting contest by the son of Sardar. Shahista will be fighting with her emotions as she gets a new proposal from Kamil's friend in the army. Rabia will yet again be pursued by Nasar (Asim Azhar) who will use her brother, Danyal (Usman Mukhtar) to connect with her yet again.
Empowering Scenes All Over
Sinfe Aahan won the hearts of the viewers with how smartly and tastefully Arzoo's case was handled in the episode. Her story is the tale of a lot of women across Pakistan who undergo cyberbullying when their private pictures get leaked across the internet. In Arzoo's case, her mentors in the army helped her and stood by her bold move to confront Noraiz.
The episode also established that women can be equally competent and outstanding shooters like men and their abilities should not be doubted.
We love how Dananeer makes us laugh every time with her character of LC Sidra. She is a born star. She is as apt at being an actor as she is being an Instagram influencer.