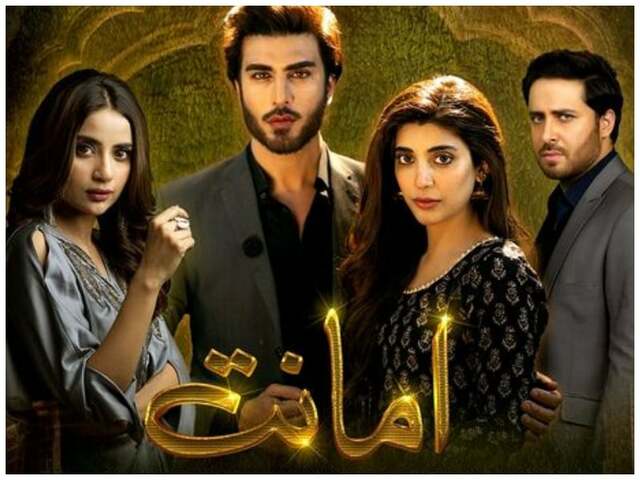 The next episode seems to be the end of Zuni and her villainy.

It has been quite some time since we reviewed Amanat and since then, a lot has changed in the story- except for Zuni and her intolerable demeanor.
Her father has passed away and now finally her brother along with her mother knows how low she has stooped to marry Zarrar. But Alas! Seems like her character is a lost cause. We have lost all hopes that she will be able to redeem herself in the eyes of viewers.
Let's do a quick review of what has been happening in Amanat and where is the story heading next.
Meher Returns
Eventually, Meher's (Urwa Hocane) had to be proven innocent and her mother-in-law, Firdaus (Saba Hamid) didn't delay any further to bring her back home.
Although reluctant, Meher agrees to return to the home that shamed her. But this time, respect and love awaited her from Firdaus, Samra (Srha Asghar), Junaid (Haroon Shahid), and her father-in-law. Only Zarrar (Imran Abbas) and Zuni (Saboor Aly) created an uproar upon her arrival.
But this time Meher had her mother-in-law's support and no one could have prompted her to leave the house again. Salar's nearness became a bonus for Zarrar who wants to take his child away from Meher. To be honest, his character had been easily manipulated throughout and he still believes that his first wife cheated on him.
While Firdaus is vying to create momentum in the house and oust Zuni for good, our vamp has her evil plans up her sleeve. Realizing that Zarrar will not be abandoning Salar, she feeds the poor child an overdose of the medicine which eventually ends up harming the child.
Meher and Zarrar rush their baby to the hospital and are told the cause of the baby's ailment. The father is shocked to hear the news and divulges that he was the one who gave medicine to Salar with just the right dose. This will surely have his mind churning about Salar receiving an overdose of his medicine.
It was awful to witness Junaid wounded due to the accident. While all were sympathizing with him, Zarrar remained aloof. What will wake him up to realize that his Zuni is behind the turmoil in the house?
However, the next episode seems to bring an end to Zuni's villainy. Seems like Zarrar will finally be realizing her true colors. What will she do next? Try to end the marriage between Samra and her brother? Let's wait and watch what will be her character's fate in the saga.
Saboor Aly nails her acting game as Zuni
It's tough being a villain and having the audience hate you to the core. Saboor Aly did it all with such finesse that we will remember her as the insufferable Zuni for a long, long time. She could easily bag the award for the villain of the year for making us hate her whiny and petty character.
While Imran Abbas's character is the hero in the story, he has gotten equally despicable. He is a doubtful husband and is easily used by Zuni. The character really needs to think on his own and his decisions shouldn't be clouded due to his second's wife constant accusations towards Meher.
All in all, we really want Zuni to be brought to book. What does fate have in store for her? We are curious to find out.