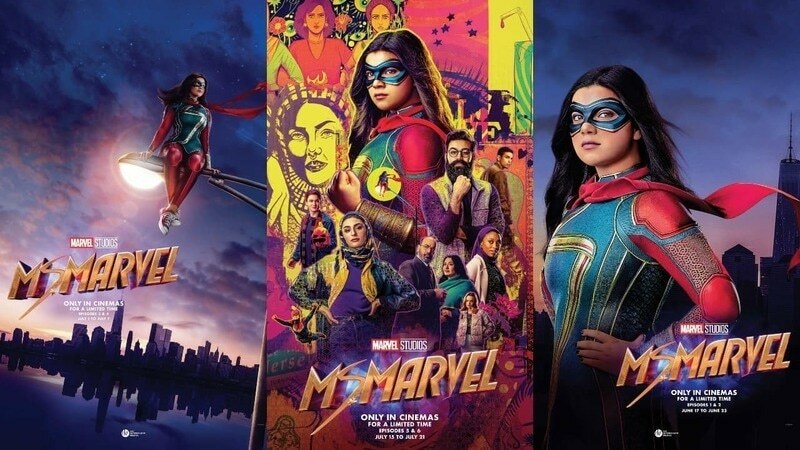 Pakistani-Canadian starlet Iman Vellani's exclusive interview sheds light on her journey of becoming Ms Marvel!

The recent release of Hollywood's Ms. Marvel has received an amazing response from the Pakistani audiences. The first ever Pakistani super-hero has won hearts all over with just the first 3 episodes on air. Every young brown girl in the South-Asian community can easily relate to Kamala Khan and it is due to this that the series has garnered a lot of praises from the Pakistani community world over. Not only does Kamala Khan have Pakistani roots but the Ms. Marvel series has a number of Pakistani references that will make you squeal in excitement!
In an exclusive interview with renowned journalist, Omair Alavi of Voice of America Urdu, Iman Vellani shares her journey to becoming Ms. Marvel and talked about Pakistan.
Talking about growing up and fantasizing about Ms Marvel, she mentions she has always been a huge fan of Ms. Marvel and also made her own Ms Marvel costume when she was 15. She also spoke about dressing up in her Ms. Marvel costume on Halloween in high school and joking about how she would one-day play Ms. Marvel in real life, little did she know this wish would come true!
Since the release of the series, Iman Vellani has received instant fame across the world, when asked how Vellani dealt with all the pressure and responsibilities of playing Ms. Marvel, here's what she said,
" I wasn't feeling pressured at all, I was very excited to be playing the role and couldn't believe it. Everything about Ms. Marvel was exciting for me. I just went to work and had a lot of fun shooting for the series."
While we love how cute and adorable Kamala Khan is, we equally love her action sequences, talking about her action scenes, Vellani says she enjoyed working closely with her stunt double and team. We're all loving Kamala Khan's amazing super-powers, when the Ms. Marvel starlet was asked which superpower would she like to possess from Ms. Marvel here's what she says,
" I love Ms Marvel's purple fist and would love if I could possess it. I wouldn't have to get up and could use my superpower to fetch things whilst being seated comfortably."
Since Disney is not available in the country, fans were overjoyed when the makers of Ms. Marvel decided to release the show in intervals in the cinemas across the country. Hear Iman's thoughts on this genius idea:
"I'm very excited, I still have some family back in Pakistan and they are talking about booking entire cinemas for their friends. It's great to know that we have created something that is cinematic and can be shown on the big screens!"
Iman further talks about how the show has changed her and made her feel closer to her culture. She also adds how it has been wonderful to be able to work with amazing creatives from the south-asian Muslim community and it has inspired her to reconnect with her roots.