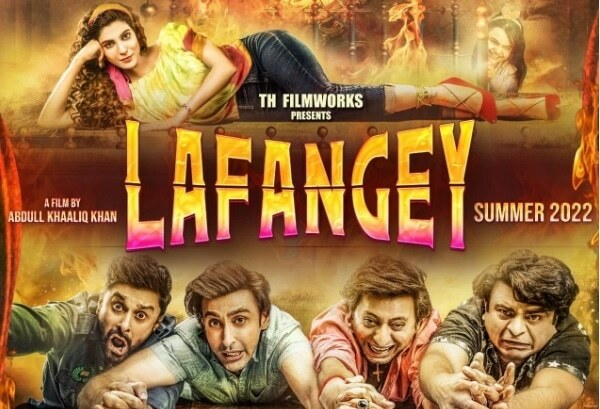 The horror-comedy is all set to release in cinemas this Eid-ul-Adha.

The much awaited trailer for Lafangey was launched last night, the movie has received a release date for this Eid ul Adha and will be rivalling two major films Quaid e Azam Zindabad and London Nahi Jaunga. Lafangey boasts of an ensemble cast that is the perfect blend for a comedy film, featuring Sami Khan, Salim Meraj, Mubeen Gabol and Mani Khan in lead roles. The leading lady's role has been helmed by the sultry beauty, Nazish Jehangir.
Nazish will be debuting on the silver screen with Lafangey and the actress will be seen playing the ghost in the movie. The horror-comedy has an intriguing plot line that is sure to keep viewers engaged.
Lafangey is directed by Abdul Khaliq Khan, who describes the movie as, "Lafangey represents story of fear of every common man who has a hero hidden in himself. It's a journey of how these apparently common men (the four principle characters) overcome their inner fears to outshine themselves"
The movie is produced by Tariq Rind under the banner of Al Wafiq Studios and is written and directed by Abdul Khaliq Khan.
The laugh riot led by the four Lafangey's is one that we are looking forward to this Eid ul Adha! Watch the trailer for Lafangey here: