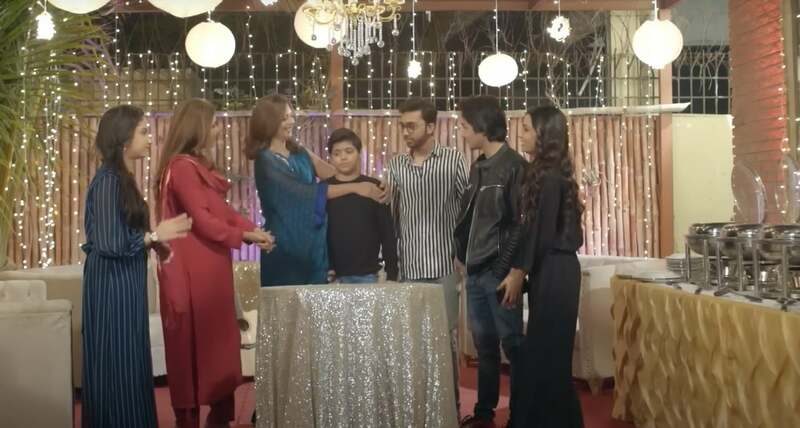 The story aims to challenge conventional parenting styles in the era of social media.

With a fresh casting coup, a different theme, and an eye-opening storyline; Pinjra on ARY Digital is a blessing for us this drama season.
We had very few stories this year that generated important conversations and prompted us to reflect upon life. After all, these should be amongst the goals of a drama- to make the audience think and somehow, relate it to their own lives.
Pinjra on ARY Digital has surely started on a powerful note and has hooked us from its very first week of broadcast. With an unconventional cast of Omair Rana as Jawaid, Hadiqa Kiani as Khadija, and Sunita Marshal as Wajiha; the story aims to challenge conventional parenting styles in the era of social media. There is a band of child stars- including the rising Aashir Wajahat as, Azaan, who is standing out amongst all the young faces. Then there is the talented Aina Asif, as Abeeha, enchanting us with her beautiful eyes and depicting she has a long way to go in the industry.
So far, we loved the tale and are excited to know how the plot will unravel! Let's discuss all the reasons Pinjra is standing out and why it should be on your watch list.
Parenting Gone Wrong
In Pinjra, we witness two sets of parents- Jawaid and Khadija, and the other the single parent, Wajiha. Khadija and Jawaid are strict, and controlling and harbor strong feelings of mistrust toward their children. Screaming and hitting the kids is very common in their household. Unfortunately, the word 'loser' is hurled a lot at the younger one -Abhaan, who needs the most attention. Their social media usage is banned and of course, no one is allowed a cell phone. Only the elder son Azaan is rewarded with one when he becomes a head boy.
Meanwhile, Wajiha is that cool, friendly mom everyone wants to have! She trusts her kids and believes she needs to make them grow rather than suffocate. She is best friends with Khadija and strongly disapproves of the way she treats her children. We can see that Wajiha's children dote on their mom for she lets them walk with the world, and is soft and supportive.
Her children too are obedient and the two siblings also have a healthy relationship with each other. Despite freedom, they have learned not to misuse it or step into any sort of trouble. On the contrary, strict parenting hasn't worked for Khadija and Jawed's children. Only Azaan is the compliant one while Abeeha and Abhaan are rebellious. The two younger siblings are fed up with the restrictions and are in the constant shadow of their elder brother. Consequently, they adopt unhealthy habits to feel free and their parents have no idea what their children have stepped into.
Take on Child Physiology
We have to laud Pinjra for using entertainment to educate parents about how children are evolving with time. There was an age when strict parenting was considered to be the best way to prepare children for a productive adulthood. But it was indeed a different era.
With the world changing and being dominated by social media, the youth wants to be seen, heard, and trusted. They despise being compared to their siblings, are crushed when their parents scream at them and lose all self-confidence when they are called a 'loser'. The more you tell them to stop doing something and suppress them into submission, the more they will walk the path of rebellion. We see this happening with Abeeha and Abhaan.
At the same time, children grow when you include them in major life decisions as Wajiha did with her children when separating from their father. The mother trusts them and lets them enjoy life while teaching them right and wrong. She encourages them and ensures she has only words of positivity to empower them. There is no comparison among siblings in Wajeeha's house and we can see that sans a father, the walls of their home are painted with love.
Addressing Sibling Rivalry
It is an old-fashion practice amongst desi parents to desire all children to be like that one ideal son or daughter. However, they fail to understand that every child is different and brings his own talents to the world. Constant comparison by parents amongst children not only makes the kids feel unloved but also lay a foundation of rivalry amongst one another.
We see such hatred between Azaan, Abhaan, and Abeeha. While Azaan seems to be at peace with his life, Abeeha and Abhaan are turning into jealous individuals. Their conversations are filled with mean remarks and sarcasm. We also see no love or respect among them for each other. The youngest son hates his elder brother and screams at him from time to time. He detests Azaan for being the ideal son, for being loved the most by their parents while he himself has to struggle to make his space in the house.
Addressing Teen Vaping
Vaping amongst teenagers has witnessed an alarming increase all over the world and statistics in Pakistan are no different. The habit exposes the user to nicotine, a highly addictive substance found in tobacco.
In the story, we see Abhaan using an e-cigarette as he experiences depression and feels unwanted by his parents. Where will this habit leaves him, we will discover in later episodes. But we are sure that it will lead him to no good. It's remarkable to see this new trend of vaping amongst adolescents being shown in Pinjra. It shows the plot is contemporary and is keen to spread awareness about potential evil rising in society.
An ode to Asma Nabeel
The legendary writer Asma Nabeel might not be with us. But Pinjra is a strong reminder of her intellect and creative streak. All her projects encompass profound messages amongst them and Pinjra is no different. It can easily be labeled as one of her best scripts.
The morals, the dialogue, and the idealogy behind this drama make us realize that we have lost a literary gem. However, we hope her work becomes a wake-up call for many parents and teach them to amend their ways. Hopefully, it will also educate teenagers on how to save themselves from harm while keeping up with the modern era and its trends.
Pinjra airs on ARY Digital every Thursday at 8:00 PM PST.