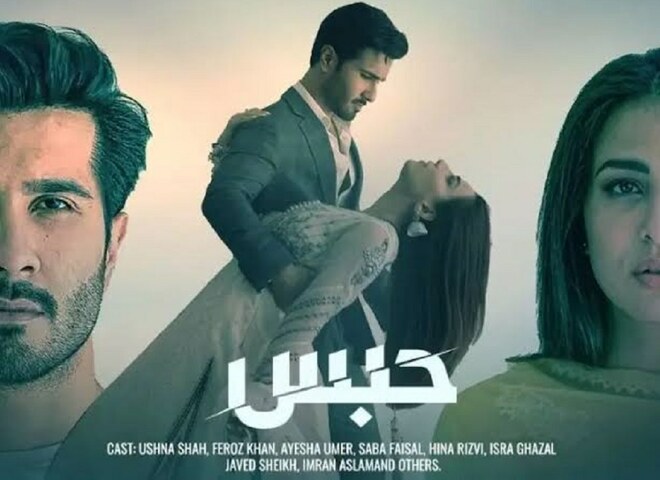 Finally breaking his silence, Basit tries to apologise to Ayesha and wishes to take her back home. He also...

Finally breaking his silence, Basit tries to apologise to Ayesha and wishes to take her back home. He also acknowledges that, although he has considered a divorce, he genuinely doesn't want it to happen. When Basit arrives to take Ayesha home, Qudsia Begum ruins it once more by being her inconsiderate self and humiliating him.
Drama fans from Pakistan and other countries have shown a lot of admiration and love for Habs, an Ary Digital prime time drama written by Aliya Makhdoom and directed by Mussadik Malik. The drama centres on a simple plot in which the main characters Ayesha (Ushna Shah) and Basit (Feroze Khan) both experience their own share of familial issues. Due to the baggage from Basit's traumatic and unhappy past, the financial instability of Ayesha's family, and her mother's opportunistic nature, Ayesha and Basit, who have been married for their own reasons, are now fighting to maintain their relationship.
Since Ayesha and Basit got to meet at Fahad's (Mussadik Malik) wedding, the plot has at last begun to advance. Basit attempted phoning Ayesha to invite her to join him at Fahad's wedding, but Ayesha's mother denied those calls. Ayesha appears to be upset that Basit chose to bring Soha along with him. Ayesha looks stunning in a sari, though, and Basit can't help but gush about her. He seems utterly charmed. This gives them the opportunity to express themselves fully, with Ayesha expressing her outrage that Basit has hurt her feelings and ego. He asks her for forgiveness and admits that he is ashamed of what he did. Fortunately, the cat is out of the bag as Ayesha confronts Basit about his desire to separate from her and obtain the divorce. Thankfully, the cat is out of the bag now that Ayesha has confronted Basit about his intention to divorce her and the preparation of the divorce paperwork. Basit responds that sure, the divorce papers were prepared, but he was unable to divorce Ayesha. Soha (Ayesha Omer) interrupts the two and makes a valiant effort to capture Basit's attention, leaving the topic in the middle.
The following day, Basit visits Ayesha's home and begs for forgiveness while stating that he doesn't want to have a divorce from her. As Ayesha gripes about how he humiliated her by dragging her out of the house in front of the servants, he asks her to come back home with him and that he will kindly take her back while holding her hand. As the two were venting their frustrations, Qudsia begum (Saba Faisal) barges in and reminds Basit of the humiliation she experienced when she asked him to bring Ayesha back home. How will you respect Ayesha, she asks, if you have never respected your own mother? Basit is enraged by this and decides to let Ayesha decide for herself.
Bano (Dania Anwer) acts like the mature sister she is by advising Ayesha to make her own decisions and put her own happiness above everything. Ayesha is very upset by the way their mother always manages to wreck everything for them. Ayesha is convinced by Bano to leave her mother out of her life and return. Ayesha is persuaded and swears to her mother that even if Basit deserts her, she won't return. As she was leaving, Samina and her brother appeared at their home to meet Ayesha. Ayesha, whose mother has pushed her to the edge, angrily informs Samina that whatever her mother has promised them would not happen since she is really content with her husband and won't ever leave him.
Basit and Soha are seen talking about how he almost chose to divorce Ayesha out of rage. Soha questions whether he's really ready to part ways with her. Basit responds that he sometimes think of it only because of her mother. Suddenly, Kareem greets Ayesha as the two were conversing, making them realise that Ayesha has heard everything. Hurt, Ayesha leaves Basit's house and was about to be struck by a car when Basit pulled her and scolded her for what she was trying to do. She furiously confronts him as to how he could disrespect her mother, to which he retorts, "You better ask your mother about that."
As it is obvious that Soha's presence makes Ayesha feel extremely insecure, we are hopeful that the plot doesn't go back to square one with Ayesha now doubting Soha and Basit.
Which scene from last night's episode was your favourite? We particularly liked Basit's effort to explain everything to Ayesha as he was seated on his knees and holding her hand. It was quite atypical of Basit and made us all swoon.