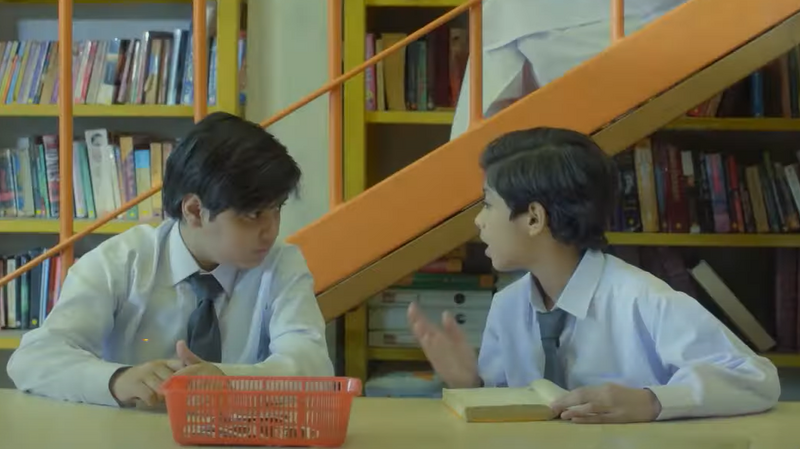 Abhaan's drug addiction begins with the addition of a new friend in his life.

Yet another fast-paced development happened in Pinjra last night- one that we didn't see coming.
We watch it every Wednesday and remember the late legendary writer, Asma Nabeel for Pinjra is amongst her last work and it is no less than a literary gem. The drama indeed has us all hooked on the storyline and social media cannot stop praising it for harboring a powerful plot.
The cast of Omair Rana as Jawaid, Hadiqa Kiani as Khadija, and Sunita Marshal as Wajiha along with the child stars- Aashir Wajahat as Azaan, Aina Asif as Abeer and Ahmed Usman as Abhaan are delivering phenomenal performances in their respective roles.
Let's review what happened in the latest episode of the drama and what we are expecting next from the story.
Abhaan starts taking drugs
The episode begins with Abhaan forging his father's signature on a test he failed. However, his smart elder brother Azaan, who has been tutoring him, guesses that Abhaan has failed his test and has hidden the assessment. He explains that hiding the papers is a habit that will land him in trouble and drive him to a path of lies and deceit.
There is a new addition in Abhaan's life- a classmate that is surely all trouble and no good. He traps our child hero into taking drugs, ensuring him that taking the small pill will erase all of his troubles.
From here begins Abhaan's drug addiction. It starts affecting him, diving himself into a world of his own. He gets sloppy, slow, and distant from everyone- causing him to face all the more heat from his father and mother.
To make things worse, he also finds out that one of his music videos was spotted by an entertainment show 'Basement' and the producers want to feature him in the upcoming season. Upon realizing, that this news was hidden from him on purpose, he feels all the more depressed and rebellious.
Packed with misery, he breaks his guitar and the ruckus attracts the attention of his father, Javaid. How his outburst will pan out for him in the future, we are yet to find out in the upcoming episode.
In another subplot, we see Wajiha warming up to a new stranger, essayed by Fuqran Qureshi. But her daughter Dua gets kidnapped by her own daughter, which sends her into another spiral. She gets hurt all the more when Javaid blames her for being absent from her children's lives and being poor at motherhood.
Karma to hit Javaid?
We have seen Javaid as one of the most toxic characters in the show. In the promo of the next episode, we see him blaming his wife and admonishing her for talking back to him. He believes in patriarchy and is truly a chauvinist at heart. He hates the fact that Wajiha works and reprimands his wife, Khadija when she meets her only true friend in the world.
But it seems that fate is about to teach Javaid a lesson. We see his elder son Azaan already realizing the ill effects of his father's suppressive parenting. Abaan is walking the track of doom. He is next going to steal money to buy drugs from his new classmate. Abeer too is mingling with the wrong crowd in her school. Where will this all take Javaid and Khadija? It will undoubtedly be a path of guilt, regret, and no turning back.
Meanwhile, we see Wajiha, who is a working mom, raising children who are inspired by her courage and hide nothing from her. The story is a clear example that a dominating and oppressive parenting style is no longer the right tactic for Gen Z.
Are you watching Pinjra? What do you think about the story? Let us know in the comments below.