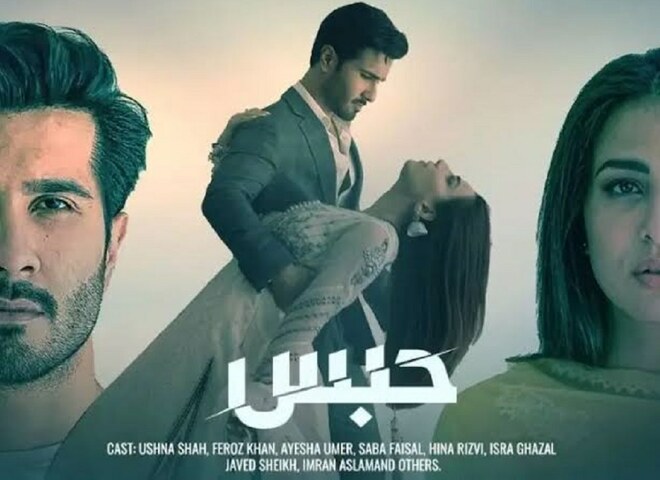 After a long time, Ayesha and Basit are finally getting along, but Soha doesn't want it things to stay sunny and has...

After a long time, Ayesha and Basit are finally getting along, but Soha doesn't want it things to stay sunny and has made a devious move to ruin the two's biggest joy.
Ary Digital's Habs, a prime-time drama series written by Aliya Makhdoom and directed by Mussadiq Malek, is currently one of the network's most well-liked productions. It tells the tale of a couple named Ayesha (Ushna Shah) and Basit (Feroze Khan), who were married for different reasons but ultimately, fell madly in love. As the antagonist Soha (Ayesha Khan) enters the narrative, she is subtly attempting to sow the seeds of discord between the couple because she is unhappy with their happiness and love.
The episode opens with a scene of a nauseous Ayesha as Ayesha and Basit have dinner at Qudsia's house. Fortunately, nobody's immediate assumption was that there was good news, just like the clichéd ways of breaking pregnancy news. Instead, we see Basit and Ayesha once more trying to find out what a home pregnancy test indicates in their favourite location for big news, their bathroom. This moment is wonderful because it offers a new perspective on pregnancy revelations in a drama. When they discover that the pregnancy test is positive, the two are overjoyed.
Basit, who is overjoyed by the news plans a small celebration and, of course, a surprise for Ayesha. When Soha the party crasher shows up when they are enjoying their celebration with close friends and family, it is clear that she is jealous despite appearing to be just as joyful as everyone else. However, she departs after attempting to get Basit to question Bano about seeking for a new job, which, thankfully, he handled extremely well by showing his support and joy for Bano.
We believed that Soha's evil aims would have been satisfied if she had succeeded in trying to spoil it for Bano, but instead, the following day, she came bearing gifts and flowers solely to agitate Ayesha. She informs Ayesha that Basit and she were in love and that she was engaged to him. By disclosing her mother's agreement to arrange for Ayesha's marriage to Basit, she throws Ayesha another shock.
Ayesha confronts her mother, berating her and accusing her of being the cause of her unhappiness. She accuses her mother of having sold her to Basit for money. She is utterly outraged as to why and how her mother could be so self-centered as to make a deal for her own daughter merely in exchange for a house.
Also, we see an interaction between Talal (Imran Aslam) and Bano (Dania Enwer) in which Talal expresses regret for parting ways with Bano and even admits that his life has been a total nightmare since getting married. Bano, on the other hand, gave him the cold shoulder and claims she never held any grudges against him or his mother. Bano being the only strong and rational person should not wind up with someone as opportunistic as Talal, so we hope this was their first and last meeting.
This was such a powerful episode, but it was really more about Soha revealing her true colors. Thankfully, a new perspective was provided to this topic, and we enjoyed how it broke the stereotyped pregnancy revelations in most dramas. Ushna Shah performed brilliantly in this episode, and when she confronts her mother, we could really feel her resentment and loathing for her. As a result of Ayesha being betrayed by her own mother, the entire incident gave us the goose bumps and really sparked our emotions.
Because of Ayesha and Basit's strong chemistry and our wish to see them happy, we hope that the drama doesn't take any bad turns in the upcoming episode.