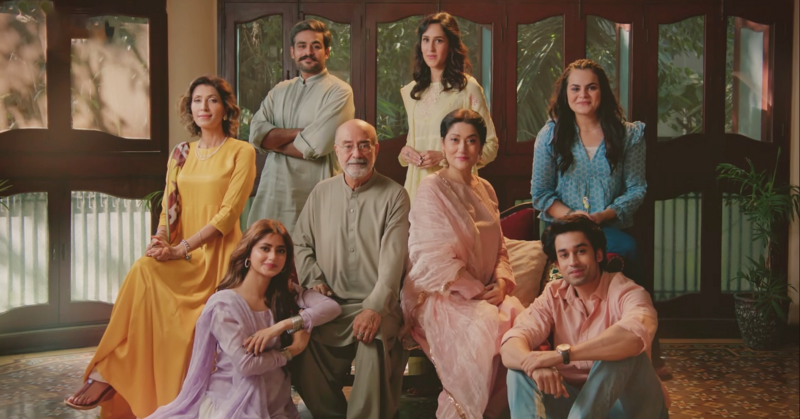 Things are heating up as Salman becomes a tenant at Agha Ji's House, leaving Aliya worried about what her future may...

Things are heating up as Salman becomes a tenant at Agha Ji's House, leaving Aliya worried about what her future may hold. Will this be the beginning of her worst nightmare or the start of an unexpected journey filled with twists and turns?
Kuch Ankahi, airs every Saturday on ARY Digital and stirs emotions, leaving viewers with a lasting impression. Written by the brilliant Syed Mohammad Ahmed and directed by Nadeem Baig, this thought-provoking drama is produced by Kashf Foundation and Six Sigma Plus.
Starring the dynamic duo Sajal Aly as Aliya and Bilal Abbas Khan as Salman, Kuch Ankahi follows the lives of three sisters as they navigate through societal norms and their own aspirations. Bringing to light stereotypical themes such as that population growth reproductive health, domestic violence, family planning, workplace harassment, women's legal and religious rights in property, Kuch Ankahi is a drama that promises to captivate and inspire.
Agha Ji's House:
Apart from Aliya and Sofia, the tenant Agha Ji's family has been waiting for is here. However, the two make every effort to prevent Salman from moving in. Their attempts are futile though since Aliya discovers that Agha Ji and Shammo are both familiar with Salman and his mother. Meanwhile, Samia's shadi has officially begun with a mayoun. Everyone is busy with decorations and other shadi chores. Sofia Phuppo engages in a witty conversation with Thanvi, who is in charge of handling the food and catering for the wedding. Despite their unpleasant encounter, it is clear that Sofia continues to have a special place in Thanvi's heart. Tania and Amma continue to be seen squabbling about Tania's clothing choices and weight.
At Samia's Mayoun, Salman also seemed smitten with Aliya, but it's unclear if his mesmerised attention was a sign of admiration or a desire to make Aliya's life miserable.
Salman:
Salman's mother is overjoyed to see Aliya (the soday ki thaili) in Agha Ji's home. With Rafi's excessive compliments and assertions that Salman has a soft spot for Aliya. Salman's mother is certain that he is undeniably drawn to Aliya. We also think that Salman has developed affection for Aliya.
Saif-Ur-Rehman:
Shagufta, Saif-ur-Rehman's alleged girlfriend, has a sinister plan and due to her belligerence, continues to carry it out. Samia's clothes have been stolen by Shagufta from the tailor, who intends to burn them. We witness a flashback scene when Saif-ur-Rehman's mummy discovers the two by the side of the road after Saif's bike broke down. She is a typical desi mother and thinks that Shagufta is after her son and has trapped him with her Chamak Chalo adaein, thus the nickname Shagufta uses for herself. When Saif-ur-Rehman's mother learns that the clothes are missing, she decides to go without Samia's bari clothes.
Meena:
Meena is tired of her husband stealing from her and wasting the money she worked so hard to obtain for his gambling and drug use. When she was cursing and sobbing over how miserable her life is, she saw that Deepak has not come back from the tailor's shop. As Parmesh goes looking for him, he discovers that the shop had already closed on time. They later found him, but Deepak appears to be extremly frightened but makes no attempts at talking when asked what happened. He appears to have gone through something terrible. Samia treats him with compassion and care while Meena brings him to Agha Ji's home. We adored their endearing connection.
Sehrish:
Although Aliya is now an official employee of Sehrish, it appears that Sehrish is not pleased with Aliya's repeated excuses of responsibilities back home related to her sister's wedding. She clearly informs her that this will not work.
What we think:
The episode was an absolute delight to watch, finally showing us Salman and Aliya interacting outside of their usual work rivalry. The chemistry between them was electric, and we can't wait to see what's in store for their relationship.
One of the standout moments of the episode was the conversation between Thanvi and Sofia. Babar Ali and Vaneeza Ahmed gave exceptional performances, perfectly embodying their characters and making their witty banter a joy to watch.
However, the storyline surrounding Deepak's situation seems to be much more complex than initially thought. It's evident that there's more to his case than just child labor. While the acting of all actors was superb throughout the episode, there were some minor details that weren't handled with as much finesse. For instance, it seemed a bit unrealistic to see Aliya sitting shoulder-to-shoulder with Salman given the conservative values of their middle-class family.
Nevertheless, the overall execution of the episode was brilliant, leaving us eagerly anticipating upcoming episodes.
All in all, we're excited to see how the relationship between Salman and Aliya develops, and we're hoping to see more of their dynamic duo in future episodes.
What did you think of the latest episode? Let us know in the comments below!