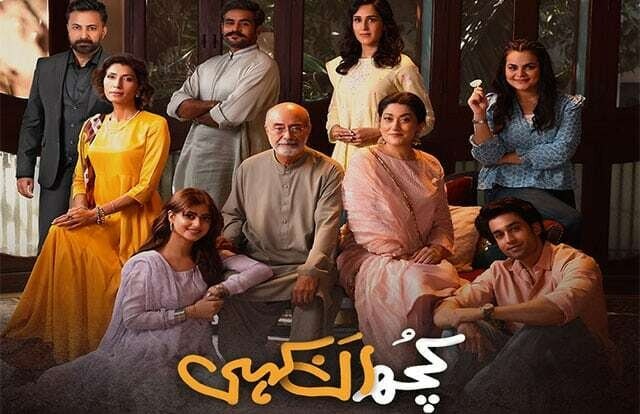 Things haven't gone so well since the family learned about the menacing call from Shagufta to Samia. Finally, Alia...

Things haven't gone so well since the family learned about the menacing call from Shagufta to Samia. Finally, Alia and Salman are seen conversing civilly without threatening to murder one another. Are Samia's circumstances improving or will they only make things worse for her?
Kuch Ankahi is a compelling Pakistani drama which airs on ARY Digital, every Saturday. The drama expertly weaves together complex social issues with a captivating story. The drama explores the difficulties encountered by women even in today's world. It is written by Mohammed Ahmed, who also portrays Agha Ji in the play, and is directed by Nadeem Baig.
Kuch Ankahi explores issues like women's legal and religious rights to property, workplace harassment, and social pressure on girls to get married through its cleverly constructed plot and compelling characters. The drama, which stars a star-studded cast that includes Sajal Aly, Bilal Abbas Khan, Mira Sethi, and many more, both entertains and educates viewers.
Agha Ji and Family:
After hearing from Samia about the call from Shagufta, Alia determines she needs to work with Agha Jaan and Sofia Phuppo to convince Amma and call off the wedding. Of course, Samia wants things to continue as normal and does not want this to occur. Alia, on the other hand, is adamant about keeping this utterly unsuitable couple apart. When Sofia, Agha Ji, and Alia finally sit down to speak to Shammo, she is vehement that postponing the wedding just two days before will only lead to more problems for Samia and the other two daughters as people will talk about their character. They all make an effort to persuade her that issues can be solved now rather than later. Even after Alia revealed that Samia received a call from Saif-ur-Rehman's supposed girlfriend, Shagufta, she insisted that the wedding should proceed as planned. Shammo has a minor heart attack and is taken to the hospital when Agha Ji calls Saif-ur-Rehman and his mother to come for a very important and serious talk. Samia calls Saif-ur-Rehman at home and tells him about the call she got from Shagufta in the meantime. As soon as his mother learns about it, she makes every effort to persuade Samia that the girl is extremely cunning and that she has trapped her innocent son because they work together. Samia informs them that due to that phone call from Shagufta, her mother is now in the hospital. We were surprised when Samia told them straight out not to go see her mother in the hospital. When Aliya wonders why her mother is the way she is, Sofia attempts to clarify that it is not really her fault.
At a time when having daughters, especially three of them, was regarded as the biggest problem in the world, she gave birth to three daughters. Because all she had ever gotten was criticism and regret over the fact that she had three daughters and Samia had grown up witnessing her mother undergo such mental torment, her mind had become conditioned to think in this manner. Samia, despite being a young child, was old enough to understand how it affected her mother, which is why she continues placing the blame for bad things on her daughters and believes that daughters can never be good enough. Additionally, Sofia is behaving uncomfortably in front of Almas because Sofia believes she is there to rearrange for her marriage to her brother. She has begun teasing Aliya about Salman's good looks and nature, though.
Azfar and Sehrish: Azfar is enraged that none of his prospect investors are willing to invest in his restaurant. While this is going on, Sehrish is attempting to make her father, feel some fatherly love for Azfar. Sehrish makes an effort to convince her father that, even though she is aware of his love and longing for Azfar, he should express those emotions to him as a father. Her father explains to her that expressing affection to a son is more difficult for fathers than expressing love to a daughter.
Salman and Aliya:
The conversation between Salman and Aliya, which was short but heartfelt, was the episode's high point. For the first time ever, Aliya thanks Salman for being such an assistance throughout. Salman admits that he likes her family, including Shammo Khala, Agha Jaan, Tania, Samia, and Sofia Phuppo. He hesitantly inquires as to what's happening because Shammo Khala having a heart attack suddenly seems quite concerning. Aliya discloses that everyone wants Amma to cancel Samia's wedding because, like any desi mother, she is more concerned about "Log Kia Kahenge" than her daughter's prospects after marriage. Salman attempts to comfort Alia by saying that sometimes we must entrust our affairs to Allah. Since it appears that they both are now experiencing something for one another, we could feel the awkwardness between the two.
Deepak and Meena:
Meena's drug addict husband arrives home and while being under the influence of drugs sees Neha and Parmesh conversing. Neha hides her phone when they see him, but when Parmesh attempts to stop him, Deepak pushes him and snatches the phone away from Neha. On the other hand, when Shakeel tries to talk to Deepak and gives him candy at Agha Ji's house, where Deepak is staying, Deepak runs away in terror. While Sofia Phuppo and the rest of the family were looking for Deepak as he was nowhere to be found, Shakeel told Sofia phuppo about how he got scared when he tried to talk to Deepak and offered him candy. They found Deepak, hiding on the rooftop who was extremely terrified to see Shakeel. When Sofia asks the cause of his fear, she reassures him that he can talk to her about anything because she is just his friend.He utters the name of Liaquat tailor hesitantly, making it clear that the poor kid experienced abuse by his tailor master.
What we think:
The entire episode was outstanding and it was so cleverly done. The whole dialogue in which Sofia attempts to explain Shammo's motivations to Alia was endearing and made sense because we have all witnessed women being made to feel bad of for having daughters. The conversation gave the situation more reality, and even though we couldn't initially comprehend Shammo's stubbornness, we could now sympathize with both Samia and Shammo. It was really exhilarating to see women not talking against one another for once, but rather being more considerate and accepting of their individual situations. When Alia and Salman eventually had a decent conversation and exchanged some hesitant glances (hint, hint! ), we could really feel those butterflies in our stomachs. Clearly, love is in the air. We are pleased to see that Samia can stand up when necessary and is not just the self-sacrificing sister. Not to mention how well Deepak's situation and the entire matter were managed, which is truly commendable.
In conclusion, this has been our favorite episode so far, and we are eager to see what Samia, Alia, Salman, Azfar, Sehrish, and Deepak's future contains.
Do you believe Shammo will cancel the wedding or will she wed her daughter to Saif-ur-Rehman despite knowing the truth about him? Let us know in the comments section.