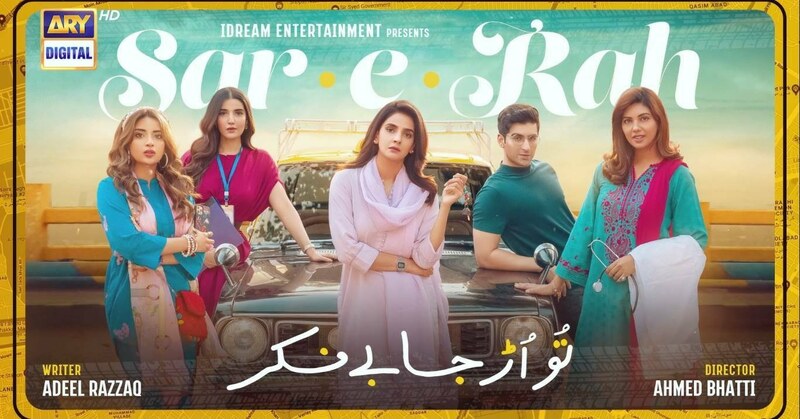 The times have definitely changed, the Pakistani drama industry has travelled far and wide from the monotonous story...

The times have definitely changed, the Pakistani drama industry has travelled far and wide from the monotonous story lines that talk about saas-bahu issues and sibling rivalries. The drama that had created quite the buzz and had become center stage was ARY Digital's Sar e Rah. Female empowerment and highlighting social issues that prevail in our desi societies, Sar-e-Rah was watched and loved by all! Sar e Rah is an iDreams Production, written by Adeel Razzak and directed by Ahmed Bhatti.
Let's delve a little deeper into what Sar E Rah was all about:
The limited mini series was a complete breath of fresh air, it broke viewership records with its unbelievable, fresh and eye-opening storyline. Headed by the truly talented and powerhouse, Saba Qamar, each episode of Sar-e-Rah gave us a new character and a message that was much needed for the society. Saba Qamar essayed the role of the young woman, Rania who due to difficult circumstances took a bold decision and began driving her father's taxi. You might be thinking she began driving on one of the cab hailing services but that was not the case, she had no choice but to drive the black and yellow classic taxi on the streets of Karachi.
On her journey she came across various women, from all walks of life including Sunita Marshal who played the doctor to the last entry, a working woman Maryam played by the gorgeous Hareem Farooq. Each character had their own story to tell and share with the viewers. The drama also shed light on topics of work place harassment, sexual harassment and the difficulties a transgender face in this society. From age old issues to the new world complications, Sar e Rah covered it all. The finale tied up all the loose ends that viewers had questioned through the show. Maryam proved she deserved the rightful position and respect as her male co-workers.
The social media star played by Saboor Aly was happily married to the love of her life but since they eloped, her brother had caused many problems and had forbade her from meeting their parents. She was told by a lawyer to contest for her right to the property and we were happy to see she was forgiven by her parents and she also uncovered the blogger who had posted the fake video of hers. The doctor played by Sunita Marshal had a similar happy ending, she returned the baby to her parents and with the support of her husband they would continue to help the underprivileged family support their daughters. Although, we did want to see him accept the child , why not promote adoption? A question many viewers must have had. However, he finally confessed to his family that it was him who could not have children and not his wife's fault.
Coming back to Rania who was definitely the star of Sar e Rah, she received help from a NGO owner, the aid helped Rania achieve what people could only dream of. She made changes in her life beginning with the taxi by selling it and buying a new car in its place. She then went on to make a driving school for women and provided a platform to people who were facing hardships just as she once had. She was always the strong daughter of her parents but underneath it all we witnessed she also needed validation from her father who had not given her an equal opportunity at life just as he had provided her younger brother with. She was finally in a good place and had proved herself against all those who doubted her. It was good to see her ex-fiancé also come around and appreciate her for all that she had achieved.
Sar e Rah conquered hearts with every episode, wholesome content with a no-nonsense storyline. Kudos to the show makers who tackled various ongoing topics with such finesse and to the star cast for phenomenal performances. Muneeb Butt was seen in a new avatar and he essayed the role of a transgender lawyer with brilliance. Sar e Rah will be remembered for the message it gave the audiences, should we be seeing more of such short beautiful shows instead of 30 episode long series? We definitely hope so!