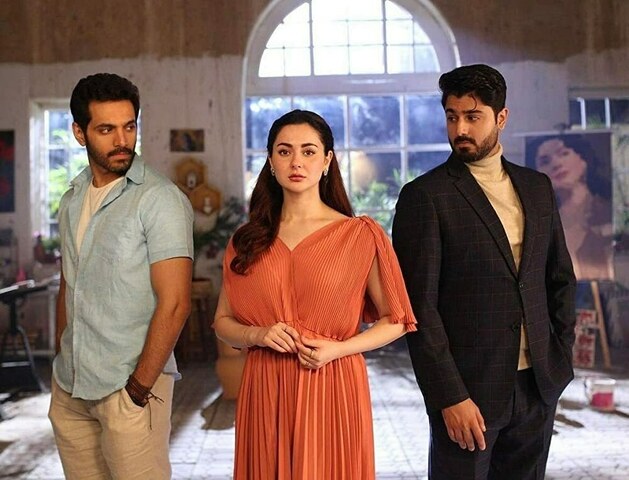 Areeb confronts his mother afters Anabia told him what really happened and who ruined everything. Meanwhile Neelo...

Areeb confronts his mother afters Anabia told him what really happened and who ruined everything. Meanwhile Neelo confronts Maheer about her selfishness and gives her a much-needed reality check.
The drama Mujhe Pyar Hua Tha airs every Monday on ARY Digital. Starring talented actors Hania Amir as Maheer, Wahaj Ali as Saad, and Zaviyar Noman as Areeb, the story revolves around a love triangle between the three main characters. Despite Saad's lifelong love for Maheer, he has never revealed his feelings to her. However when Areeb enters into Maheer's life, a new chapter begins. Just when Maheer and Areeb were getting married a small misunderstanding causes a rift between them.
Areeb comes home infuriated and starts yelling at his mother, questioning what she said to Maheer's father on the day of their wedding. He asks how she can be so merciless, but she replies that he's not in a position to question her and put her on a pedestal. Areeb insists on going to Maheer's house with his mother to tell her the truth, but when she refuses, he accuses her of being selfish and says he will never forgive her for this. She replies that she will never forgive Maheer either.
Maheer, lost in thought, is going through her childhood belongings when Saad interrupts her. Maheer finds her old diary where she has written notes about her best friend, Saad. The two of them are seen reminiscing over their childhood memories and laughing about how they were as kids.
Maheer meets Areeb again at the mall, where he asks her to come back into his life, but she requests that he must move on and forget about her. Saad catches them talking and walks away, allowing the two to talk. Maheer asks Areeb to leave because she doesn't want to explain anything to Saad. Saad returns back but doesn't ask Maheer anything.
Saad stops the car midway and asks Maheer to cry all she wants because her tears hurt him more than anything, and he feels very helpless. Maheer replies that he cannot be as helpless as her because he has never fallen in love. Saad asks her why she didn't talk to Areeb, and Maheer replies that he shouldn't act like an angel and that she sees him as a human being like herself.
Areeb has moved into an apartment, and his mother comes to take him back. He refuses and tells her that he sees no future, heartbroken that none of his wealth can bring him Maheer, who now belongs to someone else. When his mother asks how she will live alone, he replies that he's the one who's alone because his love was taken away from him and that it's all her fault. She still asks him to forgive her, but he refuses as she has left no stone unturned. She had told Areeb that she will go to Maheer's home and talk to her mother.
Neelo bursts Maheer's misery bubble as she catches Saad smoking and pleads for Maheer to have mercy on him. She questions Maheer on why she can't see how her misery is hurting Saad, who has been striving day and night to make her happy. Neelo requests Maheer to at least keep the friendship that they have, if she cannot love him.
We were pleased to find the plotline moving forward in this episode. The love triangle between Maheer, Saad, and Areeb remain tangled and intense. Despite Saad's unwavering love and care for Maheer, she seems unable to see past her own misery and understand the depth of his feelings for her. Thankfully, Neelo steps in and shakes things up by urging Maheer to consider the impact of her actions on Saad. We can't help but wonder why it takes an outside voice for Maheer to see how Saad has been doing so much for her. Is she truly being selfish, or is she simply unable to see the forest for the trees?
Overall, this episode has again piqued our interests and waiting for the next one. What do you think; will Saad ever win Maheer's heart? Will Areeb find happiness without her? Let us know in the comments section.