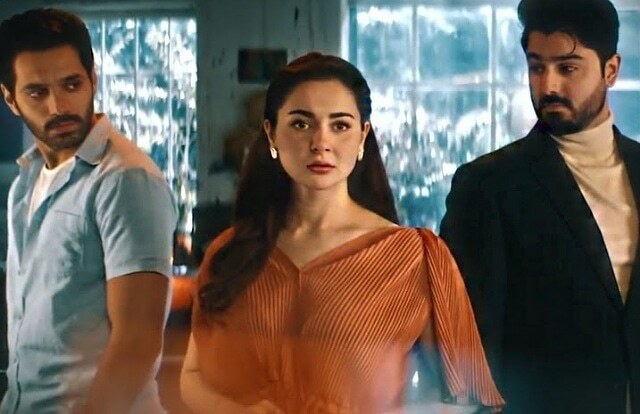 In a dramatic turn of events Areeb gets shot while trying to prevent a robbery for Saad and Maheer. Areeb's family...

In a dramatic turn of events Areeb gets shot while trying to prevent a robbery for Saad and Maheer. Areeb's family accuses Saad of the crime, leading to his arrest.
Mujhe Pyar Hua Tha is an ARY Digital drama that airs every Monday. The story is written by Sidra Sehar Imran while the drama is directed by Badar Mehmood. The drama's story revolves around a tangled web of love and betrayal in a love triangle between Maheer, Saad, and Areeb. Saad has been secretly harboring love for his cousin Maheer for years, but when Areeb enters the picture, things take a dramatic turn.
After Mrs. Rehan (Areeb's mother) unexpectedly showed up at Neelo's baat pakki, things have taken a turn for the worse. Maheer told everyone that Mrs. Rehan came to apologize, but in reality, she had brought a blank cheque to bribe Maheer into leaving Areeb. Maheer tore the check to shreds. Mrs. Rehan then challenged Maheer to prove that she comes from a respectable family where it is inappropriate for a woman to have contact with any man other than her husband.
Meanwhile, Faha tells Areeb that she can no longer marry him because she knows Maheer will always have a place in his heart and life. She does not want to compromise her own happiness and has decided to end the relationship. Areeb understands and agrees to remain friends with her.
As Maheer and her mother discuss Mrs. Rehan's apology, Rafia commends her for having the decency to apologize. However, Maheer remains heartbroken and unable to forgive her.
Later, Areeb comes to Maheer's house, begging her to talk to him but Maheer asks him not to make a scene and ruin her reputation. Maheer insists that Areeb should leave her alone, even if he claims that he will die without her. While they were talking, Saad arrives and sees them together.
Maheer and Saad are out shopping when they are attacked by snatchers. While the robbers were fleeing after robbing Saad amd Maheer Areeb appears with a gun, prompting the robbers to shoot him.
Maheer and Saad rush Areeb to the hospital, where Areeb's mother and Faha blame Maheer for his condition.
The police arrives at Saad's house and arrest him, while Faha and Areeb's mother discuss the events that led to Areeb's shooting. They suspect that Maheer and Saad might have something to do with it, as they brought Areeb to the hospital. While Saad is being taken to the police station, Anabiya tries to convince Maheer to go to the hospital with her because Areeb is calling her name and wants to see her. When Maheer agrees to go Neelo catches them leaving.
The events in the drama make no sense as there is no connection between the story and reality. Saad is suffering because of everyone's senseless actions, and Areeb's desperation for Maheer is understandable, but it is confusing how he can trust his mother after what she did. Maheer needs to make up her mind about whether she wants Areeb out of her life or continue to torture Saad with her thoughts about Areeb. It's disappointing to see the drama heading in such a pointless direction. The storyline lacks depth, and the characters' actions seem illogical and inconsistent. The only saving grace is Wahaj Ali's portrayal of Saad, which is commendable despite the weak writing. The drama needs to pick up its pace and focus on developing the plot and characters if it wants to keep the viewers engaged. It's frustrating to see such talented actors being wasted in a poorly written drama. Let's hope the upcoming episodes bring some much-needed clarity and direction to the storyline.
Share your thoughts on the drama in the comments section below.