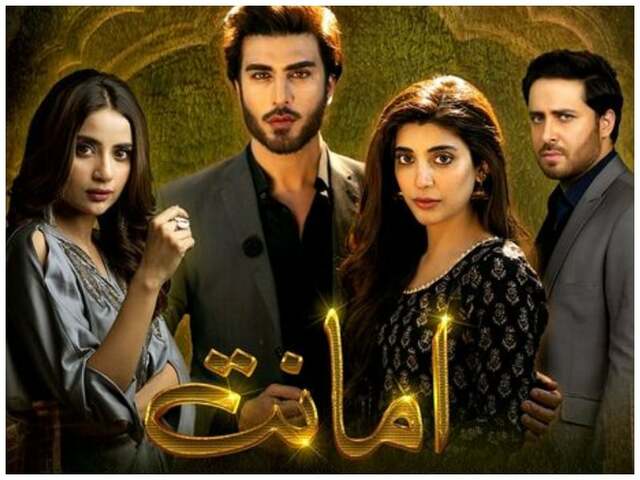 Not only the cast is doing justice to their roles, the writer Rukhsana Nigar has smartly devised an intriguing storyline.

Amanat on ARY Digital is amongst the most popular dramas of the season that is going strong and maintaining the momentum of the story with aplomb....
The plot of the tale is keeping us intrigued and is getting interesting with every passing episode. Not only the cast is doing justice to their roles, the writer Rukhsana Nigar has smartly devised a storyline that is packed with uncertainty and suspense.
We are in love with Urwa Hocane and Imran Abbas's chemistry on-screen. Let's do a quick review of what has been happening in Amanat and what are we expecting next from the drama.
Zuni is up to no good
Our vamp Zuni (Saboor Aly) might have married Junaid (Haroon Shahid) to teach Zarrar (Imran Abbas) a lesson, but she is eventually realizing the gravity of the situation she has landed herself in.
Of course, she is unhappy and is burning in misery, so much so she even intends to kill her new husband. She insults and disrespects him, admonishing him for being a weakling.
Meanwhile, Zarrar is still clueless on how to clean the new mess he has created for himself and Meher (Urwa Hocane). His mother (Saba Hamid) has kickstarted a hate campaign against Meher and despises her presence in the household. However, Zarrar's father is the sensible one in the family and suggests that his son and Meher do a Nikkah for real to avoid further grievances in the future.
A reluctant Zarrar has no option but to listen to his father and agree to the forced nuptials. Apparently, he convinces Meher as well, owing to his dad's pressure. But this causes Zuni to unleash his wrath upon Zarrar.
Tear-stricken and heartbroken, she turns her despair into anger. She eventually befriends Junaid and intends to use him to seek revenge on Zarrar. Meanwhile, our hero and Meher begin their life as newly-married couples. Awkward in the beginning, this new chapter will surely ripe into a blooming romance for them.
The merciless Malik Furqan (Babar Ali) got little screentime this week but he is departing for his son's treatment and orders his servants to keep an eye on Mehar at all times.
The promo of the next episode reveals Zuni on a warpath against Mehar. But our damsel in distress finally gathers some courage to respond!
Meher needs to gather some courage
So far, we have seen that Meher's character is that of a coward. She is just abiding by what others around her impose upon her. But it's time she unveils her bold side, especially when Zuni is all set to wreck hell in the household.
We have seen Urwa performing daring roles like she recently did in Mushk and Neeli Zinda Hai. Consequently, we are excited to witness her character coming out of her shell and battling against villains in the story like Malik Furqan and Zuni.
Several comments beneath the YouTube episode of Amanat reveal that the audience is also sympathizing with Zuni. Seems like Saboor's character is garnering some love despite her evil nature.
However, we genuinely feel that Zuni has left Zarrar solely cause of her impulsiveness and brash attitude. A little smartness from her end would have gone a long way and saved her relationship.
But now that their chapter is over, we are excited to see the romantic chemistry between Urwa and Imran Abbas. So far, their characters have been distant and their love equation has been absent from the scenes.
Are you watching Amanat? Let us know in the comments below.