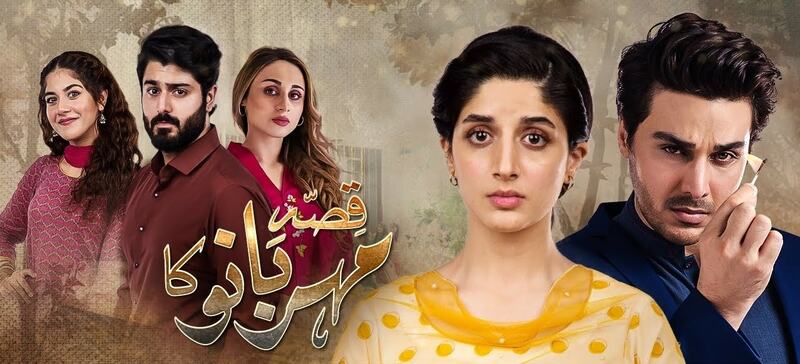 Meherbano and Murad are at loggerheads in more ways than one!

A whirlwind of twists has shaped Qissa Meherbano Ka in the last few episodes, and now, it seems like we're on for the ride of our lifetimes as Meherbano and Murad come at loggerheads in more ways than one! Just this week, served as the best example of this, and oh boy, are we in for a dramatic treat!
So, what did the last episode look like and what can we expect moving on? Let's explore…
Not only do we find the house divided ever since Abba Mian's passing, we are now seeing the divisions between Noor and Meherbano taking a toll – where even Ayaz has become centerpoint. However, all of that is nothing to where the episode began this week – with Murad threatening Meherbano once again for the property papers and Ayaz seeing all of it!
While we all know that the papers have been entrusted upon Mehran, Murad believes it is Meherbano who is purposefully hiding the papers from her evil husband. This not only does not sit well with Murad – who at this point has become even more desperate for the money – but also creates another massive tiff between him and Meherbano when she reveals that she is expecting his child.
Seeing all of this, we see Fari and her mother-in-law plotting yet another scheme as they leave no stones unturned to destroy the eponymous Meherbano and those related to her by blaming the disappearance of Meherbano's jewellery on Ayaz. This leads to Ayaz getting badly beaten up by Murad for a crime he did not commit. While Meherbano comes to rescue her nephew, she falls unconscious seeing all of this – which is of course, because of her pregnancy.
On the other hand, this is overshadowed by the even bigger schemes Fari plays, when she insinuates to Murad about the child being his or Mehran's! Not only does this completely breaks Meherbano, but makes Noor realise too, how evil the thoughts of Murad are when they come to her beloved Khala. In turn, Noor reveals this all to Mehran and seemingly blames him for all that is happening.
Noor also goes on to try to make Meherbano understand that she doesn't need to stay in this situation. She implores her to sell of the property left to them by Abba Mian and move on to a better life. While this would look like the right decision, Meherbano decides against it as she wants to stick back to give her expected child a 'normal life' – despite knowing that there will be normalcy in that household.
With the episode nearing its end, it gets quite clear that Murad being the evil person he is, will push Meherbano to get a paternity test. One hopes Meherbano realizes just how nasty her husband is and hopefully leave him. But, what we do know for sure is that the upcoming episode has tons of drama explosions for us to watch and like this episode, the story is only going to sizzle more!