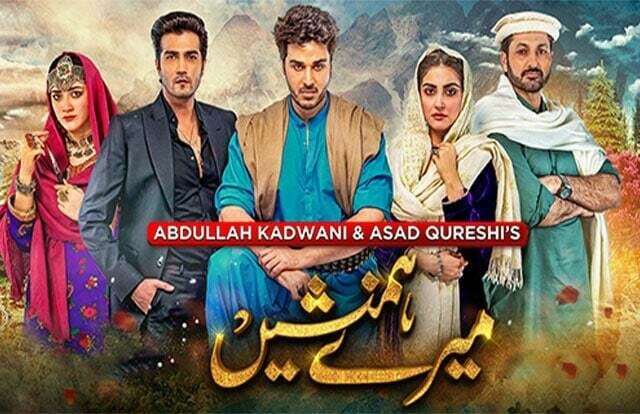 Behram Khan apologised for all he did after Khajista treated his wounds, once again setting a new example for her...

Behram Khan apologised for all he did after Khajista treated his wounds, once again setting a new example for her people and family. Hadi has at last accepted that he cannot have Khajista in his life. Hassan, in the meantime, has blown Aima's cover, and everyone is now aware of what she has been doing.
Mere Humnasheen, a 7th Sky production and a Misbah Ali Syed script, is praised by audiences for its unique but meaningful plot. Mere Humnasheen, which airs every Friday and Saturday, trends on YouTube episode after episode. It is the story of a courageous young woman named Khajista (Hiba Bukhari), who comes from a backward, rural area and struggles against odds to pursue her ambition of becoming a doctor. Her short-tempered and conservative fiancé Darakhzai (Ahsan Khan), who is also her cousin, thinks her desire to become a doctor is pointless and makes several attempts to prevent her from accomplishing her dreams. She meets Hadi (Shehzad Sheikh), a rather open-minded young man, after moving to the city to pursue her medical education, who falls in love with her. However, Hadi's interest in Khajista results in creating more problems for her.
We witness some truly intriguing and some disturbing developments in this week's episodes. Behram Khan apologises to Daaji (Rehan Sheikh) for all the heinous things he has done after Khajista saves his life. Amroze (Syed Jibran) and Darakhzai are enraged when he confesses to killing Dilawer Khan (Khajista's Father), and they prepare to avenge him by loading their weapons. Daaji, however, implores the two to choose mercy over vengeance and leave the past.
It looks like Hadi is still not over Khajista as he is seen recalling his and Khajista's past interactions. Bia expresses her disappointment that Hadi did not have the guts to send a proposal and abandoned her when she needed him the most. Bia informs Hadi that Khajista is getting married to Darakhzai this Friday. Hadi calls Khajista, and this time she answers the phone telling him to move on since she is getting married. Hadi is obviously devastated, but he only wants the best for her so he wishes her happiness.
Everyone appears to be really happy as the wedding celebrations begin in the village. Also, it seems that Khajista is in some way captivated by the transformed Darakhzai and has finally come to terms with the fact that he is her better half. Sanober has some evil plans because she is in love with Darakhzai and is envious of Khajista. She acquires poison to murder Khajista so that she might get a chance to be married to Darakhzai.
Aima's (Moomal Khalid) new scheme of proving Dr. Sabika (Salma Hassan) and Dr. Shehryar (Farhan Ali Agha) has apologized from Hassan ( Haris Waheed) before she left through a video. But Dr. Sabika realized that the video is not real because it has been shot in her own office and is an old one. Sabika goes insane. And burst out at Hasan in rage for making an innocent girl his target. Hasan is infuriated by this, and he drags Aima along by calling out her gaffe and exposing the fact that she was the one who was the mastermind behind all of these vile plans. Aima makes an unsuccessful effort to defend herself while denying the accusation.
As the celebrations and festivities for Darakhzai and Khajista's wedding begin. Sanober and Shanzey are getting things ready. Sanober is instructed by Shanzay to prepare the mithai plate, and Shanzay especially advices her to reserve a particular mithai for Khajista as she dislikes laddus. Sanober takes advantage of the situation to carry out her plan to poison Khajista by putting the poison in the mithai that is intended for Khajista. However, Darkhzai eats it once it is brought forth. At first nothing happens, and everyone can be seen dancing and enjoying themselves, but later Darakhzai starts coughing and ultimately passes out.
The episodes marked a significant development in the plot, and it has taken the most unexpected turn. We were especially moved by the heartfelt performance of Shehzad Sheikh and Rehan Sheikh in this week's episode. Not to forget that Ahsan Khan and Hiba Bukhari looked fantastic together and had a growing connection, which naturally made us wish they would appear in more sweet scenes(which of course, will not be happening).
We are eagerly waiting to find out what will be happening in Khajista's future after the death of Darakhzai. Will she opt to choose a different path for herself or will she eventually wed Dr. Hadi?