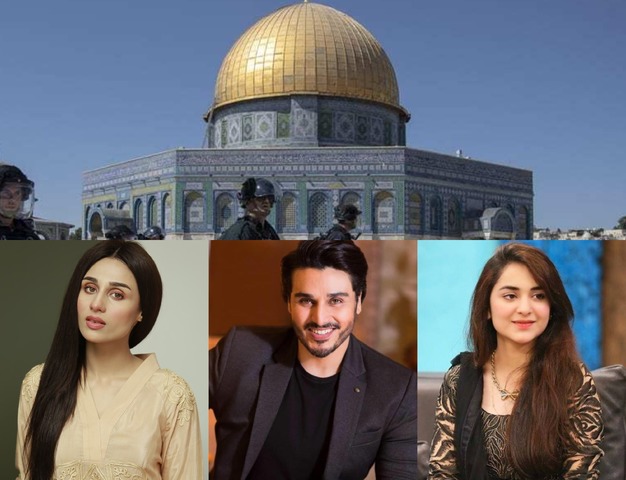 The Israeli Security Forces' attack on innocent Palestinian worshippers in the Al-Aqsa mosque in Jerusalem has created an uproar on social media. The holy city is home to sacred sites for Jews, Muslims and Christians and has been engulfed in violence over the last three days.
Unseen, raw footage of the bone-chilling violence being carried out on the Palestinians has garnered attention from people all over the world, however the major news channels around the globe choose to call the attack a conflict instead of what it truly is, terrorism. Firing with armed weapons at harmless people in their place of worship is highly unacceptable on humanitarian grounds above all.
The Israeli Police attacked the protestors rallying against the forced explusion of many Palestinian families from the East Jerusalem neighbourhood of Sheikh Jarrar. The Palestinians had gathered at the holy mosque, Al-Aqsa to protest over the Sheikh Jarrah expulsions going on.
Pakistani celebrities have also taken to various social media handles and raised their voice for the people of Palestine, using the #freePalestine for those who are facing an unimaginable amount of violence in their own homes and places of worship. Ahsan Khan, Rabia Butt, Mashal Khan, Jenaan Hussain, Feroze Khan and Anam Tanveer are some of our stars who have spoken up on their social media handles.
Here's what Pakistani Celebrities have to say about the ongoing attacks on Palestine:
Ahsan Khan
The dapper Ahsan Khan talks about the #freePalestine movement in his tweet!
The world is standing by and witnessing a massacre in the whole month of ramazan in Jerusalem. The storming of Al aqsa Mosque the violence on little kids Allah will not forgive us if remain silent #freepalestine pic.twitter.com/Q2ta3wQmgo

— Ahsan Khan (@Ahsankhanuk) May 10, 2021
Amar Khan
You cannot see the Al aqsa mosque being stormed and stay silent you cannot see violence on men women's and children and expect no reprecussion you will pay! #freepalestine

— Amar khan (@iamamarkhan) May 10, 2021
Rabia Butt
The fiery Rabia Butt questions the morals of the powerful entities across the globe!
What would the world do If the Vatican was stormed if grenades were thrown in the 16th chapel? Yet we in our holiest month are supposed to stand and watch as #Alqasa is attacked? This cannot be. #Freepalestine

— Rabia Butt (@Iamrabiabutt) May 10, 2021
Feroze Khan
He spoke about the woman who stood tall in the eye of danger and did not stop smiling as she was dragged away by the Israeli forces by her Hijaab. He mentioned he wanted to get in touch with her and he was her 'true fan'. He also shared a video of the violence the people are facing in Jerusalem.
Mashal Khan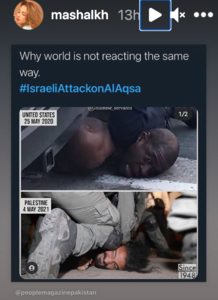 Anam Tanveer
International community! Where are you? How can you be silent on blatant crime or I should rather say terrorism ? #AlAqsaUnderAttack #AlAqsaMosque #FreePalestine

— Anam Tanveer (@ianamtanveer) May 10, 2021
Alaqsa has been stormed wake up before they annihilate our culture our religion #freepalestine #AlAqsaUnderAttack

— Anam Tanveer (@ianamtanveer) May 10, 2021
Jenaan Hussain
What's happening right now in #Jerusalem is what terrorism is, the violence is terrifying the storming of #AlAqsa is henious...we should not stand by and watch this happen as a world.

— Jenaan Hussain (@HussainJenaan) May 10, 2021
Yumna Zaidi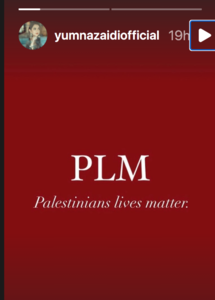 Shahroz Sabzwari
Our Media should be ONLY talking about this!!!
But sadly we have sold our conscience for the sake of fake comfort enticement.#SavePalestine pic.twitter.com/GjnSIugZOR

— Syed ShahrozSabzwari (@ShahrozSabzwari) May 10, 2021
Imran Ashraf
آسمان گرے گا ظلم پر
روزِ محشر سے پہلے انشا اللّہ pic.twitter.com/KI8vJF2dAy

— Imran Ashraf